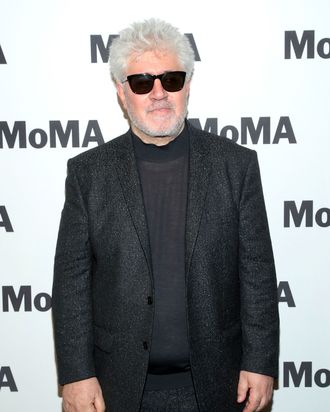 Pedro Almodóvar.
Photo: Jason Carter Rinaldi/Getty Images for Museum of Modern Art
Discerning Alice Munro fans may be surprised to hear that Julieta, the latest film from Pedro Almodóvar, whose florid, highly romantic dramas have defined Spanish cinema for years, was adapted from Munro's 2004 collection Runaway — but Almodóvar stans hard for female short-story writers. On Tuesday night at MoMA, at a screening of Julieta that kicked off a new retrospective of his career, Almodóvar revealed that his favorite book of late was by yet another female — though arguably lesser-read — master of the short form: Lucia Berlin's A Manual for Cleaning Women.
"She was an American writer from the '40s," the filmmaker told Vulture. "She was an alcoholic. She was everything. Sometimes she had to work by cleaning houses. It's incredible, funny, and sad. The reality she's telling is very sad."
After building his own oeuvre around captivating female performances, Almodóvar acknowledged that adapting a female voice from the page was a different story. In his opening remarks, he told the audience, he "tried to direct the actresses in a different way. There's a lot of pain in the characters in the movie, but in thinking about the work of Munro, I [wanted] to narrate discreetly." 
Julieta also breaks the mold of Munro adaptations past: While movies like Away From Her and Hateship Loveship (both of which were directed by women) have reflected the razor-sharp realism of Munro's prose, Julieta is Munro in technicolor — even with an ostensibly more subdued Almodóvar at the helm.  
"I warn you: This is a new kind of movie in many senses," he said. "I tried to be as restrained as I could. The characters don't start singing and dancing just because they feel like it. There is no humor for the first time. That was a great experience for me."
We'll anxiously await Hollywood's first movie adaptation of Lydia Davis.