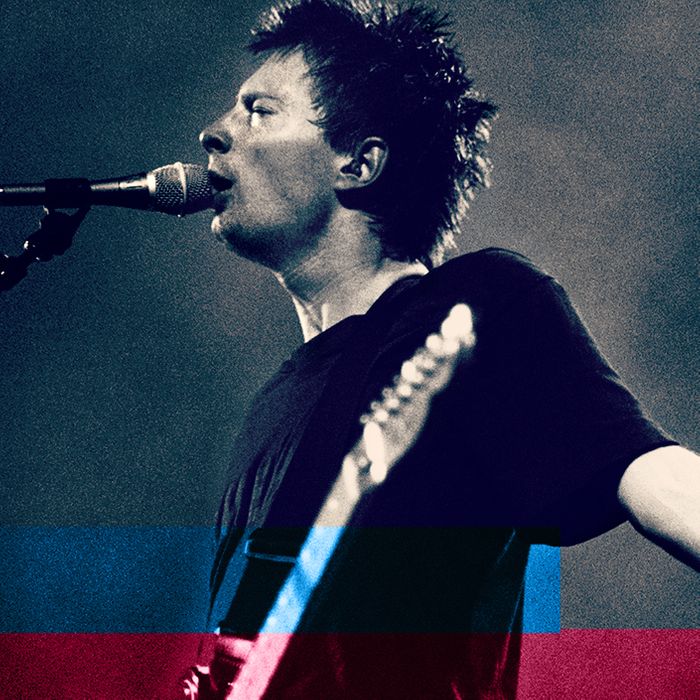 Photo-Illustration: Vulture and Photo by Ebet Roberts/Redferns
This week, Vulture is taking a look at great unproduced, unreleased, or unheralded entertainment.
One drawback of following a band as prolific as Radiohead is that they'll occasionally perform great songs, the kind you fall for after just a single listen, and then let pursuit of perfection stand in the way of their ever releasing a recorded version. That's currently what's keeping any of us from being able to stream "Lift," a delightful song from the mid-'90s that the band has pulled out enough times during shows to keep interest alive, but that in the studio remains a puzzle they haven't yet solved. Which is unfortunate: It's a good song, and it deserves a good recording.
Thom Yorke and Co. added the tune to their shows in 1996, while touring behind their breakout album The Bends. The performances from the era sound like a prototypical version of Arcade Fire's "Wake Up," a little faster and more akin to the sound of English rock and roll at the time:
The lyrics tell a story of being stuck in an elevator — a "lift," see? — and being that it's Radiohead, the song connects existential dread and technology. Thom Yorke even referred to himself in the original version of the lyrics.
This is the place
Sit down, you're safe now
You've been stuck in a lift
We've been trying to reach you, Thom
The band recorded versions of the song during the sessions for their 1997 LP OK Computer, but they were never released. According to the comprehensive Radiohead fan site GreenPlastic, Yorke said in 2001:
"We haven't lost the song. We played it too much in a certain way that didn't work in my opinion. It didn't feel right. So we need to approach it in a different way but at the time of OK Computer it was impossible to get into rearranging it because everyone had fixed ideas on what to play and we'd all just got into a habit we couldn't break."
In 2002, the group resurrected "Lift" for a few dates on their tour behind Kid A and Amnesiac, the then-groundbreaking album that saw them delve into much more electronic territory. They tried recording a new version of it, slower and subdued, but it didn't pan out. Guitarist Ed O'Brien called the song "a bogshite B-side and we were very happy to leave it off the album," despite the band's label EMI banking on it being the record's single.
But still, talk of the song continues. Guitarist Jonny Greenwood confirmed in 2015 that the band was kicking around a recorded version of "Lift."  "What people don't know is that there's a very old song on each album, like 'Nude' on In Rainbows," he explained. "We never found the right arrangement for that, until then. 'Lift' is just like that. When the idea is right, it stays right. It doesn't really matter in which form."
Since the internet is the internet, it's likely that someday the band's attempts at cutting a studio version of "Lift" will surface. Until then, we'll just have to wait for the band members to stop second-guessing themselves. In that regard, "True Love Waits" offers hope. The song debuted in 1995, but for whatever reason — maybe it was too personal for Yorke to record at the time, or the band could never agree on an arrangement — a studio version didn't get released until 2016's A Moon Shaped Pool, on which it serves as the closing track. That synth-based rendition doesn't have the simple beauty of the way Thom performed it acoustically over the past two decades, but enough similarities exist.
Whatever recorded version of "Lift" we eventually get, then, may not closely resemble the ones we've heard for the past 20 years, but at least we'll know we're getting the song Radiohead wants us to hear. In any case, we'll take it.