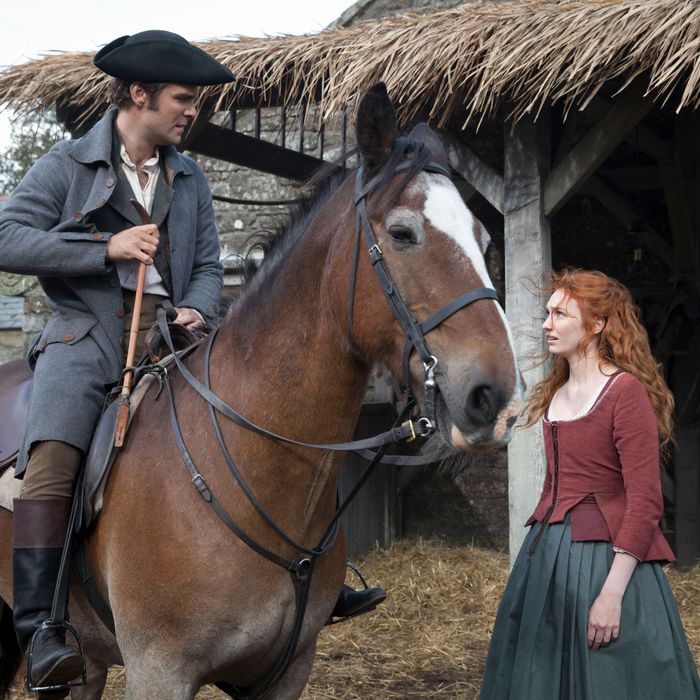 Luke Norris as Dwight Enys, Eleanor Tomlinson as Demelza.
Photo: PBS
War is on the horizon! I don't know which war, and I don't care to find out. The French are always at war with them, right? Someone said "Jacobins" but I mostly know that from Outlander. It's free trading that matters to us at the moment — less than the love triangle, of course — but it looks like the informer has kept himself quite busy. With so much at stake, I suspect Ross will be left holding the bag in due course. Can't he STAY saved?
Now that Francis is dead, Elizabeth is really letting her freak flag fly. And by "letting her freak flag fly" I mean saying things like, "I worry that [last week's windfall] means you won't have occasion to call!" In response, Ross is like, "Oh, I'll always have a reason to call … if you wish it," and she's like, "I DO WISH IT," and it's very sensual.
Oh, look, everyone's favorite literal wife-murderer, Mark Daniel, has popped up and we're still supposed to be sympathetic toward him. Ross insists he has to go see him to get intel on the copper vein, which means joining a smuggling run. If that sounds like a stupid idea, destined to result in multiple arrests, it's because it is. He's all, "I'll be back in two days!" Sure, Ross.
Pug Lady is excitedly planning her elopement with Dr. Enys, who wants to scream their love from the rooftops and is not a fan of sneaking off. Perhaps indirectly getting the slutty actress throttled weighs heavily on him. She thinks he's going to throw her over. Personally, I cannot imagine these two being happy together in the long term, but there you have it. The show is yelling, "HE'S NOT GOING TO SHOW UP FOR THE ELOPEMENT" because of his medical duties, blah, blah, unavoidably detailed blah, blah, not because he doesn't love Pug Lady, which he truly does.
Over at Trenwith, George Warleggan has Elizabeth all fired up to expect a French Revolution–inspired uprising against the aristos, so she's bolting the door and plaintively writing Ross for help. (He is busy shouting a drinking song in a pub, so he clearly knows how to keep a low profile on his smuggling trip. A-plus work, Ross.) Mark Daniel arrives, looking like hell, and gets all emo about his dead wife — the one he strangled to death, mind you — and then Ross induces him to discuss the copper vein. Ross is unenthused as to the specifics, that area having already been combed over at the time.
Meanwhile, Elizabeth is getting more and more agitated at Ross's failure to respond to her, not realizing that Prudie just stuffed it in her pocket and chose not to give it to him. The Paynters are the worst servants in Cornwall, exhibit no. 42,445,453,222.
We figure out the informer's identity (it's not Jud, more's the pity), and now the heat is on to prevent all our buddies from getting arrested. Obviously, Dr. Enys will have to choose between keeping his date with Pug Lady and confirming his suspicions. I HOPE HE KILLS THE TRAITOROUS SWINE. THESE ARE SIMPLE, HOMELY PEOPLE. The traitor hits him with a chair like it's a WWE match. Seriously, this guy sucks. Poor Pug Lady! Times are dark indeed when I worry about Pug Lady. FISTICUFFS ENSUE. Knives! Manliness!
Demelza, bless her, tries to convince the fuzz that she'll let him dip his pen in her inkwell if he calls off the ambush on Ross, but he's stone-faced to her proposal.
Dr. Enys comes through in the clinch and warns Ross, but not in time to prevent a balls-out shit show with guns and punching and Demelza fleeing and it's all hugely marvelous. Apart from Pug Lady glumly sitting in her empty elopement carriage with Horace, this is one of the most triumphant episodes of the second season. Let's hope we see more like it next week.
Shirtlessness Report: No shirtlessness to speak of, but a thrilling episode nonetheless.