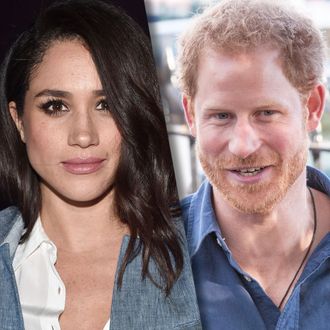 Meghan Markle and Prince Harry.
Photo: Getty Images
A classic rom-com twist: After rumors spread that Prince Harry was dating Meghan Markle, who stars in Suits, Harry has rushed to her defense and confirmed their relationship in the process. In a rare statement posted to the Kensington Palace Twitter account, the Palace condemned the tabloid press's treatment of Markle, which has included racist assessments of her hometown, harassment of her mother, and attempts to dig up dirt on members of her family — you know, the usual for the British tabloids. The statement reads:
But the past week has seen a line crossed. His girlfriend, Meghan Markle, has been subject to a wave of abuse and harassment. Some of this has been very public — the smear on the front page of a national newspaper; the racial undertones of comment pieces; and the outright sexism and racism of social media trolls and web article comments. Some of it has been hidden from the public — the nightly legal battles to keep defamatory stories out of papers; her mother having to struggle past photographers to gain illegal entry to her home and the calls to police that followed; the substantial bribes offered by papers to her ex-boyfriend; the bombardment of nearly every friend, co-worker, and loved one in her life.
The statement also acknowledges that it's rare for the royals to make such pronouncements. So, just remember that they did it for the sake of love, or maybe decorum, which is more important.
In addition to her work on Suits, Markle does charity work — she's a global ambassador for World Vision, as well as the U.N. Women's advocate for women's leadership and political participation. She also has a lifestyle website, of course. Prince Harry is the grandson of the main character in The Crown.