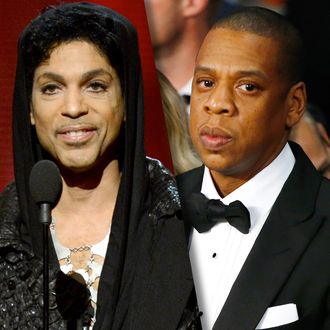 The war over Prince's music is still going strong.
Ownership of Prince's music has notoriously been contentious, now it's the subject of yet another lawsuit. TMZ and the Star Tribune report that Prince's estate, via his label NPG Records, has sued Jay Z's Roc Nation for illegally streaming Prince's music on Tidal. The lawsuit claims that, prior to his death, Prince gave Tidal the rights to stream his final albums Hit N Run: Phase 1 and Phase Two. Then in the months after Prince died, Tidal added as many as 15 of Prince's albums to its service – becoming the only place to stream Prince's full catalog – but did so allegedly without authorization. According to the lawsuit, Prince's deal with Roc Nation only allowed Tidal 90-day streaming exclusivity for his final albums and alleges Tidal is now "exploiting many copyrighted Prince works" without ever contacting his estate.
Last week, Roc Nation filed a petition in Minnesota court arguing that Prince and Jay Z's labels had an "agreed-upon arrangement" for the digital rights to his catalog and any business dealings Prince's estate makes regarding his music. (His estate also filed a counter petition arguing the opposite.) At the heart of the fight is a new deal Prince's estate has struck with Universal Music, making the label the exclusive distributor of Prince's entire life's work, including the contents of his recently opened vault (a bid Tidal reportedly also lost out on), which could potentially cost Tidal a huge upper hand in the streaming wars if Universal were to open Prince's music up to more streaming platforms.