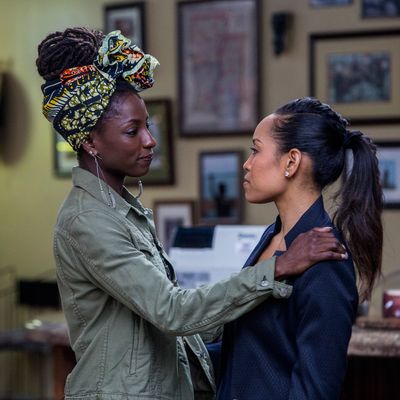 Rutina Wesley as Nova, Dawn-Lyen Gardner as Charley.
Photo: Skip Bolen/OWN
Throughout the first season of Queen Sugar, I've given Charley a hard time. She's a frustrating character because she seems to be the only one who hasn't grown. She keeps doing things her way without consulting anyone, while outright ignoring advice from people who can help. In "Give Us This Day," Charley finally earns my grudging admiration, calling to mind what New Orleans bounce artist Big Freedia announced in Beyoncé's "Formation." She did not come to play, and neither did Charley.
But before we get to Charley, there's no way I can avoid talking about the episode's opening shower scene with Ralph Angel and Darla. Damon Young of Very Smart Brothas wrote a sharp piece about the revolutionary ways that Insecure portrays sex between young black adults. "Black people having sex — and having that sex run the gamut from mundane and matter-of-fact to explicit and explosive — has remained somewhat taboo in mainstream media," Young writes. If Insecure covers the athletic thrusting of making the beast with two backs, Queen Sugar highlights the intimacy and sensuality of sex, especially when love is an essential part of a couple's dynamic. Ralph Angel and Darla have quite a history, and we see it as she leans against him. Yes, they are naked in a shower together, but he's got her back. She's warm under the full spray of the shower, while he's warmed by her. The camera's soft focus gives us glances at the complementary curves of waists, shoulders, necks, and eyelashes. In that quiet space, we see the beautiful variances of black skin, and it's breathtaking.
Okay, whew. Back to the drama. Remy accidentally tells Ralph Angel about the mill Charley hopes to purchase, and of course, Ralph Angel is upset. During the family farm meeting, he lets Charley have it, telling her that their father wasn't interested in building an empire. He simply wanted to work the land and keep passing it down. Charley refuses to accept that. She wants to beat the Landrys and Boudreauxs at their own game, but Ralph Angel knows it's not a game. He refuses to participate in the community farm meeting, where Charley and Remy hope to convince the farmers to invest. Charley reminds them that their ancestors took risks to get them to the present day. Why won't they do the same? Her speechifying works and the farmers agree to the plan.
Charley then makes moves to get Davis to sign with the Stingers. While playing dutiful wife in front of Rovner, Davis misreads the signals. He wants a second chance, and if Charley doesn't come see him, he won't sign. Unfortunately, she was about to go over to Remy's place. She tells Remy she'll come by later, but he says no. He's not stupid. He knows what Davis is up to. Devastated, Charley visits Davis but refuses to let him touch her. When he claims he's going to sign with New York, Charley calls him the old man in the club: He thinks he's cool for playing the field, but everyone's laughing at him. Charley knows her husband. It shames him enough that he signs with the Stingers.
Charley isn't finished, even though it looks like she and Remy are. She finds Davis's teammate Felix at a strip club, where he's getting a lap dance. She interrupts and demands he sign with the Stingers or else she'll get other sex workers to come forward about the things he's done. Melina may not be able to talk about what happened because of the settlement agreement, but other women can. Mimicking the moves of a stripper, Charley bends to put her face close to his. She threatens him against making anymore attacks against sex workers. When a person gets a lap dance, although the stripper may be standing, she's not necessarily in control. She's serving the needs of the person seated. In this case, however, Charley is in total control, flipping the power to ensure Felix knows he's caught. In order to keep Charley quiet, he has to sign to the Stingers and send her $5 million. Meanwhile, Rovner sends Charley another $5 million because Davis signed his contract. She also asks that he send $1 million to a nonprofit called Sex Workers Outreach Project, donated in Melina's name.
Although blackmailing Felix will probably come back to haunt her, I must commend Charley's ruthlessness. Her experience with Melina seems to have changed her. Charley had to put on a show of intimacy to nudge Rovner and Davis in order to get enough money to buy the mill. If she didn't do so, she would've failed to save the farm. It's the same principle sex workers use: using what they have to get what they need. Later we see Charley scratching the name "QUEEN SUGAR" in the dirt in front of the mill. She definitely made some queen moves in this finale, frustrating her family and a potential new love in the process. The question is, how lonely will it be at the top?
While Charley is hustling, Nova and Calvin reunite. They go dancing because he wants to go public with his love for her. While out together, Calbin runs into Bruce, a friend from the police force who compliments Nova's beauty until he realizes she's "that bitch from the Daily News." Calvin immediately tells Bruce to back down, but he continues his insults, saying Nova must be "some good ass" for Calvin to leave his wife and betray his brothers in blue. Bruce grabs under Nova's skirt and Calvin punches him. The fight breaks up quickly, but not before Bruce spits in Nova's face. Spitting on a person is an especially degrading act, but adding in the dynamic of a white man spitting on a black woman … I honestly stood up and balled my fists. Nova cries, shaken by the incident. She's still crying when the episode ends, all alone, using what looks like Calvin's shirt to wipe her tears. Where is he? Why isn't he with her? At that moment, the parallels with the show's pilot come into focus: Nova is in tears, yet again, in part because of her relationship with Calvin. Will they ever be truly happy together? It's not looking good.
In the meantime, Ralph Angel and Darla continue to grow close, sharing I love yous while they help Blue with his coloring. Ralph Angel finds a box with a revised will and letter from his dad. Ernest had left the entire farm to him. In the letter, Ernest tells Ralph Angel, "You are more than you know. You are better than you think." He was proud of how Ralph Angel had moved past his troubled background and saw what he would mean to the farm. The discovery brings Ralph Angel to tears. After swallowing down Charley's disrespect and her dismissal of his ideas, Ralph Angel needed to read those words from his father. He needed to know that his father put all his trust in him. Now, the question is: Will Ralph Angel fight his sisters for full control of the farm? Nova has acted as mediator between Ralph Angel and Charley all season. On whose side will she fall? Ralph Angel clearly has a head for the farm business — even Remy sees it — but can he run the land without Charley and her bank accounts?
We also see that the story of Vi and Hollywood isn't finished yet. He took a six-month job on the rigs to clear his head, and now he knows that Vi is willing to meet him halfway and start over. A fresh start might be just what they need. It looks like the Bordelon siblings will also be starting over, if Ralph Angel decides he wants the farm totally in his name. The pilot ended with Charley overlooking the family's land, but this time it's Ralph Angel surveying his inheritance. The brother and sister are night and day. One wants to work the land for legacy. One wants to build an empire. Time will reveal who the savior of the Bordelon farm will be.