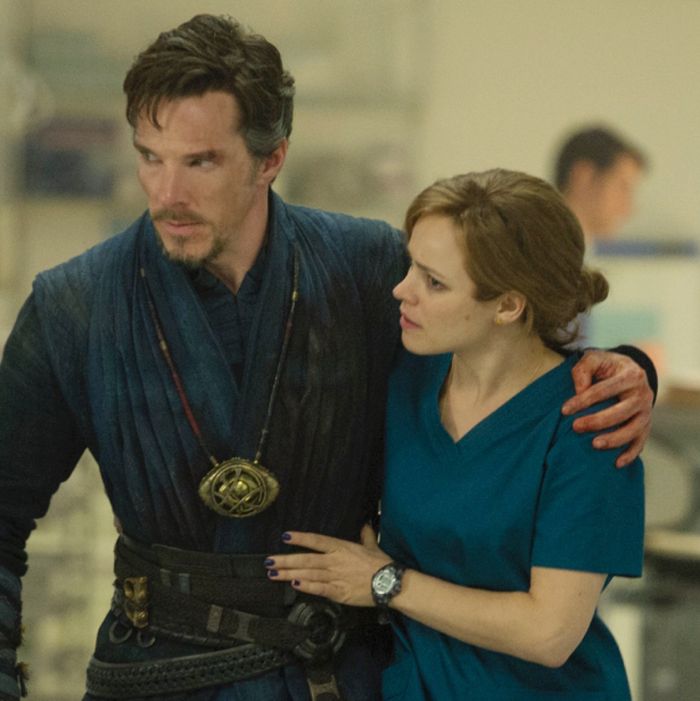 It's hard to figure out what Rachel McAdams's standout scene in Doctor Strange is. Maybe it's the one where she offers Benedict Cumberbatch emotional support while he performs a surgery. Possibly it's the one where she performs surgery on Benedict Cumberbatch and offers him emotional support. My personal favorite, though, is the one where she brings Benedict Cumberbatch some fancy wine and cheese while she offers him emotional support, all of which he refuses to accept. McAdams, a recent Oscar nominee, is technically playing Doctor Christine Palmer in the film, but her actual role is to be the latest in a long line of Underutilized Marvel Love Interests, or UMLIs.
McAdams's role in the film is a sort of Schrödinger's casting paradox. She certainly commits to her scenes, but she only appears in a tiny sliver of the film, and doesn't get much of a character to play when she's there. On one hand, the film clearly wastes her talents. On the other, McAdams probably got a big payday for a very small amount of work, which is one of the best things in life. On a third, extra-dimensional hand (it's a trippy movie), she had to do a whole press tour anyway. Point being, we're not here to judge Marvel or McAdams as much as we are to outline all the lessons she could learn from the UMLIs who came before her.
Don't do the sequel, and definitely not the sequel after that one.
We know that Doctor Strange will return to the Marvel universe, but Christine Palmer can probably sit the next films out. The repartee between Pepper Potts and Tony Stark was the best part of Iron Man, but as that movie's sequels wore on, and as their relationship became increasingly fraught and metaphorically crucial, the writers seemed to have less and less of an idea of what to do with Pepper. "The love triangle in this movie is really between Tony, Pepper, and the suits," Marvel's Kevin Feige said about Iron Man 3. Gwyneth Paltrow did not stick around for Captain America: Civil War.
(Unless you get to be a hero.)
UMLI Evangeline Lilly was mostly on the sidelines of Ant-Man, but she's going to get the chance to suit up for the sequel Ant-Man and the Wasp. We like to believe we're heading to a universe where women get to have first billing off the bat (hi, Brie Larson), but if McAdams has to get her own powers the hard way, so be it. Palmer herself is just an ordinary person in the comics, but we suggest that, since McAdams has been the love interest in two movies about time travel, it's about time (I'm not sorry) she gets some damn time powers of her own.
Be wary of spinoffs.
Hayley Atwell turned a gig on Captain America into a two-season stint on the ever-charming Agent Carter. But McAdams's pay grade is probably above what ABC can afford, and she probably isn't interested in going down a road that leads to not-quite-Shondaland network dramas. Sure, a Nurse Jackie­ meets Enlightened feminist prestige drama about Christine Palmer, the doctor who gets shit done while the men around her swan off to Asia on vague quests to find themselves, sounds great. But prestige TV has not been kind to McAdams in the past.
Find a niche.
McAdams famously took a two-year break mid-career, and since Hollywood still doesn't know what it wants to do with her, maybe some Marvel money will help her take charge of her star image. Learn from UMLIs like Natalie Portman, who's leaned into sending emails and making dark dramas, and Scarlett Johansson (who is really more of an Underutilized Marvel Heroine), who has become a go-to sci-fi lead. Maybe McAdams could rev up those Slings & Arrows chops and do more Shakespeare, but weird Shakespeare like Troilus and Cressida. Maybe she could use her Spotlight turn as a jumping-off point to play different heroic journalists. Or maybe she could go even bigger, and use Spotlight to launch a larger series about struggling industries: She could play a heroic book-store owner, heroic non-Uber taxi driver, heroic Vine star, etc.
In fact, skip TV in general.
Linda Cardellini, the UMLI of Underutilized Marvel Hero Hawkeye, took a gig on Bloodline, which absorbed millions of Netflix's dollars and only got two Emmy nominations to show for it. We know the lure toward doing a streaming TV show may be strong — even Emma Stone is doing it! — but it's still best to stay wary of a big TV investment. Sure, the collapse of the rom-com industry has pushed fellow stars like Reese Witherspoon and Amy Adams into doing crime dramas for HBO, but again, remember the lessons of True Detective season two. Best to wait for prestige TV to move a little farther out of its antihero phase before you dip your toe in again.
Consider a high-end lifestyle and/or food brand.
We have no idea if Rachel McAdams has any interest in replicating either Goop or Scarlett Johansson's Paris popcorn shop. But if she did, we think Rachel McAdams's You Probably Forgot I Was Canadian, But I Am poutine brand could be a big seller.
Store up material to dish.
It's best to remember that whatever happens, it's probably Hollywood's fault. It's possible to make a lot of big swings that sound good on paper — say, a Cameron Crowe rom-com with a starry cast — that don't work out in practice. So, regardless of what happens next, McAdams should just remember to store up some primo gossip that she can spill years after she's truly fed up with everything. Remember how Natalie Portman made it pretty clear she didn't want to be in Thor 2 and then shadily exited the MCU? Try to top that, Rachel. We can't wait to read stories about how Benedict Cumberbatch and Tilda Swinton were less than impeccably British in your tell-all memoir.