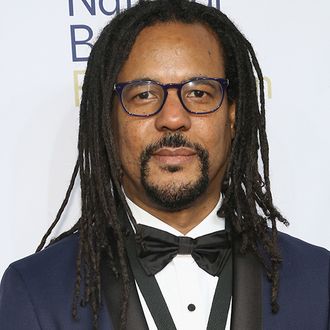 The "hellhole wasteland of Trumpland," as novelist Colson Whitehead referred to it, hung heavy Wednesday night at the National Book Awards. The top fiction and nonfiction prizes were taken by books about race by authors of color — Whitehead's The Underground Railroad for fiction and Ibram X. Kendi's Stamped From the Beginning for nonfiction. Rep. John Lewis won an award for young people's literature for his graphic memoir trilogy, March. In their acceptance speeches, the authors spoke about race in the shadow of the 2016 presidential election, showing signs of both concern and hope. Here's what they had to say.
IBRAM KENDI: 
I of course would like to thank the newest addition to my family — some of you have seen her tonight. It's my 6-month-old daughter. And she truly is the best award that I've received all year. No offense to the National Book Foundation. And her name, we named her Imani. And Imani in Swahili means "faith." Faith, her name of course has a new meaning for us as the first black president is set to leave the White House and as a man who was emphatically endorsed by the Ku Klux Klan is about to enter. Faith, I just want to let everyone know, that I spent years looking at the absolute worst of America: its horrific history of racism. But in the end, I never lost faith. The terror of racism, I never lost faith that the terror of racism would one day end. I never lost faith because for every racist idea, there was an anti-racist idea. For every killer of the mind, for every killer of the mind there was a life saver of the mind. And in the midst of the human ugliness of racism, there was the human beauty, there is the human beauty in the resistance to racism. That is why I have faith. And I'll never lose my faith that you and I can create an anti-racist America where racial disparities are non-existent, where Americans are no longer manipulated by racist ideas, where black lives matter. And so I want to thank Imani, faith, for that. I want to thank all of those in history, all those people across the nation who are learning to be anti-racist, who have dedicated their lives to anti-racist work. You are my rock of faith. You are the nation's rock of faith, and I dedicate my award to all of you.
JOHN LEWIS:
Some of you know — I grew up in rural Alabama, very, very poor. Very few books in our home. And I remember in 1956 when I was 16 years old with some of my brothers and sisters and cousins going down to the public library, trying to get library cards. And we were told that the library was for whites only and not for coloreds. And to come here and receive this award, this honor, with these, it's too much. But I had a wonderful teacher in elementary school who told me, 'Read my child, read.' And I tried to read everything.
COLSON WHITEHEAD:
This time last year I was finishing up the book and was like, Don't mess up the last 20 pages, Colson. Every day I'm like, Only 19 pages to go, don't mess it up, Colson. And you never know what's going to happen in a year. And now the book is out and I would never think I would be standing here. And who knows where we're gonna be a year from now. We're sort of happy in here, outside is the blasted hellhole wasteland of Trumpland which we're going to inhabit. But who knows what's going to happen a year from now. And because I'm still promoting the book, people have been like, "Do you have any words about the election?" And I'm like, "Not really" — I'm sort of stunned. And I hit upon something that was making me feel better, and I guess it was, I think, hopefully applicable to other folks: Be kind to everybody, make art, and fight the power. That seemed like a good formula for me, anyway. So B, M, F, and if you have trouble remembering that, a good mnemonic device to tell yourself is, They can't break me because I'm a Bad Mother Fucker. Thank you.