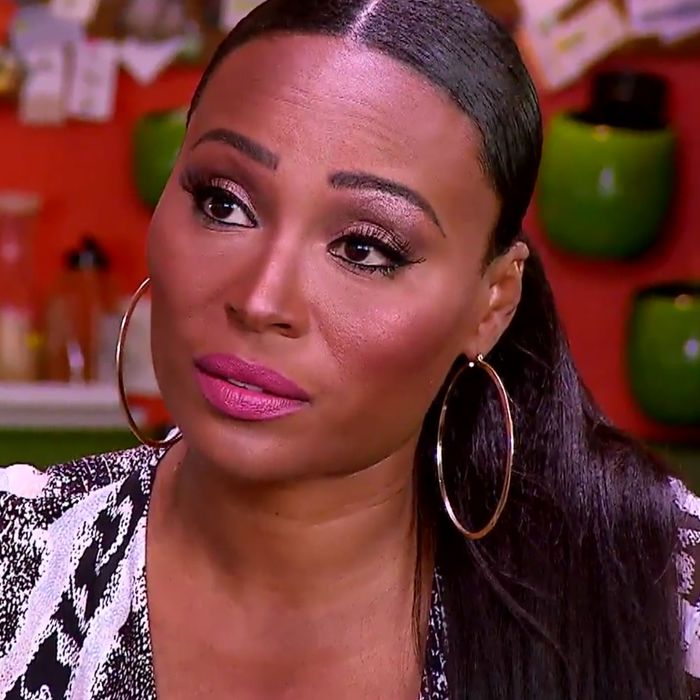 I spend a lot of my time watching and writing about reality TV. Probably more than I should for the sake of my health and well-being. Probably more than any person could justify. Of all the reality TV I watch, I love The Real Housewives of Atlanta the most because these bitches keep it moving. Every hour-long episode just flies by. Even with all their conversations about conversations, they pack in enough drama and emotion. You could say a lot about these Housewives — they're petty, they're childish, they're spiteful, their wigs and weaves are so large they're at risk of becoming sentient — but I'll be damned if these ladies don't keep me giggling. Phaedra and Porsha complimenting the trees on their waist-training corsets is so bizarre and absurd that you can't help but laugh. What are these women talking about?
This week, Kenya and Matt's relationship returns to its full glory. Porsha, Phaedra, and Sheree are meeting to talk shit about Kenya's relationship like any good girlfriends would. Sheree thinks that Kenya has been sleeping her way to the top of the "Z-list DVD rack," which is a read but also impenetrable. Kenya and Matt are driving to Cincinnati to attend his family reunion. (If any of you readers are in Cincinnati, please go see my friends at the Cincinnati Playhouse in Second City's Holidazed and Confused. I would be in that show, but it required me to go live in Cincinnati for two months and I passed. Say hi to my old castmates, though!) Kenya and Matt have been back on for two weeks and they're spending most of their time banging and working out in her unfinished front yard. Kenya is concerned that the age difference is going to scare Matt's family off. Somebody should be scared off.
Kandi is at her office trying to organize the grand opening for the OLG when Kris Kelli comes in. Kris has a lot of nerve to just stroll in on a fake-ass business meeting, sit down, and start making demands like "Let your deadbeat baby daddy have more contact with his daughter when no one wants that (including him)." The stunned faces as Kris walks into the office are amazing. All those jaws need to be picked up. Todd is so shook he has to just walk away. Kandi holds her ground and lets Kris know that if Block wants to see his daughter, it's up to Riley and him to work something out — and at the end of the day, it's up to Block to make the effort and Riley gets to say no. Everyone keeps saying every daughter should get to know her daddy. Sure, if your daddy isn't a jerk who sends his girlfriend to do his business.
Kenya and Matt aren't flying to Cincinnati — they're driving a whole eight hours together so they can "bond." That involves Kenya complaining for four hours, sleeping for two, and watching her dogs fight each other for the other two. What bonding. Meanwhile, Sheree is going to visit her ex-husband Bob who parades his thighs around and makes her a terrible smoothie. All of this is to ask her if he can move back in for no real reason. Does he want to save money on rent? He says it's to spend more time with the kids, but he spends most of the visit making eyes at her and trying to grab her booty. Bob never apologized for anything that went down during their marriage or divorce, so he's got a lot of nerve trying to grab a handful of that booty. Can we just ban men from Atlanta? They're nothing but trouble.
Cynthia invites her mom and her sister over to help her daughter make beignets and get some of the gossip on Peter. It turns out Peter has been calling her sister to cry about how much he misses his wife. Okay, well, maybe if you were a better husband your wife wouldn't be gone. Cynthia is scared of being alone at age 50, but she'd rather be alone than trapped in an unhappy marriage. She asks her mom for advice and her mom is just excited that Cynthia made good money and bought her a BMW.
Phaedra and Porsha meet up for a hike and display their booties to the wild. Porsha thinks it's time to have a child and she doesn't need a husband to do so — but she is talking to her ex-boyfriend again and if he would like to, he could supply some baby-making materials to the good cause. Porsha goes to Krav Maga with her ex, Todd, and asks him if he would like to donate some sperm. I'm sure the donation process would be fun for him, but he says he wants to be involved in her life. They're pretty cute. He looks like Dr. Joshua Strongbear Sweet from Atlantis: The Lost Empire.
Kenya and Matt make it to Cincinnati and meet his family for brunch. Kenya tries to make nice, but when she tries a little too hard to be diplomatic, Matt's sister Hallison sees right through her. Are you a cougar? What are you after? How does Matt feel about this? Kenya prepared for Mama Mattie to grill her, but not Hallison. Matt's father, the man Pops from Black-ish is based on, jokes that Kenya is really the alpha male in the relationship. Oh, goody! Rigid gender roles! Later at the reunion, Kenya dances with some adorable children in their summer gingham and Mama Mattie takes Kenya aside and lets her know that they were all worried that the relationship wasn't going to work out. Kenya reassures her they're both taking the relationship seriously. Mama Mattie thinks Kenya is going to make a great daughter-in-law.
The episode ends with Kandi and her issues with Block. While one of her friends is hanging out with Block, he tells a very different story, but he's not exactly willing to put in the effort to see his daughter. Riley also seems perfectly comfortable with just letting her dad talk his talk without creating a new relationship. Kandi goes to work out with Sheree and tells her she's kept a lot of things from Riley about how terrible Block was. Kandi swears she never stood in the way of Block and Riley. It's always hurt her to see Block let her daughter down because Kandi never had a relationship with her father. When Riley was a baby, Kandi told Block, "You'll never have to worry about her. You'll need her before she needs you," and she seems to have been right. She'll give Block a chance, but she's not holding her breath.