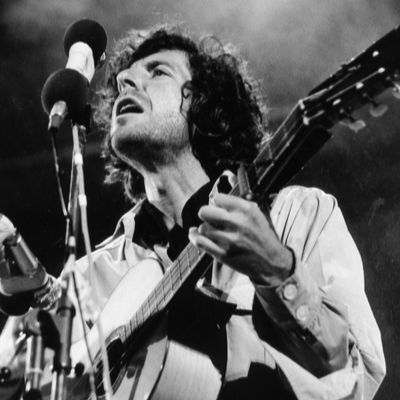 UNITED KINGDOM - AUGUST 30: ISLE OF WIGHT FESTIVAL Photo of Leonard COHEN, performing live onstage (Photo by Tony Russell/Redferns)
Photo: Tony Russell/Redferns/Getty Images
For as long as I can remember, most of my friends have been creative types, and we all live in the shadow of some long-studied hero with an unlikely path to greatness. We bat around facts about their accomplishments to give one another hope in a life less ordinary — "Bob Dylan was just 24 years old when he made Highway 61 Revisited," "Biggie did Ready to Die at 21" — but the upshot of lionizing young dynamos is that the older we get, the more washed, wasted, and ruined we begin to feel. As a music critic who didn't bring home a decent check in the business until after I turned 30, I came to rely on a different model. Leonard Cohen was a 33-year-old poet and novelist when he released his first studio album, I say now. Imagine where he'd be if he gave up hope at 30. It's never too late to figure out what you're here for and crush it. Cohen is gone now, but he lived on his own timeline and terms, and he stared at death so sternly in his work that it's impossible to imagine he was unprepared.
Leonard Cohen approached songwriting with a poet's patience and a fiction writer's sense of drama. There was often very little separating the listener's ear and the purity of his characters' gloom. "I stepped into an avalanche," he deadpanned over picked guitar and swelling strings on Songs of Love and Hate opener "Avalanche." "It covered up my soul." It's an accurate portrayal of the experience of listening to Cohen, this sense of sudden, total envelopment. He scattered a few enticing words around you, and you were trapped before you knew it. It's a steady, predacious intensity he'd never lose even when he ditched the folkie rubric for quirkier textures. No amount of Phil Spector's embellishments could shake the loveless pall off 1977's Death of a Ladies' Man. The dirty trick of 1988's I'm Your Man is training its sexy synth-pop arrangements on "First We Take Manhattan" and "Everybody Knows," a pair of jingles about demagogues and the death of democracy. (Best to stay away from both for a while to avoid a grisly chill.)
As deep as his capacity to rattle the listener could be, Cohen was also a storyteller of profound grace and delicacy. "Bird on the Wire," "Hallelujah," and the like imbue personal stories of love and faith with Homeric significance. Along these lines, a long-standing Cohen favorite of mine is "Stories of the Street," from his 1967 debut, Songs of Leonard Cohen. On the one hand, it is the tale of a man leaning out of a hotel window debating whether or not to leap to escape a world rapidly growing callous and unkind owing to war and urban sprawl. The protagonist ultimately lives because he's too caught up in the comings and goings of the people below to ever make a choice. For years I marveled at the prospect of a songwriter arriving at such poise on the first album.
It's a mistake to think of Cohen as a late bloomer in his field, and not just because he tried his hand at playing guitar years before the sessions that produced Songs Of. His music thrived on all the loves and lives he encountered in his travels. Much has been written about women like Suzanne Verdal ("Suzanne") and Marianne Ihlen ("So Long, Marianne") and the impact of their companionship on Leonard Cohen's art, but really, the world was his muse. He processed the Gulf War and China's Tiananmen Square Massacre on tunes like The Future's "Democracy." He ribbed his own advancing age in 2012's Old Ideas and peppered last month's You Want It Darker with sneaky lines about quitting card games ("You Want It Darker," "Leaving the Table") that, having arrived just two weeks before his passing, feel like the man wryly coming to terms with impending mortality. The real takeaway from Leonard Cohen's life isn't the sermon about individual callings that I've been laying on my artsy friends over the last two years. It's that the path of the artist demands both the patience to see the art in all the world around you and a mind sharp enough to use your craft to shape and challenge it. Everything else is fate paying it forward.