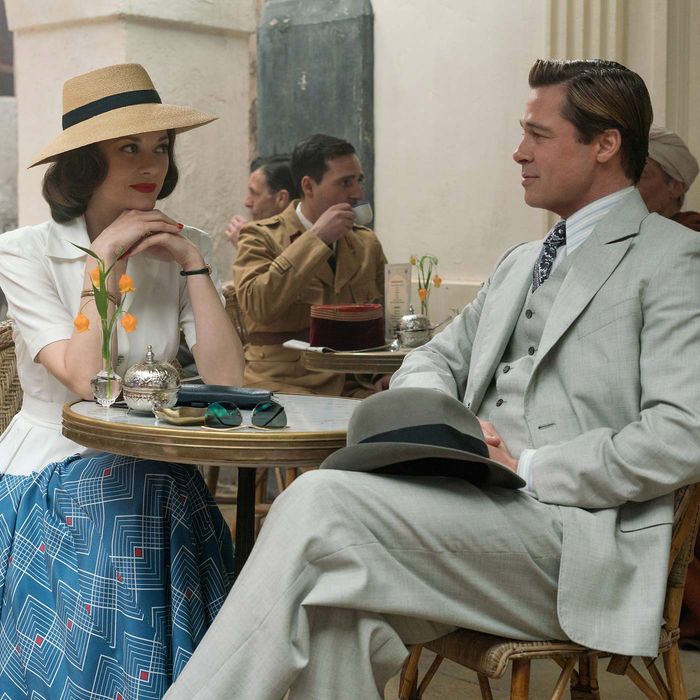 Marion Cotillard and Brad Pitt in Allied.
Photo: Daniel Smith/Paramount Pictures
With Allied, Robert Zemeckis has fashioned a good old-fashioned World War II romantic espionage movie, but that wouldn't matter a damn if the leads weren't beautiful and didn't look great in period clothes. They are and they do. In the opening, Brad Pitt ("Max") parachutes into the Moroccan desert; a car comes from behind yonder dunes to pick him up while he warily fingers his gun; and his contact sends him to a party in a fancy Casablanca club where he has to pretend to be the husband of a woman he hasn't yet met, played by Marion Cotillard ("Marianne"). After impressing the Nazi-sympathizing crowd with his tender affections for his bogus wife, he finds himself alone with her. "Not bad," she says, giving him the once-over. "You're not so bad yourself," he says. Their mission is to assassinate a Nazi ambassador but the real suspense is over how soon they'll fuck. When she raises the issue, he says, "[Spies] fucked each other and fucked up and now they're fucking dead." The line lacks tone but it does manage to combine three definitions of fuck in one sentence. For that and much else, the screenwriter, Steven Knight, must be commended.
Here I must leave the plot because just about everything else is a dreaded "spoiler." But I can say that everything else is a lot. Knight is a British TV vet and wrote and directed the one-man tour de force (all of it set behind the wheel of a car) Locke, with Tom Hardy. He has a knack for non-outlandish twists. His characters here, Max and Marianne, might be just what they seem or might not. But they will fall in love, which you know, because if they didn't there'd be no movie. If they survive their potentially suicidal mission, will they be able to make a life? Spies keep you guessing. 
Few leading actors began as blank and vague and dull as Pitt, but apart from his unshakable tendency to channel Robert Redford, he has worked hard to be taken seriously and is overall quite likable. It helps that his face is more lived-in, possibly lived-hard-in. He doesn't exactly bare his soul when he falls for Marion, but he's credibly obsessed and credibly stricken. Cotillard makes Marianne a fascinating enigma. Early on, she tells him she has survived as a spy because she lives the characters she plays — which raises the question of whether her emotions are for real or she's just really, really good at making them seem that way. She's certainly a chatterbox.
Hardcore auteurists who've taken up Zemeckis's cause will be disappointed that this doesn't really seem like un film de Bob Z. But as a soft-core auteurist I think it's nice that Zemeckis — who has become more of a stunt-oriented director over the years — has made a movie that doesn't rest on state-of-the-art CGI. There are no supporting characters to speak of, although Lizzy Caplan is around as Max's sister and Jared Harris as his friend. You just get two ridiculously attractive movie stars struggling to survive amid Nazis and sundry other jackals. After paparazzi, bitter spouses, and high-priced divorce lawyers, Allied must have seemed like a cakewalk.