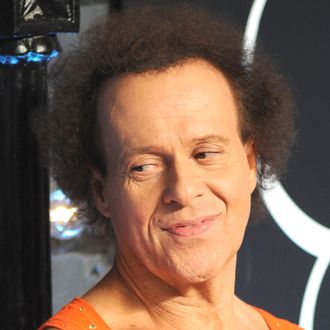 Photo: C Flanigan/FilmMagic
Richard Simmons has officially shut down his legendary exercise studio in Beverly Hills. Slimmons had its last class yesterday morning, and although the iconic exercise guru wasn't present, he did have a message for the 60-ish people who showed up one last time to sweat to the oldies. They'd come from near and far, diehards and newbies alike, whose ages ran the gamut from 25 to 94. Simmons wrote a note for the class that the studio manager read aloud, and it was later posted to Facebook:
I will not see you today because I am not very good at endings. I would just spend the whole time hugging and crying. My eyes would get puffy and red, my hair would get all frizzy and I'd be a mess. I cannot bear to be sad today. And you shouldn't be sad either. This should be a celebration of our forty-plus years together dancin' and sweatin'. So let's turn this ending into a new beginning. Start your own chapter today. Do something new you've always wanted to do. Make a new friend. Exercise. Eat a healthy meal. Drink water. Track your food. Spend time with your family or the ones you love and those who love you back. But most importantly be good to yourself.
There have been questions about the well-being of the chipper exercise icon; in addition to a June hospitalization, the New York Daily News suggested earlier this year that his friends are concerned he is being manipulated and "held against his will" in his own mansion. Simmons's manager Michael Catalano told ET that "it was Simmons' idea to close it for good and that 'he just hasn't taught there in over two years.'"