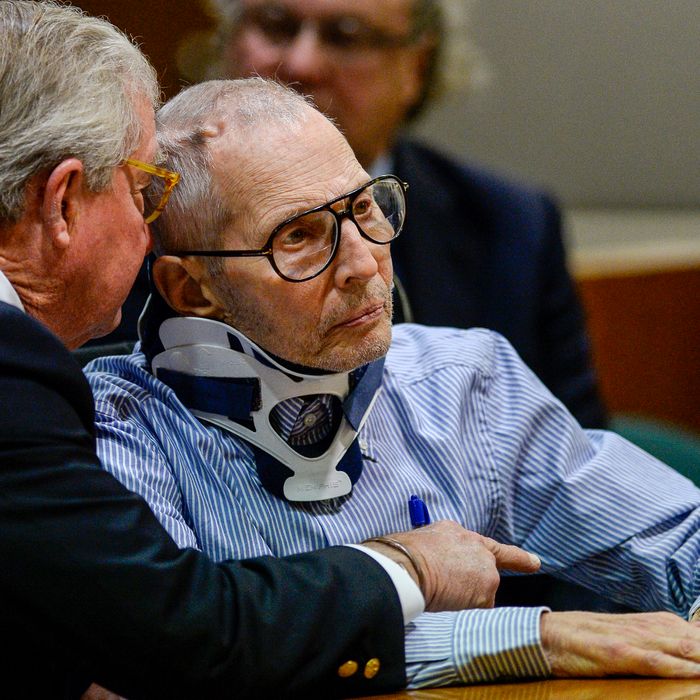 Lawyer Dick DeGuerin, left, talks with Robert Durst in the Airport Branch of the Los Angeles County Superior Court on November 7, 2016.
Photo: Pool/Getty Images
Eighteen months after his arrest in New Orleans, a tiny, frail Robert Durst was wheeled into a Los Angeles courtroom on Monday for an arraignment for the 2000 murder of Susan Berman. His lawyers officially entered a not guilty plea on his behalf. During the brief appearance, Durst, 73, spoke only once to respond to a judge's questions about the trial schedule. He said he waived his right to a speedy trial, and reiterated, "I do want to say right here and now. I am not guilty. I did not kill Susan Berman." 
Durst, who is hard of hearing, missed most of what was said by lawyers in court, according to his lawyer, including when prosecutors announced they will not be seeking the death penalty against the real-estate heir.  The courtroom was filled with members of the press and a few spectators, including lawyer Gloria Allred, who said she had a client connected to the Durst case. Los Angeles Superior Court Judge Mark E. Windham scheduled a preliminary hearing for February 15.
Durst, who has been in an Indiana federal prison, was transferred to Los Angeles on Friday, but it remains unclear if he will return to Indiana or be housed in a federal prison in California. Durst's fragile health did not come up during the hearing. In previous appearances in New Orleans, lawyers said he has an "acute mental-health condition," has survived cancer, and recently had surgery for an undisclosed condition. His lawyer Dick DeGuerin declined to answer questions after the hearing. 
Durst's legal problems in California began right after America heard what sounded like a confession on HBO's documentary The Jinx: The Life and Deaths of Robert Durst: "What the hell did I do? Killed them all, of course."
The Jinx ended with those chilling words from the wealthy real-estate heir, who was talking to himself in a bathroom while his microphone was still on. Durst, who has been a murder suspect in three different states over several decades, had just been confronted by the producers of the Emmy-winning six-part series about handwriting on two letters linking him to the 2000 murder of his close friend Susan Berman in Los Angeles.
Durst seemed to know he was in trouble. While the series was airing, he disappeared from Houston, his home at the time. The Federal Bureau of Investigation found him hiding in a New Orleans hotel, where he had registered under an alias. After finding an illegally owned handgun in his hotel room, Durst, who is a felon, was arrested on March 15, 2015, hours before The Jinx series finale aired.
The following day, the Los Angeles District Attorney's Office charged him with one count of first-degree murder in the death of Berman. Durst pleaded guilty to a separate charge in New Orleans for illegal possession of a weapon in February, and was sentenced to seven years and one month in federal prison. He has been awaiting extradition to California.
Durst has always maintained his innocence in his friend's murder. In an April 2015 letter to a Los Angeles Times reporter, Durst wrote that he was eager to come to defend himself in Los Angeles: "You couldn't print what I think about The Jinx. I didn't kill Susan Berman, and I don't know who did."
Berman, the daughter of a Las Vegas casino owner and gangster, was a writer living in New York when Durst's first wife, Kathleen Durst, disappeared in 1982 and he became a suspect. (Her body was never found.) Berman was close to Durst at time, helping him deal with the press during the investigation. Police believe her closeness to Durst may have put her in danger when they reopened their investigation into Kathleen Durst's death in the fall of 2000. Days before she was killed, Berman told Durst that New York prosecutors wanted to speak to her, he recounted on The Jinx. She was found dead in her Beverly Hills home, shot in the head, two months later. Durst was in California at the time.
The most damning evidence uncovered by The Jinx is a letter that Durst admitted he sent to Berman in 1999, in handwriting strikingly similar to that on an anonymous note sent to Beverly Hills police at the time of Berman's killing, telling them that they would find "a cadaver" at Berman's house.