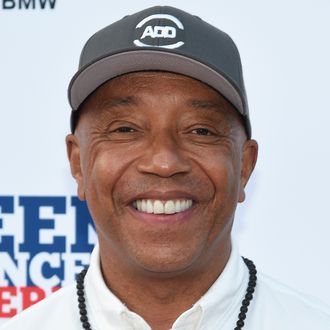 Photo: Frazer Harrison/Getty Images for Teen Cancer Ame
Russell Simmons has some advice for Donald Trump, and the rap mogul says he's presenting it, "As a yogi, not a priest." In a letter called "A Prayer for Donald Trump and America, From an Old Friend" that was published today by the Huffington Post, Simmons first congratulates the man he says has been "a real friend" to him for the past 30 years, before giving him a tough talk about what America needs from him now that he is the president-elect. "The far right wing and the alt-right were your most staunch supporters, but those people are not your friends and you know that," writes Simmons. "You have the chance to be the first true independent president this country has ever seen, but your radical beliefs you ran on during your campaign must be addressed."
Simmons goes on to ask Trump to broaden his circle of influence to include more diverse points of view, to be mindful of the fact that every move he makes will not be tracked and that his influence will set the tone for how the people of the nation treat each other, and then he gives him a long list of all the things he needs to stop doing immediately.
Donald, you cannot target a religious group of people. That is dangerous. You cannot separate families and deport people who have only known this country as their home. That is immoral. Donald, you cannot further militarize the police and empower them to antagonize and terrorize black communities. That is unjust. You cannot wage war against women's rights. That is disastrous. You must stop with the hateful and harmful language towards women and people of color. That is unacceptable. Donald, you cannot rip up all of our regulations that protect our planet, continue to subsidize the meat industry and put people in power that think climate change is a hoax (the rumor of who you want to appoint to run the EPA is frightening). That is beyond repair.
Here's hoping that Simmons's friend is feeling receptive to advice right now, and also that the Huffington Post has landed in his daily briefing.