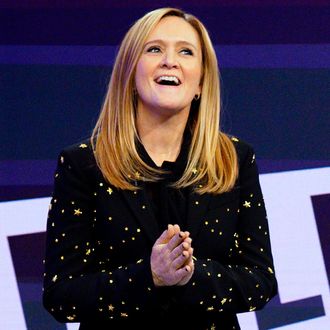 Samantha Bee.
Photo: Myles Aronowitz/Myles Aronowitz
Here's some news that's not at all surprising but very much welcome in the Age of Trump: Samantha Bee's Full Frontal is coming back for a second season. The Emmy-nominated TBS series is also switching time slots, moving to Wednesdays at 10:30 p.m., starting January 11. The Turner-owned network didn't say exactly how many episodes of Full Frontal its season-two order covers, but did confirm it had been renewed through all of 2017. "Of course we're picking up the show," Thom Hinkle, TBS's senior vice-president of original programming, said in a statement announcing the renewal. "In less than a year, Sam has become one of the most talked-about personalities in all of television." Bee, meanwhile, said she had just one regret about getting another year on TBS. "I am only sorry that this renewal leaves me unavailable for a cabinet position in the new administration," the comic said. "I will, however, be available to host the White House Correspondents Dinner, seeing as I already bought the dress."
Ratings for Full Frontal aren't spectacular, but they've been solid — and growing: Among adults under 50, the show's viewership has climbed 37 percent in the past two months versus its summer average. Overall, TBS says an average of 3.3 million viewers catch Full Frontal on various platforms each week. Even more valuable to TBS, however, has been the positive buzz the show generates via online clips and chatter. The network is in the early stages of a complete revamp of its comedy brand, looking to draw younger, more upscale audiences with new series Angie Tribeca, The Detour, Wrecked, People of Earth, and next week's Search Party. Bee's Full Frontal, while no Nielsen juggernaut, has become a cornerstone of TBS's new image.