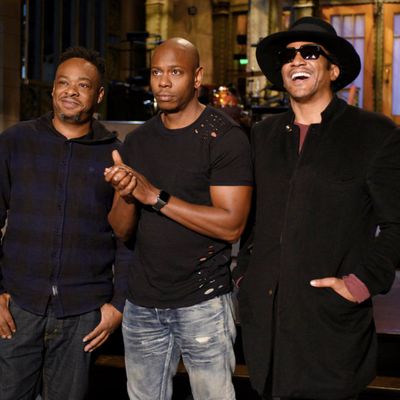 Jarobi White, Dave Chappelle, Q-Tip.
Photo: Rosalind O'Connor/NBC
It's been a decade since Dave Chappelle ended Chappelle's Show, and four decades since Saturday Night Live aired the famous Richard Pryor–Chevy Chase "Word Association" sketch. Both Chappelle and SNL aren't the same, but it's hard not to get disproportionately excited by the prospect of a Chappelle-hosted episode. The man has never stopped being funny, and if anyone has a pocketful of wild ideas to push buttons and shake things up, it'd be Chappelle. Given the week America has had, viewers could certainly use a laugh.
Election Week Cold Open
The episode opens not a sketch, but a somber reflection on the election results: Kate McKinnon sits at a grand piano, in her Hillary getup, and sings Leonard Cohen's "Hallelujah." Beyond a couple of winks to the camera, which feel like a reflection of McKinnon going against her natural instincts to give a heartfelt rendition of a song while keeping a straight face, it's very straightforward. Of course, it also serves to mark Leonard Cohen's death, but when McKinnon sings lyrics such as, "I told the truth, I didn't come to fool ya," it's clear where SNL's heart is. Afterward, McKinnon says, "I'm not giving up and neither should you."
Dave Chappelle Stand-up Monologue
Given Chappelle's stand-up brilliance, it's no surprise that he'd start with jokes. Bits like the one about the shooting at Pulse nightclub are polished, but Chappelle takes on some ideas about the election, too. "It seemed like Hillary was doing well in the polls, but I know the whites," he says. He also talks about how money has gentrified his life, why he wanted Obama to act "stereotypically black" if his life were ever threatened, and the advantages of staying in a Trump hotel: "Housekeeping comes in in the morning, cleans my room, I just say, 'Hey, good morning, housekeeping,' grab a big handful of pussy and say, 'Boss said it was okay.'" At the end, he tells a story about going to a recent party at the White House, a place where black people were not welcome for centuries, and tells Trump he'll give him a chance while saying, "We, the historically disenfranchised, demand that he give us one, too."
Election Night
If Clinton supporters want to start processing the painful results of Tuesday's election, smart sketches like this one might help. Akin to Amber Ruffin's "Join the fun!" message on Late Night, this bit asks incredulous whites to consider what black people in America have felt … well, always. As results trickle in during an Election Night party, the white crowd goes from smug to despondent and Dave sits on the couch, watching. Every time they yell something like, "Florida's going blue. To Latinos!" Dave waits for the appropriate moment to say, "I guess the Latinos didn't hear about your toast." After Chris Rock stops by, he and Dave laugh when someone says, "This is the most shameful thing America has ever done." The joke-heavy blackout structure is atypical of SNL as of late, and a fun departure.
Walking Dead Chappelle's Show
Chappelle has been understandably reluctant to trot out his Chappelle's Show characters for the amusement of fans, but he gives the people what they want as a part of this Walking Dead parody. In a recreation of the scene in which Negan beats a character to death, Chappelle plays not only the homicidal Negan but a cast of former Chappelle's Show characters including Lil Jon, the Time Haters, Clayton Bigsby, Tyrone Biggums, and news anchor Chuck Taylor. Each impression has a joke or two — including Bigsby's endorsement of Trump — and Chappelle nails each and every one of them. By the time this sketch reaches its surreal climax, it feels not only like prescient satire, but vintage, manic Chappelle's Show.
Weekend Update
Even with the election offering up plenty of material, a lot of this week's Update falls a bit flat. There are a number of nice bits, though, including Jost's analysis of Trump visiting Obama in the White House — that is, the president-elect bravely "meeting face-to-face with the man who founded ISIS." Also strong: Che's depiction of America's liberals and conservatives like a couple sharing a bed but rarely touching, and Jost's takedown of Trump's call to "drain the swamp" despite his proposed cabinet of Washington insiders. It's still a swamp when there are "newts" (Newt Gingrich), "a sleepy little turtle" (Ben Carson), a hissing possum (Rudy Giuliani), and "a pile of wet garbage." (Chris Christie).
By far, the highlight is Kate McKinnon's drop-in as sassy Supreme Court justice Ruth Bader Ginsburg, who promises to keep working at age 83. "The bench is now my porch," she says after pouring a massive amount of dry Emergen-C into her mouth, "I'm going to sit on it all day and scream, 'No, get out of my yard!'" Among her patented Gins-burns is this one for LGBTQ-bashing Mike Pence, whom she likens to the neighbor Kevin Spacey kisses in American Beauty: "Sorry you looked at Magnum P.I. once and got a quarter chub and you've been haunted by it ever since."
Jheri's Place / Inside SNL
Fans of SportsCenter post-game analysis will enjoy this meta-sketch. In the first minute, Leslie Jones rounds up the staff at Jheri's Place — a trio of players in jheri-curl wigs misting their hair with cans of hairspray — to shape up their act before the health inspector arrives. Afterward, the players sit down for a post-sketch analysis in which commentators point out flubbed lines and thin premises. Chappelle, for his part, relied too heavily on the wigs and thought he "was going to be the next David S. Pumpkins." The framework is clever and … okay, writers, we get it; recaps might be sillier than any sketch.
Kids Talk Politics
This very short filmed sketch has basically one gag, but it's well-timed given the concerns of parents who want to talk to their children about the election of an unsavory, bile-spewing candidate. A white teacher (Vanessa Bayer) hears the concerns of a young black girl, who talks truth while her classmates laugh at Trump's funny hair. "He has unleashed racism and xenophobia," the girl says, "And has returned the country to a dark age of white presidents." Also, she has a black cat named Pussy. While the teacher may be speechless, her proud papa (Chappelle) picks her up from school, beaming.
Last Call With Dave Chappelle
A sick delight from start to finish, this edition of a recurring sketch features Chappelle and McKinnon playing desperate souls at closing time in Donnelly's pub. Once again, Sheila Sovage needs a little love, and this time ol' Corey Dipships is the only guy left at the bar. And once again, all of the shudder-inducing sex talk is fantastic. After being likened to a frozen turkey, Sovage encourages Corey to let her reach room temperature "before you stuff my butt with cornbread." After a little courtship and a lot of face licking, they pull a "Bellagio" and use the bar's soda guns to spray arcs of seltzer through the air while they kiss. Every incredulous glance from Kenan Thompson's exasperated bartender wins again; even he can't quite keep a straight face during the hamfisted recreation of the hotel's famed fountains.
Love and Leslie
Leslie Jones has trouble finding guys to date, and although a connection with castmate Kyle Mooney might be unlikely, this filmed sketch imagines their would-be romance. Turns out that Mooney is a magic-loving nerd virgin, and Leslie aims to be his first. The only thing getting in their way is Mooney's jealousy: He fears that Jones is actually flirting with Colin Jost on Weekend Update, not just messing with him. The documentary style of the piece is charming and the players themselves are endearing, but it doesn't get far beyond cute.
Football Party
Chappelle's lengthy monologue made this sketch the last one SNL could squeeze in before 1:00 a.m. (It'll be interesting to see what they cut.) Though it's a gross-out premise, it's a good way to finish the night. The 43-year-old Brandon (Chappelle) has his boys over for the game, but when he's ready for a snack, he calls over his mother (Jones) to breastfeed. What begins as a clandestine operation behind a sheet becomes milk shooters — and soon enough, Chappelle's face is covered in a white splatter. The players are clearly having fun, and by the end of it, Kenan Thompson and Pete Davidson practically run offstage because they're losing it.  Yeah, it's dopey, but Chappelle commits to the bit.
What a delight and a relief of an episode. Chappelle's stand-up monologue is a highlight, of course, but his aptitude for former characters is also impressive — as is his willingness to lick the saliva off of Kate McKinnon's tongue. When the credits roll, Chappelle admits that "making a comeback is scary as hell," but it'd be great if he'd consider returning to 30 Rock sometime during the (eep) Trump presidency.