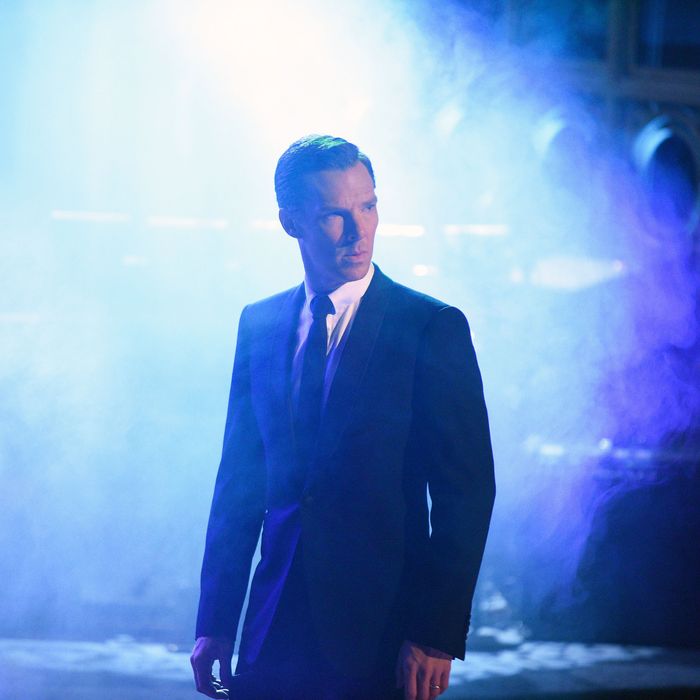 Benedict Cumberbatch.
Photo: Will Heath/NBC
Most Americans know Benedict Cumberbatch as a highbrow heartthrob whose characters boast big brains — Alan Turing in The Imitation Game, Sherlock Holmes in Sherlock, and the trippy title role in the new Doctor Strange — but the internet's boyfriend is also quite the underrated comedic actor. In addition to playing Hugh Laurie's son in comedy-drama series Fortysomething and a pompous quiz -eam captain in Starter for Ten, he was a player on BBC's sketch show Broken News in 2005 and the radio comedy Cabin Pressure. His ability to twist that stiff upper lip into a smugly comic sneer may surprise some Cumberbitches, but in any case, they'll squeeze months of memes and dreams out of his visit to Studio 8H.
Hillary Clinton/Donald Trump Cold Open
With the election mere days away, SNL lets Trump and Hillary loose one last time before the big night. As Trump closes the big gap in the polls, CNN host Burnett (Cecily Strong) grills Hillary about her emails — even as Trump mouth-kisses members of the FBI, the KKK, and a shirtless Vladimir Putin. Then, engaging in an escapist fantasy all too many Americans would like to indulge themselves, Alec Baldwin and Kate McKinnon break character, run into Times Square, and hug everyone regardless of political affiliation. There's no jaw-dropping lines tonight, but McKinnon's open-mouthed howls speak volumes. As fun as Baldwin has been while playing Trump, here's hoping we get a lot more air time for McKinnon's Hillary in the next four years.
Benedict Cumberbatch Monologue
"On the last week in America as we know it," Cumberbatch welcomes the crowd with a sexy, bass-heavy tune (somewhere in the range of the Shaft theme song) to give everyone a list of his bona fides. While crooning about the geniuses he plays and the awards he's received from the queen, he confesses he'd rather fans call themselves "Cumberpeople" and finds the erotic fan-fiction written about him to be "genuinely unsettling." Given the actor's reticence about being a sex symbol, all of the jokes here are spot-on.
The Koohl Toilet
This ad parody is a one-shot sight gag that doesn't overstay its welcome. In a bleak 1984 future known to those who read the novel or seen the movie (or, say, certain Apple or Taco Bell commercials), Big Brother decrees there is only one way to use the toilet. While shouting at the proles about the shame and discomfort they should feel on the throne, a badass Neo-like figure (Cumberbatch) arrives to show his fellow humans a new way. It's not worth giving away the gag, but know that the revolution has a soundtrack: Dire Straits' "Money for Nothing."
Why Is Benedict Cumberbatch Hot?
In this brand-new game show, Beck Bennett invites his fellow cast-mates Vanessa Bayer and Aidy Bryant, along with Cumberbatch himself, to explain why Cumberbatch is hot. "Every girl in the cast has been so horny for this dude all week!" Bennett moans. While the ladies pant and purr and try to make sense of the actor's irresistible je ne sais quoi, Cumberbatch proves so charming and self-effacing that eventually, Bennett gets it. This is another great play on Cumberbatch's reserved demeanor when it comes to his looks, as well an obsession that some people just can't understand.
Office Hours
Chad, the vapid cypher who accidentally seduced Julia Louis Dreyfus in last April's "Pool Boy" short, returns here to teach his professor (Cumberbatch) some life lessons. Up top, Mr. Buckley makes a move on Chad (Pete Davidson) and is succinctly rejected. Apparently, Mr. Buckley is marrying someone he doesn't love, and wants to be "free from doubt and worry," like Chad — who, you may remember, basically has one repeated line of dialogue: "Okay." Completely disconnected from his teacher's turmoil, Chad contemplates snacks, chuckles when he hears the word "taint," and skateboards into the sunset. It's so silly, so good, and Davidson's performance really sells it.
Surprise Bachelorette
Grammy (Ady Bryant) is unexpectedly getting married at the age of 83, and when the family surprises her with a party, she has a heart attack and dies. And that's just the beginning of the macabre fun. Neither the family nor the hunky strippers they hired (Alex Moffat and Cumberbatch) realize that Grammy is dead, so they wind up banging her head between crotches and filling her mouth with whipped cream. The sketch won't win any awards for profound messages or dialogue, but there's a lot of strong physical comedy here. (If you can get past the gross aspect of it, that is.) Baseball fans take note: Three of the World Series–winning Chicago Cubs show up at the end to defile Grammy's body a bit more.
Gemma & Ricky
A date at a steakhouse gets shanghaied by "rock-and-roll mentalist" Ricky Diamonds (Cumberbatch) and his British girlfriend, Gemma (Cecily Strong). Yes, average guy Gene (Kenan Thompson) met Ricky at a "male body-acceptance workshop," and now he and his girlfriend must endure magic tricks and Gemma's original song, "Magic." The sketch is a little flat, and it feels like there's a beat missing somewhere, but Cumberbatch and Strong present such delightfully self-possessed weirdos that its flaws are easy to overlook.
Weekend Update
A lot of the Update material in this segment is dedicated to the election, and whether it's fatigue or just uncreative jokes, much of it falls flat. The one truly insightful bit that wins over a tepid in-studio audience addresses the double standard that's applied to Clinton and Trump. How, Michael Che wonders, is the mystery of Clinton's emails worse than what Trump has already said? Che figures that she feels stupid for deleting her emails: "It's like giving up weed for a job interview and then losing that job to a crackhead." Che also has a nice moment while pondering the very existence of the KKK newspaper, which endorsed Trump earlier this week: "Of course, I got a subscription. I just want to see if there's a sports section."
The first surprise visitor is Dana Carvey, who wheels on to grouse as the Church Lady. She bickers and banters with Colin Jost about the presidential candidates and how many gay people live in Hollywood. As beloved as the Church Lady was and is, it's time to retire her character. There's not a lot of life left in these old gags, perhaps in part because Evangelicals don't come across in quite the same way anymore. And unfortunately, Carvey doesn't have any new tricks up his sleeve. Finally, Che and Jost welcome the baseball players from the previous sketch along with Bill Murray to sing a number about the Cubs. It's cute, not funny, but who doesn't want to see Murray belt out a tune with some of his heroes?
Criminal Mastermind
In what feels like half of a sketch, action hero Slade (Beck Bennett) is confronted with a ticking time bomb while his arch nemesis, Jack (Cumberbatch) delivers sadistic riddles via phone. As Jack and his crew of baddies await Slade's answers, they talk about Stranger Things and whether they might use pictures instead of riddles. There's really not much more to this sketch. The focus isn't on the riddles, but the silly play between the villains doesn't hold focus, either. On the plus side, Beck Bennett does a pretty fun Sylvester Stallone–Arnold Schwarzenegger meathead hero.
Meeting With Mr. Shaw
Predictably the night's most absurd sketch, this closer finds two hospital administrators (Beck Bennett and Kenan Thompson) trying to land a donation from the mysterious Mr. Shaw and his assistant (Cumberbatch). Turns out, Mr. Shaw is a bronzed-eagle head atop a besuited mannequin body that only his assistants are able to hear. Although it's a fun visual, the sketch doesn't capitalize in its fantastical idea beyond lots of lame eagle puns. (The admins gape as Mr. Shaw's assistant talks about how sad his boss was when he found out he couldn't eat Salman Rushdie.) The dead air of Mr. Shaw's reaction shots don't help.
As expected, Cumberbatch has a solid showing as a first-time host, playing big and bold characters while also presenting a playfully humble version of himself. As charming as some sketches are, the night suffers a bit from some underdeveloped premises. And though it's a star-studded SNL — with Bill Murray, Dana Carvey, and Alec Baldwin — much of the starry stuff fails to pack a punch.