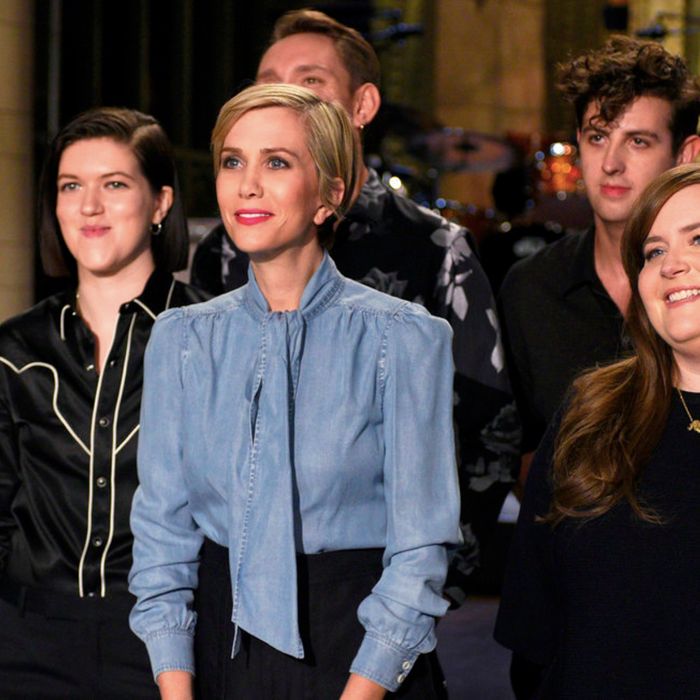 Kristen Wiig, Aidy Bryant, the xx.
Photo: Rosalind O'Connor/NBC
Kristen Wiig is one of the most talented SNL players of the last decade, so a return to Studio 8H certainly bodes well. When former cast members like Wiig return, SNL writers have a big advantage: They can rely on the strength and insider knowledge of the player in question. Also, Wiig doesn't have the reservations that might come from a fearful host; the cast and crew can just wind her up and let her do what she does best. And though she trotted out Target Lady and Dooneese when she first hosted in 2013, there's plenty of room for Wiig to play with a favorite character or two.
Donald Trump Prepares Cold Open
As this week's episode begins, Trump (Alec Baldwin) tries to give himself one big pep talk before assuming the presidency. The job is pretty daunting and people want him to deliver on his bloated promises — but it will cost $25 billion to build a border wall, the generals believe Trump has some secret plan to defeat ISIS, and moderates like Mitt Romney (welcome back, Jason Sudeikis!) won't help. Between asking Siri how to stop ISIS and muttering about boobs and buildings, Trump looks like he's melting down until Mike Pence (Beck Bennett) agrees to do "everything." The regretful Kellyanne Conway (Kate McKinnon) is a highlight, even as the sketch leans away from the biting satire we've seen in Baldwin's previous appearances.
Kristen Wiig Monologue
In her opening monologue, Wiig turns a ridiculous series of musical non sequiturs into something that's a lot funnier than it might seem on paper. She tells the story of Thanksgiving without getting a single fact right: At the first Thanksgiving, Vikings insisted turkeys be eaten before "they eat us," and during the second, in 1492, the martians brought corn and they had "ten kinds of meat, like they had murdered a zoo." Eventually, Steve Martin and Will Forte pop in to correct Wiig, and wind up joining her instead. Though these swift cameos are kind of a waste for Martin and Forte, the nonsensical tune is a fun one.
The Bubble
In the commercial, the hardworking social engineers of a utopia called the Bubble allow crestfallen liberals to live inside of a literal bubble. Inside this community, left-leaning Americans can enjoy their favorite things — hybrid cars, raw milk, and Netflix docs about sushi rice — without having to encounter the riff-raff who elected Trump. It's a good poke at the heartbroken, pampered Americans who whine about the election and believe they can maintain the affluent lifestyle that has put them out of touch with the rest of the electorate to begin with.
Secret Word
While this isn't a particularly noteworthy edition of SNL's Password-like game show, Wiig sells it as always. Flouncing and flopping about in her loose-flowing gown, Wiig shows off her impeccable timing while doing exactly what Mindy Gracin always does: Ruining the game by saying the one word she's forbidden to say, indulging in some esoteric (and racist) bit from her obscure movies, or just carrying on with some absurd monologue about saying hello to some second-rate director's "pink friend." (Oh, the word is "floral," not "oral"?) Although Bill Hader is no longer around to host, Kenan Thompson does a fine job giving incredulous looks to the inept players.
Anderson Cooper 360
The media, like many Americans, just doesn't know how to take Donald Trump's victory or how to report on it. In this edition of Cooper's cable-news show, every single member of the panel has one line they babble regardless of the Trump scandal at hand. Whether they're considering the appointment of Bannon or the KKK parade, the pundits devolve into repeated sentiments that wouldn't sound out of place on the real CNN: "This is not normal," "This is where the media have to draw a line," or "Most Americans voted for Trump." The sketch doesn't discount what's terrifying about a potential Trump presidency, though it primarily takes aim at toothless, formulaic news coverage.
Thanksgiving Parade
If you're home for the holiday and need to go shopping — or you just need to escape your family for a precious hour — Target has your back. In this sponsored-ad parody, Target offers up its big parking lot for texting friends and staring into space, and its many aisles for absentmindedly playing with your iPhone calculator or just lying down on the tile. There's a number of funny observations here, and the sketch will ring true to anyone who has tried to escape a tense atmosphere at home.
QVC Auditions
Two frenemy neighbors make dueling audition tapes, showing off their wardrobes and "clip-on glamour baubles," in an attempt to nab a guest-host spot hocking stuff on QVC. Joyce (Cecily Strong) and Christie (Wiig) keep taking shots at one another until things get ugly and personal. The joy in this sketch isn't so much the structure, though: It puts two strong actors in a room and lets them play a pair of genuine oddballs. As things devolve into a shouting match, Strong makes it clear that she can match Wiig's playful intensity. It's not the funniest sketch of the night, but watching this duo spar and taunt one another is worthwhile.
Weekend Update
At the outset, Michael Che and Colin Jost look at the first week of the Trump transition. Both have nice stretches on Trump's cabinet appointees, including Steve Bannon ("Breitbart News has been criticized for being a sexist, racist, white nationalist news site. Strong words, I don't know if I'd call it a news site. Calling Breitbart a news site is like calling the R. Kelly sex tape a rom-com") and why Trump doesn't seem all that interested in actually governing. (Spending tax dollars so Trump can split his time between the White House and Trump Tower is worth it so "a billionaire can go night-night in his big-boy bed.") As far as channeling the anger and horror some Americans feel about the election, though, Pete Davidson's editorial comes closest to making sense of what's happening. The second half of Update doesn't match that intensity, dishing up some silly jokes about the Rock and millipede penises before giving a few lackluster minutes to Che's optimistic, gray-haired neighbor Willie (Thompson).
Thanksgiving Parade
Just in time, SNL writes a Macy's ad for the Thanksgiving Day parade — which is, of course, just a parade of ads itself. An affluent family in an apartment along the Macy's parade route watches larger-than-life balloons like Toy Story's Woody (Alex Moffat) float by. Then the balloons, which include Madeline (Wiig) and a creepy Bozo/Pennywise (Bobby Moynihan), hover outside the apartment windows, watching the family's every move. Things gets creepier and … well … poor Kristin Chenoweth. This one is half-visual-gag and half-sponsored-content, but neither really make for a compelling sketch.
Whiskers R We
Cat lady Barbara DeDrew (Kate McKinnon) returns with another amorous helper, Furonica (Wiig), whose name is "like Veronica, but how a cat would say it." This one follows the Whiskers R We formula — the ladies pull adoptable kittens out of a box and giggle over cat puns — and it's clear how much fun both players are having while doing it. Among their pitches is one for the naughty Carl: "He clawed up my sofa and then voted for Jill Stein." When Furonica mentions she doesn't know her age because she lost track of time "in the bunker," DeDrew replies, "Ay yi yi, I do have a type." And all of this occurs before the prolonged nipple pinch that leaves McKinnon both delighted and just a little bit uncomfortable.
Surprise Lady: Thanksgiving
Wiig finishes out the night with a worthy but less-popular character: Sue, the lady who is suuuuper excited about surprise parties. Of course, it's more than excitement: Sue is so positively manic while talking about a son's secret arrival at Thanksgiving, she's on the edge of losing it. (And Leslie Jones nearly does the same, when Wiig totters around without using her knees because her "legs are locking up.") There's also a pratfall with a plant, a pillow stuffed into a mouth, and a final, Kool-Aid Man exit. It's just the sort of over-the-top physical goofiness you'd want to see from Wiig.
Though this week's episode has its slow moments, Wiig fans should be pretty happy with the result. Of course, Wiigs plays well with the other cast members and throws herself into new characters with the energy that SNL needs. Though the Trump cold open has less of a bite than the sketches that criticized moping liberals and inept media outlets, it's nice to see Weekend Update pick up the slack. There's no show next week, but Emma Stone will lead the cast on December 3.