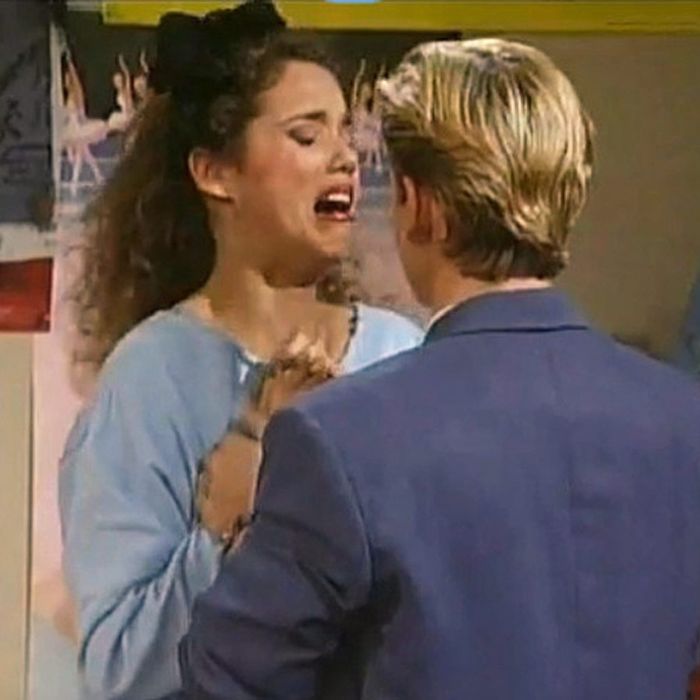 There's plenty to remember about Saved by the Bell: the Hawaiian vacation, the Snow White play, the wrestling uniforms. But one moment truly stands above the rest, so much so that we chose its episode, "Jessie's Song," as No. 1 on our Saved by the Bell rank: Jessie Spano's overdose on caffeine pills and the rendition of "I'm So Excited" that followed. But as we learn in I Was Saved by the Bell: Stories of Life, Love, and Dreams That Do Come True, out today, Jessie's substance abuse was intended to be much more troubling.
In the book excerpt below, Saved by the Bell executive producer Peter Engel describes how the scene was created and why, exactly, Jessie would have such a strong reaction to a drug as innocent as caffeine pills.
Many things happened in our second season of Bell. Zack and Kelly went to prom together, and became an item. Slater and Jessie developed feelings for each other. ROTC came to Bayside and the gang took Driver's Ed. Zack learned about his Native American heritage. Screech was crowned Miss Bayside. The girls became models. But there's another episode most fans remember well, and that's "Jessie's Song," the one where Jessie gets hooked on caffeine pills.
Today, when I meet fans of the show, "Jessie's Song" is almost always the episode that comes up first. It made a big impression on them. But it's sometimes laughed about now, as a lot of people look back and say, wait a minute, caffeine pills? Really? And to be sure, when you watch the scene where Zack discovers Jessie's "addiction" and intervenes, a lot of people today will say, as Dustin Diamond did years later, that Jesse was acting more like a heroin addict than someone on NoDoz.
What fans don't know is that, when I originally wrote the episode with Tom Tenowich, Jessie was hooked on speed, not caffeine pills. But Standards and Practices, the censorial department of NBC, vetoed it, saying speed was too serious for Saturday mornings. I insisted that we needed to start dealing with more important issues than we had in the past, and that speed was a vehicle not only for exploring drug use but also the pressure that kids put on themselves to achieve. But Standards and Practices wasn't budging.
"What if she gets hooked on caffeine pills?" someone—I don't remember who—suggested.
The S & P folks talked it over, and told us caffeine pills would get a green light. So we compromised. We kept the episode virtually the same, but swapped out the speed. I wasn't pleased about it—after all, the average caffeine pill was the equivalent of a cup of coffee, if that, so we might as well have had Jessie get addicted to earl grey, or breaking into the Max to snort coffee grounds. But hey, we had to start somewhere. The scene people remember most is the scene in Jessie's bedroom. Zack comes over to pick Jessie up for a performance—the girls' singing group, Hot Sundaes, is being scouted by a record label. Jessie is disoriented and confused, and starts freaking out about time, about how there's never enough time to study, how she'll never get into Stanford, and so on. Zack tries to calm her down, but she runs to her bedside table and pulls out a bottle, saying, "I just need one of these." Realizing what's going on, Zack knocks the bottle out of her hands, and she lunges for the pills on the bed. As they struggle over the pills, Zack grabs her as she's singing, "I'm so excited! I'm so excited! … I'm so, so scared."
This would have been perfect if the bottle had actually contained speed. Nevertheless, during the taping, the live audience was absorbed like never before. Kids were sitting on the edges of their seats. Many of them were tearing up. The atmosphere was very emotional, intense. We did the scene a few times, and everyone in the control room said we'd gotten what we needed, but I insisted we do another take, during which the kids really turned up the emotion. In this last take especially, Elizabeth let the moment, and the atmosphere on stage, overtake her. Mark-Paul, who was almost crying in real life, kept adding "Jessie" to the script, saying, "Jessie, listen to me," or "Jessie, it's okay," so that there were, in some takes, nearly fifteen "Jessie"s in a two-minute scene. We didn't write all those Jessies, but Mark-Paul was in the moment, really soaring, so we weren't going to bother him.
The scene was so good that, ultimately, we wanted to use it instead of a toned-down version. And even though we can laugh now about how silly the caffeine pills were, there's a reason that so many young adults make a point of telling me that "Jessie's Song" was, hands down, their favorite episode. No one was making programming for kids like that at the time. It made an impact. It helped them grow up. And I'm still, to this day, proud to have my name on that episode.
JESSIE'S SONG — Excerpted from I Was Saved by the Bell: Stories of Life, Love, and Dreams That Do Come True by Peter Engel, reprinted with permission from Ambassador Entertainment Inc.