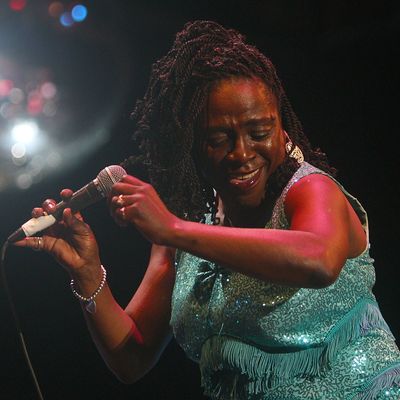 Photo: Marianna Massey/Getty Images
Sharon Jones died yesterday from pancreatic cancer at age 60. This story originally ran on March 28, 2010, and has been republished.
When Sharon Jones arrives at a midtown studio to record a song for a new album by soul legend Booker T., she gets a big hug from Questlove of the Roots, who will be playing drums. The 53-year-old Jones, packed tightly into jeans and a denim jacket, is singing a duet with Matt Berninger, of indie-rockers the National. She steps behind the mike, and after three tries, it's plain to see who's the veteran. While Berninger keeps tweaking the phrasing and redoing lines, Jones — her voice half-gospel shout, half–Soul Train silkiness — nails her part every time. "Wow — you sing three octaves," Berninger tells her deferentially. After the last take, Booker T. and the engineers applaud.
Rewind 25 years, to a Manhattan studio where Jones and a friend are auditioning for a music exec. At one point, he tells Jones's friend to step forward and Jones to move back. "I was like, 'That don't make any damn sense to me — we're doin' a duet,' " Jones says now. "And he said, 'You don't have the look — you're too dark-skinned, you should use something to lighten your skin, and lose a couple of pounds.' " Jones still recoils at the memory. "The idea of me bein' on a record album — that was gone."
Then, maybe, but not now. After three decades of near obscurity, Jones is in demand; she and Brooklyn soul curators the Dap-Kings will release their fourth album, I Learned the Hard Way, on April 6. In recent years, she's sung with Lou Reed in the stage version of Berlin and with Phish for their re-creation of Exile on Main St.; she duetted with Michael Bublé on Saturday Night Live and sings a funkified version of "This Land Is Your Land" in the opening credits of Up in the Air. "I feel like I asked God, and it took me a while," says Jones. "So instead of 'Why?' I say, 'Thank you.'"
Her belated acclaim is one of pop's unlikeliest second acts, and she barely had a first. Jones was born in Georgia but grew up in Bedford-Stuyvesant, where her mother moved her six children after leaving an abusive spouse. After graduating from Brooklyn's Thomas Jefferson High School, Jones — resplendent in an Afro and bell-bottoms — formed a funky party band called Inner Spectrum. But she had little interest in what followed: disco, crossover pop, then rap. Defeated after her aborted eighties audition, she spent a dozen years in a wedding band. She also did a 16-month stint as a guard on Rikers Island, where one night inmates demanded she sing "Greatest Love of All" before lockdown.
In the early '90s, she dubbed herself Miss Lafaye (her middle name) and tried her hand at house music. "I could do it," she recalls, "but I just wasn't feelin' it." She was also flirting with cocaine, struggling with difficult boyfriends, and bunking with family members when she was financially strapped. To this day, she lives with her mother in a project in Far Rockaway that she won't even let her manager see.
In 1996, one of those boyfriends was working a session with the Soul Providers, a local soul-funk band. He recommended Jones as a backup singer for one track. The session's bassist, Gabriel Roth — a young, white soul aficionado — was impressed when she talked her way through a prison-fight novelty called "Switchblade." "It was hilarious," he says. Soul Providers morphed into the Dap-Kings, and in 2000, Roth co-founded the Bushwick-based Daptone, which put out Jones's debut album, Dap-Dippin' With … Sharon Jones and the Dap-Kings, two years later. Many have made their way to the label's shingled Troutman Street townhouse in search of some of that Daptone sound, most notably Amy Winehouse for her 2006 breakout Back to Black; she later used the Dap-Kings to back her on tour. Jones says she was never bothered that Winehouse and her producer, Mark Ronson, essentially appropriated the Daptone sound. "For the Dap-Kings, that was an opener, and people in the mainstream started lookin' them up," she says. What riled her were suggestions that she was jumping on Winehouse's bandwagon. "We've been there, and we're still doin' this. In another few years, what are they gonna be doin'?" A good question. Jones saw Winehouse in London not long ago. "I don't even want to talk about it," she says. "But I can tell you this. Instead of people laughin' at her, pray for her. Drugs are so horrible."
Like its three predecessors, I Learned the Hard Way is a painstaking homage to the chitlin-circuit soul of the '60s and '70s. With their funk guitar licks and horn blasts, songs like "Better Things" and "Window Shopping" could easily be mistaken for dust-caked vinyl 45s by Carla Thomas or Betty Wright. The whole thing would border on hokey mimicry if it weren't for the weathered authenticity of Jones's voice. Just don't call her retro: "There's nothin' retro about me, baby. I am soul!"
So much so that she admits she'd never heard of the pop figures she's worked with. Lou Reed? Her manager had to hum a few bars of "Walk on the Wild Side" first. Bublé? "I said, 'Who the hell is Michael Boo-blay?' I looked him up, and he's like Sinatra or somethin'." And she still has no interest in modern R&B, though she can easily nail the staccato stylings of current divas Beyoncé or Rihanna. "I'm not sayin' what they do is bad. But that's not what I wanna do. I don't know where you're goin' with that voice."
In photos, Jones is regal, imposing. In person, she's tiny but no less of a force. Heading to Daptone one afternoon, she harangues her manager over her hectic schedule. Last year, she asked for a share of the publishing royalties on her albums despite not writing the songs. (Roth, who still writes most of them, consented.) But that doesn't make her any less appreciative of where she is. At the office, Jones scrawls on a copy of her new CD. "I'm signing this for my Taiwan fan," she says. "I got a fan in Tai-wan."