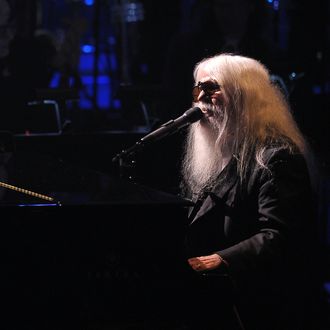 Photo: Michael Loccisano/Getty Images
Musician and songwriter Leon Russell has died at 74, the New York Times reports. Russell's website said he died in his sleep, but no specific cause of death was given: 
Leon Russell died on Nov. 13, 2016 in Nashville at the age of 74. His wife said that he passed away in his sleep. The Master Of Space And Time was a legendary musician and songwriter originally from Tulsa, Oklahoma who performed his gospel-infused southern boogie piano rock, blues, and country music for over 50 years.
By 1970, Russell had already been in Phil Spector's Wall of Sound Orchestra, and he played sessions for Frank Sinatra, Sam Cooke, Aretha Franklin, the Ventures and the Monkees, and more. You can hear his piano playing on "Mr. Tambourine Man" by the Byrds, "A Taste of Honey" by Herb Alpert, "Live With Me" by the Rolling Stones, and the Beach Boys' early albums. After the 1970s, he began collaborating with Elvis Costello and Elton John. In 2011, after the release of his duet album with Elton John, The Union, he was inducted into the Rock and Roll Hall of Fame.