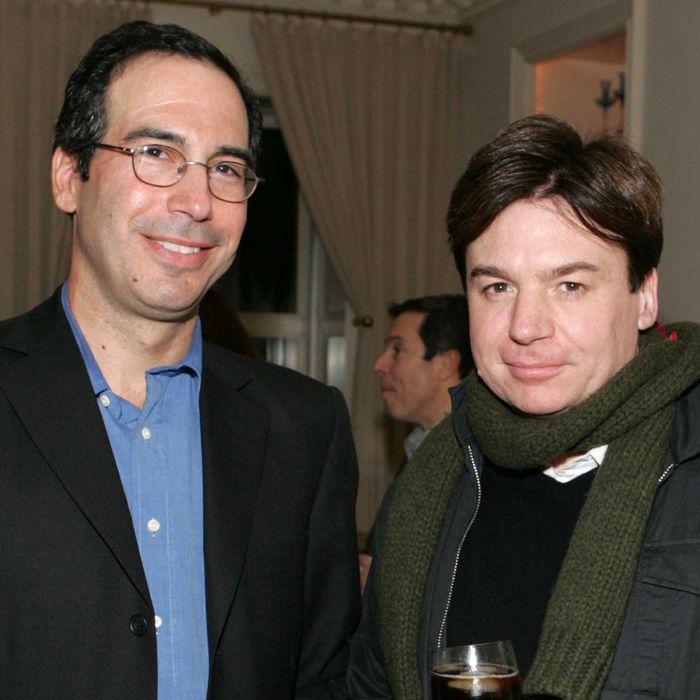 Steven Mnuchin and Mike Meyers at a screening of Syriana in 2005.
Photo: Patrick McMullan/Patrick McMullan via Getty Image
When Donald Trump announced that his campaign finance manager, Steven Mnuchin, would be his nomination for secretary of the Treasury, the name might've sounded familiar to dedicated moviegoers, even if they couldn't quite place it. The reason? The guy's helped pay for pretty much every movie you've seen in the last decade.
Mnuchin's entry into Hollywood was the second act in his career. He began his professional life working for Goldman Sachs, following in the footsteps of his father, Robert Mnuchin, also a Goldman banker, and also a late-blooming patron of the arts. (After Goldman, Mnuchin the Elder became an art dealer and gallerist, opening the Mnuchin Gallery on the Upper East Side of New York City.)
After leaving Goldman in 2002, Mnuchin the Younger started his own firm, Dune Capital, which had among its many concerns the financing of films. And finance they did: Between 2006 and 2013, Dune put $500 million into 72 movies distributed by 20th Century Fox and its subsidiaries, including X-Men: The Last Stand, Night at the Museum, The Devil Wears Prada, Borat, and The Hills Have Eyes in 2006 alone. From there, the company put together an eclectic slate of films that included Oscar nominees (Black Swan, Lincoln, Life of Pi), megahits (Avatar, the X-Men franchise), big misses (The A-Team, Gulliver's Travels), and everything in between (The Darjeeling Limited, Prometheus, Chronicle), many of which were released by 20th Century Fox.
In 2014, Mnuchin even joined forces with Hollywood whiz kid Ryan Kavanaugh's Relativity Media, financing the company and coming on as co-chairman of the board. Like all things Relativity, it didn't end well: Mnuchin and his co-investors reportedly lost somewhere in the neighborhood of $80 million when Relativity went bankrupt, and, after Mnuchin resigned, a $50 million withdrawal from Relativity by investor OneWest — which Mnuchin was also the chairman of — raised eyebrows among other creditors, who accused Mnuchin of taking the money and running.
But that wasn't the only iron Mnuchin had in the fire. After choosing not to renew his deal at Fox in 2012, Mnuchin partnered with Brett Ratner and James Packer's RatPac — whom he was introduced to by another rich film financier, Arnon Milchan — to form RatPac-Dune Entertainment, which quickly struck a deal to co-finance  75 upcoming Warner Bros. movies, to the tune of some $400 million. That partnership, like Mnuchin's with Fox, has been hit-and-miss; the former include The Lego Movie, American Sniper, and Mad Max: Fury Road, the latter Pan and In the Heart of the Sea, as well as this weekend's major flop Rules Don't Apply, on which Mnuchin served as a producer (and made a cameo appearance). Mnuchin has also been involved with the checkered DC films, including Batman v. Superman: Dawn of Justice and Suicide Squad, but his 2016 wasn't entirely full of grimacing darkness: He was also an executive producer on potential Best Picture nominee Sully, overperforming Ben Affleck vehicle The Accountant, comedy hit Central Intelligence, and horror moneymakers Lights Out and The Conjuring 2.
At this point, it isn't clear what will happen to Mnuchin's Hollywood affairs should he officially become secretary of the Treasury. But would it even surprise you if the Trump White House invested in the next Batman movie?