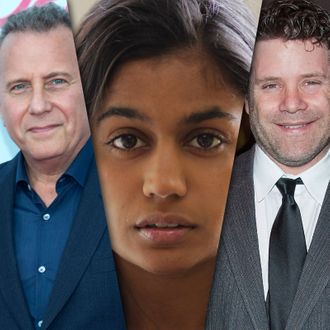 Paul Reiser, Linnea Berthelsen, Sean Astin.
Photo: Getty Images, David Joerring
Finally, Winona Ryder has some 1980s stars to keep her company so she doesn't have to keep talking to those Stranger Things kids about Snapchat. The show has cast Paul Reiser and Sean Astin in its second season, and for the sake of this post, we're just going to insist that you only know them from 1980s classics Aliens and The Goonies. Reiser (please ignore the fact that he starred on the not-exactly '80s Mad About You) will play Dr. Owns, "a high-ranking member within the Department of Energy on a 'clean-up' assignment, tasked with containing the events of last year." Goonies star Astin (please forget that he might be more famous for playing Sam in The Lord of the Rings at this point) will play Bob Newby, "a kindhearted former nerd who went to high school with Joyce (Winona Ryder) and Hopper (David Harbour) and now manages the local Hawkins RadioShack." In addition to these classic '80s stars, the show also cast Danish actress Linnea Berthelsen as Roman, "an emotionally damaged, magnetic young woman who suffered a great loss as a child. Although she does not live in Hawkins, she is mysteriously connected to the supernatural events at the lab." Look out, Eleven, sounds like you might have some competition in the mystery department in season two.