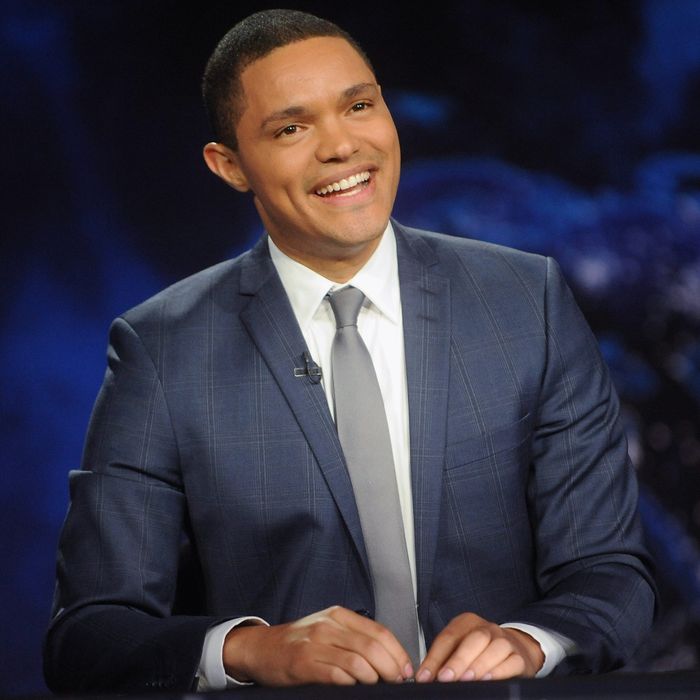 Trevor Noah.
Photo: Brad Barket/Getty Images for Comedy Central
Tonight, the nightmare that has been the 2016 election will come to a close, and everyone deserves to watch it end in real time, whether they have a TV or not. There are plenty of places to livestream Election Night 2016 coverage, from major networks like NBC, CBS, FOX, ABC to YouTube partnerships with Complex, PBS, and MTV. For a comprehensive list of where to stream on Election Night, read on.
CNN's Election Night in America
CNN will livestream its election night coverage across CNN.com's homepage. Using CNN apps for iOS and Android, the livestream can also be accessed by mobile device. It begins at 4 p.m. ET.
ABC News: Your Voice Your Vote
ABC News will provide updates on election results, polling, and campaign developments starting at 7 p.m. To watch, sign in with your TV provider here.
CBS
You can stream the election, updates, and additional coverage from CBSN's live video website, all day.
NBC Decision 2016 Election Night Live 
NBC News will stream Decision 2016 on their YouTube channel starting at 6:30 p.m. ET.
Stephen Colbert's Live Election Night Democracy's Series Finale: Who's Going to Clean Up This Sh*t?
A live election night special hosted by Stephen Colbert on Showtime. If you have a subscription you can stream it through Amazon, Android, Apple, Hulu, Playstation Vue, Roku and your TV provider. It begins at 11 p.m. ET/PT.
Comedy Central's The Daily Show and @Midnight Election Livestream
Comedy Central.com will stream their entire election lineup, which includes Trevor Noah's The Daily Show and Chris Hardwick's @Midnight, with no login required, starting at 10 p.m. ET/9 p.m. CT.
Fox News Election Day
Fox will livestream election results and updates through out the day on their website. No login required.
PBS NewsHour Elections 2016
PBS NewsHour will stream election night coverage from their YouTube channel at 8 p.m. ET/7 p.m. CT.
MTV News: Election 2016 The People's Playhouse
MTV's live election night coverage, available to stream from their YouTube channel, will be geared more toward a younger audience. While covering election night news, it will also touch on issues from reproductive rights and immigration to climate change and the economy. It begins at 6:50 p.m. ET/5:50 p.m. CT.
Complex Flex the Vote, Election 2016
Complex magazine has teamed up with YouTube for their own election night stream, which you can find on their YouTube channel starting at 7 p.m. ET. Anchored by Hot 97's Peter Rosenberg and Complex news anchors, it will feature live coverage, celebrity panels, real-time polling results, and a special performance from Common.