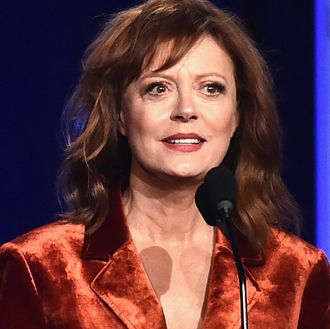 Susan Sarandon.
Photo: Alberto E. Rodriguez/Getty Images
Susan Sarandon has been getting a lot of flak for choosing to support Jill Stein during the presidential election instead of helping unite Hollywood behind Democratic nominee Hillary Clinton. During the primaries, Sarandon was, of course, a noted supporter of Senator Bernie Sanders, and during the general election she decided to throw her support behind third-party candidate Stein for ideological — rather than pragmatic — reasons. Sarandon considered herself an issues voter, recently tweeting about standing with those who are protesting the Dakota Access Pipeline, and even trying to get her favorite Twitter interlocutor Debra Messing to join in the cause.
But the general election is still on a lot of people's minds, and Sarandon has a response for her critics. She posted a photo on Twitter listing all of the celebrities who threw their support behind Hillary Clinton (LOL, Tim Robbins) in one column and putting her lone self in the other, saying, "never knew I was this powerful."
Clearly the takeaway from all of this is that we shouldn't care about what celebrities think anyway.