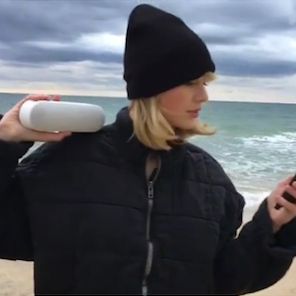 Taylor Swift, and a Beats Pill.
Photo: Image Courtesy Instagram
How was your Thanksgiving? Fun? Eat a lot? Okay, shut up now because Taylor Swift did the mannequin challenge and we should all analyze it instead of analyzing the interior lives and motivations of our family members. This isn't a play about our families, this is life. Taylor Swift's life, and we're all just existing around it. Imagine her taking a post-Thanksgiving beach stroll with her beautiful friends, including Todrick Hall (current star of Kinky Boots on Broadway), models Martha Hunt, Lily Donaldson, and Leah McCarthy, and her little brother, Austin, and stopping everyone, saying, "Guys! Let's do the mannequin challenge! I brought this Beats Pill (trademark) with me, I can hold it aloft!" And they all say, "Yes!" And they do it, and we watch it, and for a moment, we are all standing still on a beach with our best friend, Taylor. Then we dance. Happy Thanksgiving, us, and Taylor Swift. Bless us, everyone.