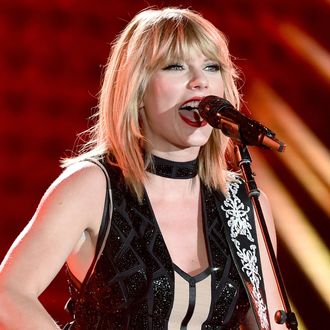 Sneaky.
Photo: John Shearer/LP5/Getty Images for TAS
So about that supposed break? Once again, Taylor Swift has written a surefire hit in total secrecy. Country group Little Big Town have revealed that Taylor is the pen behind their newest single, "Better Man," a fact that they, unlike Calvin Harris, are proud to let the world know. In a Facebook Live Q&A with fans, Karen Fairchild explained that the band had assured Swift they weren't "gonna blab" immediately about the song's author, so that the news wouldn't detract from its lyrics. Little Big Town apparently took the pact so far that they didn't even tell their label the true origin of the song's lyrics. Instead, they played coy: "For all the people that we told little white lies to, we didn't really lie," Fairchild says. "We said a young girl from Nashville, Tennessee, wrote it. That was the truth." Nice loophole, guys. Well done.
Taylor, of course, also co-wrote Calvin Harris and Rihanna's summer smash "This Is What You Came For" under the pseudonym Nils Sjoberg, reclaiming the credit after her breakup with Harris. She's also written songs for Miley Cyrus, Kellie Pickler, and, who knows, probably Lady Gaga's new album. Taylor's handiwork could be anywhere!