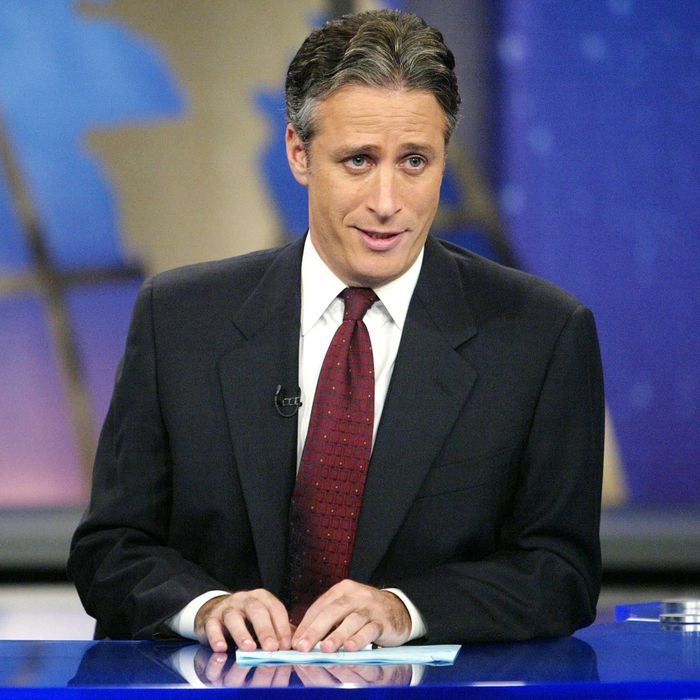 Jon Stewart.
Photo: Peter Kramer/Getty Images
The new The Daily Show (The Book): An Oral History, by Chris Smith (a longtime New York editor), arrives just as many are scratching their heads and wondering whether Jon Stewart could have saved us from the pain caused by — and possibly the results of — the latest election cycle. Though that will have to remain a Rumsfeldian known unknown, there is solace in this chatty and highly informative tome.
Like many big oral histories before it, most notably the dishy SNL title Live From New York, reading The Daily Show (The Book) is like eating popcorn, in that it's light and fun and easy to consume. While there are certainly blow-by-blow accounts of Stewart's conflicts with staff members, the marriage and subsequent divorce of two central staffers, and the writers room incident that made former correspondent Wyatt Cenac leave TDS (which he talked about on Marc Maron's WTF podcast, but not in this book), there's not a lot of salacious material. (In the words of longtime writer J.R. Havlan, "There's just a really tiny pile of backstage dirt for the amount of time that we were there.") For the most part, the book is a love letter to the people that built The Daily Show and make it work night after night. Here are a few of the things we learned reading it.
Craig Kilborn is a footnote.
Though creators Madeleine Smithberg and Lizz Winstead appear throughout, there's not one quote from original host Kilborn. Whether he declined to participate, or Smith considers him having little to no influence on Stewart's Daily Show, it's not exactly clear. More than Kilborn and his three-year tenure, what matters here is the drama between Stewart's visions for the show and the entrenched writers held over from Kilborn's time on air.
There are as many tales about TDS's big "Aha!" moments as there are staffers.
Some cite the year 1999, when Steve Carell made his way onto John McCain's Straight Talk Express and stunned the then-presidential candidate with a pointed question about pork-barrel politics. Winstead says it's Jon's decision to no longer play a character but to "become the voice of the audience" by "calling out bullshit." Stewart cites the show's entire "Indecision 2000" campaign as an example of this. Adam Lowitt, who is now an executive producer of TDS, mentions the clip-heavy "Bush v. Bush" segment from April 2003. These are just a few, and the fact that there are so many only proves that the format Stewart, his writers, and producers came up with is one that evolved and took on the headlines in its own way.
The prankster spirit of Stephen Colbert resides at 52 Poopiepop Lane.
While on assignment for field pieces, even when out of character, Colbert committed to flummoxing members of the public. According to former TDS field producer and co–executive producer Stew Bailey, Colbert would get in his playful mindset by giving hotel clerks strange information. He'd give them the above address or whisper non sequiturs such as, "The squirrel is in the basket," as though speaking in a secret code the clerks understood. Former TDS (and Colbert Report) writer Eric Drysdale talks about staffers gathering to admire Colbert's verbal dexterity as he called the Dianetics hotline to jabber nonsense about thetans to Scientologists.
TDS writers learn how to be rewritten.
Due to Stewart's vision for the show and his strong editorial voice, writers such as Jason Ross (who worked at TDS from 2002 to 2013) report that there could be a big disconnect between the words they'd write and what made it to the show. It's clear Stewart saw all staffers as a team working for a common good and often, on the fly, he and a small team of trusted writer-producers would hole up backstage for intensive rewrites before taping. "Even if it ends up being a great piece, you see things changing and it can be so painful," Ross says. "That's actually the one things I envy about SNL writers — they get to direct their own pieces when they get approved. We never got that … The creative director of The Daily Show was Jon Stewart."
Stewart considered leaving Comedy Central in 2002 for a late-night spot on ABC.
Though he was courted by ABC, David Letterman stayed with CBS. When Bill Maher and Politically Incorrect were poised to leave the network, ABC brass courted Stewart — but didn't offer enough money, according to agent James "Baby Doll" Dixon. Even so, it didn't sound like Stewart was all that excited about leaving the show in which he had staked so much of his life and career.
One "rusty trombone" helped the staff realize the depth and breadth of the show's influence.
Who wants a shiny Emmy statuette when a random woman in a hotel bar can give you a sex-ed lesson in less than an hour? According to Bailey, when the show really began to develop a following in 2002, a woman in D.C. came on to the entire visiting TDS crew and brought one "good-looking guy on the staff" to her room. She sent him back downstairs 30 minutes later, a different man. Surely, this was the sweet smell of success.
The unsung heroes of TDS are longstanding crew members Jen Flanz, Adam Chodikoff, and Kira Klang Hopf.
Flanz, Chodikoff, and Hopf — who are now executive producer, senior producer, and script supervisor, respectively — are the secret weapons of TDS. Flanz — who does everything from organizing TDS soccer teams to making puppets while carefully reading the moods of Stewart et al — comes across like a universally beloved and hard-working heart of the show. (John Hodgman goes so far as to call her "a profoundly important force in the show.") Chodikoff is the man with an encyclopedic memory who can connect politicians' words like John Nash in A Beautiful Mind, and Hopf sat in the writers room, listening to Stewart say, "Take the thing, move it above the thing, thing thing, thing, thing," and made perfect sense of it. Former executive producer Ben Karlin says Hopf should get a career achievement award, adding, "She had to have that weird ear for, 'Okay, that's the wording that they want, what they said three iterations ago.'"
Tidbits of advice from Stewart, Colbert, and others give a clear peek behind the curtain.
According to longtime producer Rory Albanese, Stewart used to ask, "What do I preach?" The answer: "Specificity." (In other words, "rum raisin" is funnier than just "ice cream.") Stewart also tells John Oliver, "If you take your foot off the throat of the show for a second, it will just get up and walk away." Colbert's advice for the other field correspondents is to "leave your soul at the door," in order to get what was needed while on assignment. He subsequently provides additional tips on the care and cleaning of one's soul.
"Roll 212" means "Your career is over."
The famous interview that Stewart did with Jim Cramer — in which he took the Mad Money host to task about a certain spirit that helped bring about the financial collapse in 2008 — was thoroughly planned out. Producers and researchers helped Stewart arm himself with facts and figures, and find evidence of Cramer essentially talking about stock manipulation on his internet show for TheStreet.com. That piece of tape, which Stewart called up by asking for "Roll 212," became a staff code for a perfect, damning video clip.
Like a high-school miscreant asked to visit the principal, Stewart was once called into Roger Ailes's office.
Oh, to be a fly on the wall during the 30 minutes Stewart reportedly debated policy with the former Fox chairman in Ailes's office. After Stewart made an appearance on The O'Reilly Factor, Ailes sat him down for a "heated" and "contentious" argument about the issues. "It was incredibly uncomfortable and fascinating," says Dixon. "The two most influential media people on their sides of the spectrum going at it for probably a half hour."
Stewart's history with Anthony Weiner is, er, long and a bit twisty.
Stewart was a friend of Weiner's before scandal took over the former politician's narrative. Because of this, Stewart felt conflicted about taking Weiner down  —despite the wonderfully ripe target he became. "That's part of the challenge that keeps it exciting — making yourself uncomfortable," says Stewart. (Weiner, for his part, doesn't blame Stewart for going after him.) Strangely, Stewart felt hurt after vouching for Weiner in the press, before he back to his old dirty tricks.
Oh, everyone has seen Jason Jones's balls.
No surprise there, but like many parts of the book, it leaves you with something to ponder.