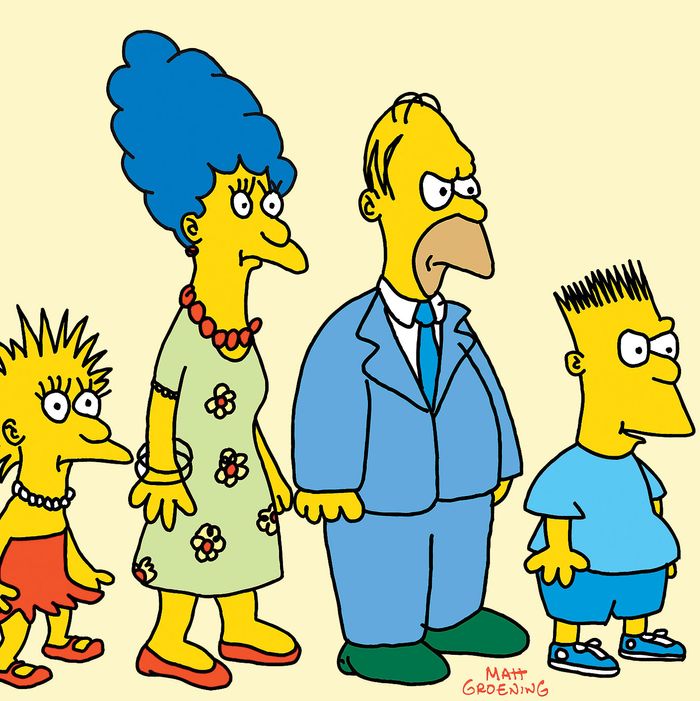 The Simpsons.
Photo: 1987 FOX BROADCASTING
Is a new era of spinoffs on the horizon? The recent announcements that CBS is developing a Big Bang Theory prequel following the adventures of young Sheldon and that ABC is exploring a sequel to The Goldbergs may promise a rebirth of the traditional spinoff. From the '70s to the '90s, America's most popular shows would often flirt with spinoffs — and not just the kind where if you like Law & Order or CSI, you'd surely like more of them. For every Frasier and A Different World, networks green-lit a half-dozen The Tortellis (what Cheers fan didn't want to learn more about Rhea Perlman's Carla?), The Ropers (a Three's Company spinoff best remembered for featuring Jeffrey Tambor as a snobby neighbor), or Joey, the show that proved that Friends really was significantly more than the sum of its parts. And let's not even talk about AfterMASH …
It's hard to predict where a Big Bang Theory or Goldbergs spinoff might land on that spectrum, though the Sheldon project seems more of a long shot given the need for a new actor in the lead role. But while Breaking Bad prequel Better Call Saul likely wouldn't have worked without Bob Odenkirk in front of the camera (and creator Vince Gilligan behind it), other spinoffs have done fine with only a tangential connection to their source shows. In some cases, as seen in the list below, the most unexpected spinoffs sometimes fare the best.
The Simpsons (1989–present), spinoff of The Tracey Ullman Show
Easily the most successful spinoff of all time, The Simpsons is well-known for having started as a series of crudely animated shorts on Ullman's sketch-comedy show, designed to go as "bumpers" before and after commercial breaks. Cartoonist Matt Groening had considered adapting his long-running Life in Hell comic strips for the purpose, but rather than give up publishing rights to Hell, he invented the Simpson family on the fly while waiting to go into a pitch meeting. Not a bad result for a few minutes' work.
Mork & Mindy (1978–1982), spinoff of Happy Days
A lot of spinoffs start as "backdoor pilots" — episodes of established shows where a new character takes a central role to test the waters for a series of their own. Episodes of The Brady Bunch and the original Star Trek that attempted to pull it off stand out like sore thumbs, while the weird episode of Happy Days that introduced Robin Williams's deranged alien was really meant to be a one-off thing. The audience reaction was so positive that Mork & Mindy was rushed into production, and all re-airings of the Happy Days episode featured a new ending in which Mork erased everyone's memories of his visit before traveling into the future to continue examining Earth and its inhabitants.
The Colbert Report (2005–2014), spinoff of The Daily Show
Another successful spinoff that began almost by accident, The Colbert Report got its start as a series of commercial parodies based on Bill O'Reilly's popular Fox News series, with Colbert's right-wing commentator hosting a show all his own. Although Colbert had introduced a similar character on the short-lived Dana Carvey Show as a Geraldo Rivera-type correspondent, The Daily Show was where the character's trademark pomposity was expanded to include a conservative point of view.
Baywatch Nights (1995–1997), spinoff of Baywatch
The expression "stay in your lane" comes to mind when watching Baywatch Nights, a show that seemed entirely based on the premise that Baywatch fans yearned for David Hasselhoff's character to become a private detective. After a season where that didn't work — despite an amazing Lou Rawls–Hasselhoff theme song collaboration that promised "someone's gonna live, someone's gonna die after the sun goes down" — producers tried to capture the popularity of The X-Files by pushing the show in a sci-fi direction. The results were unsurprising, with some cast members migrating to Baywatch prime when Nights fell.
Daria (1997–2002), spinoff of Beavis and Butt-Head
After giving permission for supporting character Daria Morgendorffer to star in her own show, Beavis and Butt-Head creator Mike Judge stayed out of the way, leading to that rare spinoff that shares almost nothing in common with its source material. As a snarky social commentary on high school and suburban family life, Daria never mentioned her former classmates outside of a promo referring to "those two." The five-minute pilot, "Sealed With a Kick," showed where the spinoff was going, though its rough pencil-test style evoked the Beavis look more than Daria's smoother finished episodes ever would.
Lou Grant (1977–1982), spinoff of The Mary Tyler Moore Show
Going from half-hour comedy to hour-long drama, Lou Grant is one of just a handful of spinoffs to change genre and format from its originating series. Grant found Ed Asner's gruff newsman returning to print journalism as the crusading city editor of a Los Angeles–based daily newspaper, after being fired in the series finale of The Mary Tyler Moore Show. The show earned awards and high ratings, with its sudden cancellation attributed to the series' controversial at the time subject matter and, according to star Ed Asner, CBS's increasing discomfort with the lead actor's activism on behalf of liberal causes.
Benson (1979–1986), spinoff of Soap
A spinoff that outlasted its origin series by several seasons, Benson was a fairly standard sitcom. Robert Guillaume's title character had been butler to a wealthy Connecticut family on Soap, but on his own show he filled a slightly less subservient role for the scatterbrained governor of an unspecified Southern state. (Fellow '70s and '80s spinoff sitcom The Facts of Life had a similar origin, with Diff'rent Strokes housekeeper Edna Garrett becoming headmistress of a girls' school.) Although an unresolved plotline from Soap would be resolved on a late-season episode (via guest appearance by Katherine Helmond), Benson would end on an unresolved cliffhanger of its own: The series finale focused on the former butler running for governor himself, and the election results were never revealed.
Fernwood 2 Night/America 2-Night (1977 and 1978), spinoff of Mary Hartman, Mary Hartman
A spinoff of yet another soap-opera parody, Fernwood was a summer replacement series starring Martin Mull as an egomaniacal talk-show host who was the identical twin of one of the supporting characters on Mary Hartman, Mary Hartman. With Fred Willard as Mull's goofy sidekick, the show prefigured talk-show parodies like The Larry Sanders Show. In its second summer season, Fernwood rebranded as America 2-Night and featured celebrity guests playing themselves, among them Charlton Heston, Carol Burnett, Mark Hamill, and Gary Coleman.
Mama's Family (1983–1984; 1986–1990), spinoff of The Carol Burnett Show
A series of sketches on the long-running Carol Burnett Show about the Bible Belt family of widow Thelma "Mama" Harper took on a life of their own when they became a full-length sitcom. Star Vicki Lawrence had initially resisted spinning the character off into her own series without cast members Burnett and Harvey Korman as onscreen participants, but they urged her to reconsider. With TV veteran Ken Berry and future Golden Girls star Rue McClanahan as part of the ensemble cast, the series ran for two seasons on NBC before becoming a massive hit during four later seasons in first-run syndication.
The Jeffersons (1975–1985), spinoff of All in the Family
One of many spinoffs of All in the Family (among them Maude, which itself led to Good Times), the Bunker family's African-American neighbors got a series of their own as patriarch George Jefferson's dry-cleaning business took off, enabling the family to leave Queens behind, "movin' on up" to a swanky apartment on Manhattan's East Side. A top 20 show for most of its 11 seasons, The Jeffersons was canceled abruptly without an official series finale. However, George and Louise Jefferson would appear on another series finale, as actors Sherman Hemsley and Isabel Sanford reprised their roles on The Fresh Prince of Bel-Air.
The Completely Mental Misadventures of Ed Grimley (1988), spinoff of Saturday Night Live and SCTV
Martin Short's eccentric, triangle-playing Ed Grimley was first introduced on SCTV and made the jump to Saturday Night Live, but later moved from late-night television to this short-lived Saturday-morning kids' cartoon. The odd series featured other SCTV actors (among them Joe Flaherty, Andrea Martin, and Catherine O'Hara) as well as Jonathan Winters and Short's SNL cast mate Christopher Guest, but it failed to capture the same attention as Pee-Wee's Playhouse in its single season.
K-9 (2009–2010), spinoff of Doctor Who
Though Torchwood was intimately connected to Doctor Who and the upcoming Class seems to feature quite a bit of Whovian DNA, this kids' series was more circumspect about its roots. K-9 wasn't produced by the same network as Doctor Who, so it couldn't mention the Doctor directly. In fact, though the character rights belonged to K-9 creator Bob Baker, the dog's design belonged to the BBC, meaning there had to be a character redesign in the first episode. It was almost like recasting a familiar character with a new actor … on a spinoff that had little connection to its extremely popular source material. If there's anything to learn from the short-lived result, let's hope the actor who gets cast as young Sheldon has a good agent.