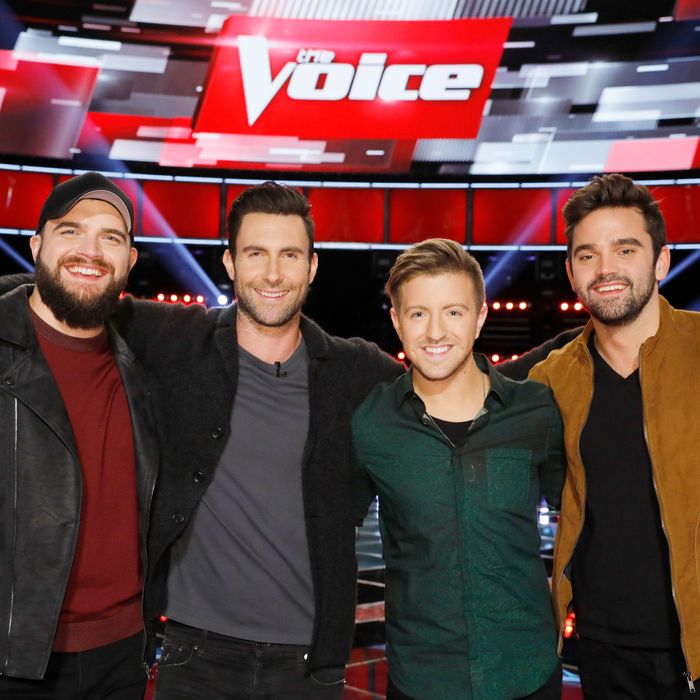 L-R: Josh Gallagher, Adam Levine, Billy Gilman, Brendan Fletcher.
Photo: Trae Patton/NBC
Catching up with season 11 of The Voice in my post-election haze has been an unusually painful experience. The singing contest — of which I am an unabashed fan precisely because of its message of inclusivity and diversity, built into the show through its blind auditions — has started its live rounds, which turns the decision-making over to America. And disappointingly but perhaps not surprisingly, seven of the nine people voted off so far happen to be women, people of color, or both. The big purge was the Monday before the election, when the show introduced "live eliminations," meaning each team would be winnowed down from five to three members in real time, minutes after the artists had performed. The top two on each team automatically went through, then the coaches — old-timers Adam Levine and Blake Shelton, and newcomers Alicia Keys and Miley Cyrus — could save one contestant. Not to take anything away from the performances of the folks who made it through, which were great, but had Blake and Alicia not each saved women of color (Courtney Harrell, who's composed songs for the likes of Mary J. Blige and Chris Brown, and single-named phenom Sa'Rayah, respectively) there would only be three brown faces left on the show.
And now one of those is already gone. Tuesday night saw Team Alicia's Sa'Rayah, with her cloud of fuschia hair, lose out in a sing-for-your-life battle with Team Miley's nondescript, gravelly-voiced singer, Aaron Gibson, despite the fact that Sa'Rayah had a better reception from the in-studio crowd.
Now Team Adam is all white men (though his angel-voiced showman Billy Gilman is gay, so that's reassuring), and between Adam and Blake's teams, there are three white male country singers who don't look like they're going anywhere. Most of those guys are fantastic, and gave arguably the best performances of the night. Billy — Jesus that voice. He was a Grammy-nominated child country star who's turned into the Adam Lambert this show has needed for so many years:
Brooklyn bartender Brendan Fletcher sings, as Adam said, like he has an oak tree growing in his throat:
And Texas beard-o Sundance Head has a rich pedigree in his rockabilly star dad, Roy Head, and is an utter delight:
But that doesn't make it any less disheartening when you compare this season to the exciting promise of The Voice's first season in 2011, when it was a game-changing alternative to youth-centric American Idol — a pure meritocracy where, because of its blind auditions, anyone could rise up regardless of their age, sexuality, or color of their skin. Remember how the top four included shaved-headed, mid-40s butch-lesbian Beverly McClennan up against Mexican lesbian Vicci Martinez and the eventual winner, Team Adam's Dominican–Puerto Rican Javier Colon? Now, you'd have to go back six seasons to find a winner of color: Team Adam's Jamaican native Tessanne Chin in 2013.

Like Idol, which had 11 of 15 winners from the South, and five straight years where the title went to a white guy with a guitar, America's votes on The Voice tend to go to white country singers (Team Blake's Danielle Bradbury, Craig Wayne Boyd), white folk singers (Team Pharrell's Sawyer Fredricks), white pop singers (Team Blake's Cassadee Pope, Team Usher's Josh Kaufman, Team Christina's Alisan Porter), and white devout Christians (Team Adam's Jordan Smith, who, as of last December, was the highest-selling artist to compete on The Voice). Not that they weren't all incredibly talented; this is not a show that suffers Sanjayas. But it does bear mentioning that since season two, The Voice has shown a pattern of getting less diverse as the finale approaches, with the only person of color onscreen in the finale of four of the last six seasons being one of the coaches (and this is the first season they've had two women coaches).
I'm keeping my fingers crossed for Team Alicia's astonishing 17 year-old Wé McDonald (Ellen DeGeneres's fave) and Christian Cuevas, a.k.a. the Puerto Rican Luther Vandross, to go far. But I do think Michael Moore was right when he said the left should spend more time watching shows like The Bachelorette to get a sense of what much of the country enjoys and is responding to. And I mean it when I say "much of the country": The Voice was the number-one show in America, among the Big Four networks, in all demographics the Monday before the election, and its audience increased in this week's show. It's because middle America is watching and listening that representation matters even more on a show like The Voice, or The Bachelor, which really needs to stop its excuses and give a charismatic person of color the chance to lead that show. It's also why it's so demoralizing to see audiences cutting off people of color and having the power to make that representation go away. I tend to stop watching The Voice when it gets to live rounds because it gets too depressing. But maybe the lesson is to lean in to better understand the rest of the country, and maybe use those stupid hashtags and vote, no matter how abhorrent I find the Amazon-sponsored, Toyota-shilling piece of this operation to be. (I usually express my support by obsessively increasing the YouTube counts of certain performances.) Because if I'd watched the swift eliminations of most of the women and people of color on The Voice the night before the election — as a result of America voting! — maybe Trump's win wouldn't have seemed so surprising.
And to the very talented white boys who will likely take the trophy this year, God bless (Brendan, call me). At least when people are making good art, we all win.