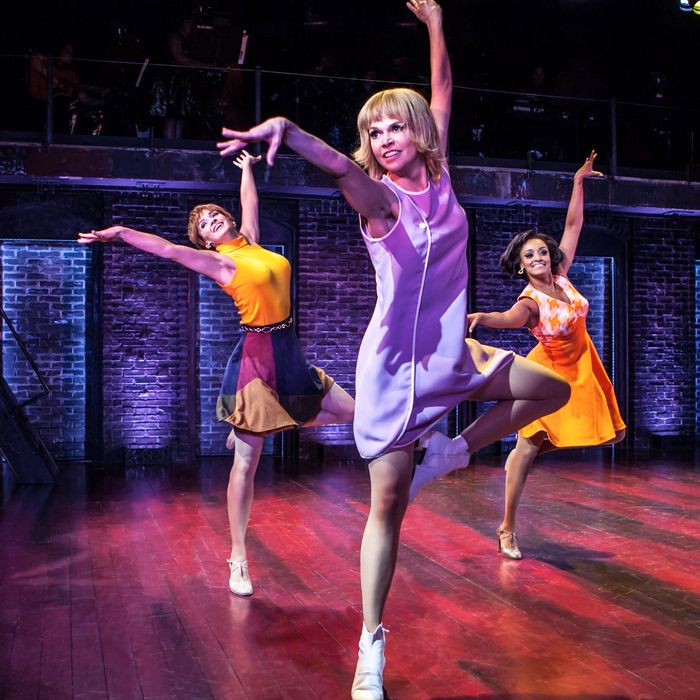 Sutton Foster as Charity.
Photo: Monique Carboni
Probably the strangest and least revivable Broadway genre is the midcentury hooker musical comedy. Shows like Irma La Douce (first produced in 1956), New Girl in Town (1957), and House of Flowers (1960), whatever their other merits, seem smarmy, or at best naïve, when seen from the other side of the feminist revolution. Their women — written by men and clearly designed for them — have very little agency in their own stories and don't seem to mind. But by 1966, when Sweet Charity came along, something had begun to change, and the vehicle Bob Fosse created for Gwen Verdon, who was also his wife at the time, advanced the template somewhat. For one thing, Charity isn't a prostitute; she's a taxi dancer, her streetwalking roots having been disguised in translation from the 1957 Fellini film Nights of Cabiria. For another, she's more complicated than jolly Irma, indomitable Anna, or dreamy Ottillie. Though she has no moral compunction about her trade — one of the other "hostesses" at the Fan-Dango Ballroom quips that they don't so much dance as defend themselves to music — she wants more out of life than serial thug boyfriends and being groped lovelessly. "There's Gotta Be Something Better Than This," "Baby, Dream Your Dream," and "Where Am I Going?" are the titles of three of the top-drawer Cy Coleman–Dorothy Fields songs.
But Charity is no woke woman; she's still pre-feminist, and so is the Neil Simon book. It is framed by two acts of humiliation that were apparently thought comic even as late as 2005, when the show was last revived on Broadway. Precisely because we can no longer endorse with laughter the theft of Charity's life savings by a boyfriend, let alone her being pushed into the Central Park lake — twice! — the director Leigh Silverman has had to find another way to look at the material. In the stripped-down and stirring New Group revival that opens tonight in an Off Broadway production starring the astonishing Sutton Foster, Silverman has in many ways succeeded. Where the original essentially sublimated the story's darkness into its brilliant Fosse razzmatazz, and ended with a Good Fairy promising a change of luck and neon lights announcing that Charity lives "hopefully ever after," this one never lets you forget that it is fundamentally about women endangered by men, poverty, and a lack of education. Transposing the turbulent "Where Am I Going?" from its original position in the middle of the second act and combining it with a haunting reprise of the opening number, "You Should See Yourself," Silverman's production ends not with hope or moxie but a nervous breakdown.
Foster embraces this dark, downmarket, unglamorous reading with everything she's got. In a ratty blond flip wig and a lavender sleeveless minidress (the expressive costumes are by Clint Ramos) she's not a Verdonesque pro but a poseable doll, an effect accentuated by her retroussé nose, rubbery body language, and dazed perma-smile. Dancing, she often seems to flail like a baby on a changing table, which is both comic and pathetic. (In a tap routine added to "If My Friends Could See Me Now" to show off her talents, she looks like a teenager practicing in the basement while high.) That combination, not easy to pull off, is also the basis of her psychological take on Charity, whose optimism and openness barely disguise the mania behind them. When she humps a boyfriend's legs, when she poses "seductively" on the fancy bed of an Italian movie star who has picked her up, and even when she plans a life in the suburbs with Oscar Lindquist, the neurotic man she pins her hopes on, she's supremely funny, but you can see that the only ideas she has are movie clichés, and the only thing she thinks she can give a man, whether or not he's a customer, is her body.  
That's trenchant and powerful, but there's a huge trade-off. At least as produced in the Signature Center's 222-seat Linney Theatre, on a set by Derek McLane that's about as big as a bedroom, the show's new intimacy is at war with its DNA. The Fosse sublimation and Verdon star power that were the raisons d'etre for the musical can't be replicated here. Silverman provides clever workarounds; her cast of 12 plays two, three, and in the case of the hilariously versatile Joel Perez, four roles originally played by 30 actors. Because the actors are good, and Shuler Hensley excellent as Oscar, the loss of size is survivable, at least in the intimate scenes and numbers. But the fullest expressions of Charity's drama were built huge and can't be scaled down without thinning them out. Though Fields's near perfect setting of expressive casual English survives undiminished — it's hard to attenuate the impact of a line like "Life could be frozen peaches and cream" — Coleman's combination of classical form and jazz chromaticism defies reduction. So do the original dance arrangements by Fred Werner and the rightfully classic Ralph Burns orchestrations. Burns had 23 instrumentalists at his disposal, including seven brass players and five reeds; Mary-Mitchell Campbell has only six in her all-woman band, none of them brass. (One of the songs is called "I'm a Brass Band" — oops.) Sure, an electric guitar can produce the famous, insinuating vamp of "Big Spender," giving it an aptly grungy feeling, and a keyboard or cello can plink the pizzicato lead-in to "If They Could See Me Now," but you miss terribly the trombone-and-sax thrill that makes showstoppers stop shows. Similarly, the choreography by Joshua Bergasse tips a hat to Fosse but can't stretch its legs, and anyway you can't get a good perspective on it from most of the seats in the three-sided, eye-level audience. The Fan-Dango numbers inadvertently give a new resonance to the idea of taxi dancing: They don't get off the runway. 
Without that Broadway lift, Sweet Charity risks seeming leaden and grubby. And the problem of scale is even more telling in the second-drawer numbers, whose original presentation helped to disguise their hollowness. That hollowness is unavoidable here, in weird episodes like the one in which Charity and Oscar visit the Rhythm of Life Church, a groovy cult under the Manhattan Bridge. Even in the original, the scene felt random, as if shoehorned in to give Fosse a chance to do beatnik moves; what do you do with it in a more psychological reading? Silverman's bare-bones treatment asks you to use your imagination to find your way around such potholes; instead of having Charity mime falling into the lake, for instance, an actor merely throws a pail of water at her. (Verdon fell into the orchestra pit.) Big Broadway set pieces like the Parachute Jump at Coney Island are now little more than a pair of chairs. But even if the Our Town aesthetic were less shaggily applied, I'm not sure it could solve Sweet Charity's problems within the parameters of the licensed book and the specified space. We may find out, if it transfers; the Broadway producer Kevin McCollum is attached to the project.
That still leaves plenty to savor now. Silverman's work with Foster is — as it was in Violet — extraordinary. Together, they get the most out of the complicated comedy of scenes like the one in which Charity, once provisioned with a sandwich and beer, gladly hides in a closet while the Italian movie star makes love to his girlfriend. Likewise Oscar's claustrophobia is both funny and, in Hensley's dead-on panic, upsetting. Even the final betrayal, usually a botch, makes (for the first time?) perfect sense. If we get these insights at some cost, well, there's always a cost in Sweet Charity. Like its title character, it's only halfway evolved. That's as good a way to see it in 2016 as we could hope.
Sweet Charity is at the Pershing Square Signature Center through January 8.