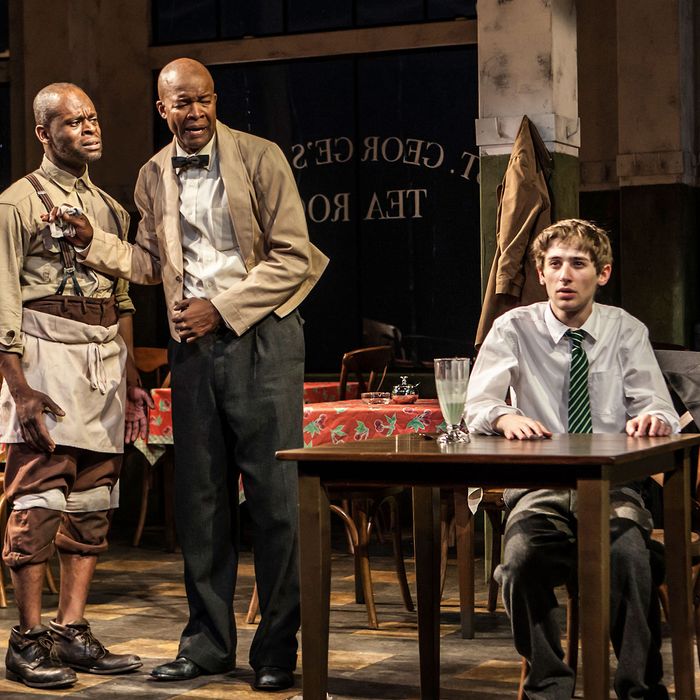 From "Master Harold"…and the boys, at the Signature.
Hally is a whiny, pretentious, self-involved 17-year-old nerd. Sam and Willie are dignified workingmen in their mid-40s. Nevertheless, Hally is "Master Harold" and Sam and Willie are the "boys" in Athol Fugard's "Master Harold" … and the boys, whose punctuation and capitalization further underscore the perversity of racism under South African apartheid in 1950. They live under a system so thoroughly immoral that it emboldens an adenoidal squirt like Hally to accept, and eventually demand, deference from his elders merely because he is white and they are black.
That tale may seem like small potatoes compared with the repression, poverty, and denial of liberty that the apartheid system enforced on millions. And it has always been a difficulty with this 1982 play, which opens tonight at the Signature in a powerful revival, that its first two-thirds are taken up with the slow, careful setting of what seems to be a purely domestic trap. Sam is a waiter in the Port Elizabeth tearoom owned by Hally's parents; Willie, a lowlier employee, spends a lot of the play mopping the worn linoleum floors. But the two men are also father figures for Hally, having taken care of him through much of his childhood. (His actual father, a drunk and an invalid, has been an intermittent and embarrassing presence; his mother is weak and overwhelmed.) During the rainy late afternoon on which the play is set, Sam and Willie, while closing down the shop, feed Hally his post-school meal, banter and gossip with him, and even, as they describe the ballroom dance competitions they both participate in, provide a subversive subject for his homework essay on "an annual event of cultural or historical significance." 
But news of the imminent return of Hally's father after a hospital stay puts Hally on edge, and eventually springs the trap Fugard has been so carefully preparing. In the last 30 minutes of the 100-minute play, what has sometimes seemed a bit desultory and kitchen-sinkish, with a lacy overlay of pretty imagery involving kites and quicksteps, becomes gripping and then devastating. Devastating for the men, of course, who have tried to spare Hally (and themselves) from the moral disease of his upbringing, and devastating for Hally, who has so far resisted the full mantle of white privilege. But also devastating for us as we realize that the charming comity between the races, even in this best-case scenario, has always been tenuous, another form of white privilege; it merely awaits some spark to fan it into rage. Master Harold thus expands enormously toward the end, becoming a diagnosis of the shame cycle that fuels corrupt societies and a chilling demonstration of apartheid's pervasiveness. That a boy who believes in progress and Tolstoy and social reform nevertheless doubles down on his racism once unleashed is a very large story indeed. 
And yet it is Fugard's story, too. He grew up, in part, in Port Elizabeth, his mother ran a general store, and Harold is his given name. (One of the play's dedicatees is "Sam.") At 84, he has spent almost 60 years as a playwright trying to dismantle in drama what he is ashamed to have benefited from in youth. The Signature, at which he enjoys a "legacy" residency, has now given us five of his plays, most of them directed, like this one, by the author. That's a trade-off. Surely no one else could provide the degree of authenticity he does; Christopher H. Barreca's set is a triumph of old-fashioned representation, down to the wilting desserts under glass and the spider plants in the window. The performances by Leon Addison Brown as Sam, Sahr Ngaujah as Willie, and Noah Robbins as Hally are also unexceptionable, though only Ngaujah, in the smallest part, has star physicality. (No surprise if you saw him in the title role of Fela Kuti on Broadway.) But there is, in Fugard's work generally, a bit of the square: a stolid resistance to theatricality in favor of moral seriousness, as if the two were incompatible. To render naturalistically Master Harold's first 70 minutes, which is mostly retrospective, is not always to do so with much urgency. At times you might wish for more imaginative direction, or at least a more explicitly charming treatment of Hally, who ought to be delightful enough to make him sympathetic in his sadness, if not in his fury.
That said, the play is not considered Fugard's masterwork for nothing. Its representation of a world in a tearoom is at least as astonishing an achievement as the inscribing of a bible on the head of a pin. And more piercing, probably. Who knows whether its power would get out of hand in a more imaginative production? Even somewhat muffled, it cannot help speaking to something larger than South Africa in 1950, which was not the only place or time on Earth when black lives didn't seem to matter. 
* * *
The Fugard was the middle of my Signature sandwich Saturday night. After the play I lingered in the lobby to hear Suzan-Lori Parks and her Afro-Americana group Sula & the Noise performing for the late-night crowd. Beforehand, in another part of the lobby, not far from the space in which a revival of Parks's The Death of the Last Black Man in the Whole Entire World was in previews, I visited the Theatre for One booth. The brainchild of scenic designer Christine Jones, T41 is a custom-built four-by-eight-foot box resembling a larger version of the road boxes that rock groups use to transport equipment from gig to gig. Inside is room enough — just barely — for one actor on one side of a removable screen and one audience member on the other. A rotating repertory of short plays, each seven minutes or less, is presented in the uncanny confines of what amounts to a kind of confessional.
When I'd visited T41 last year at the Winter Garden, where it presented a program called I'm Not the Stranger You Think I Am, I thought it offered one of the most powerful (and unusual) theatrical experiences available in a city crawling with them. This year, in programing the booth's Signature residency, Jones gave her playwrights the title In This Moment. She was thinking, she told me, of the Signature's founding artistic director, Jim Houghton. The T41 project was not the first of the many oddball projects he had nurtured there. The whole idea behind the Signature, which he started in 1991, sounded fairly loony-tunes at the time: The company would devote each season to several works by one underproduced playwright. (The first season consisted of six plays by Romulus Linney.) Since then, the idea has gotten even more complicated, ambitious, necessary, and — under Houghton's inspired leadership — successful. Now housed in the three-theater $70 million Pershing Square Signature Center on West 42nd Street, it offers an annual program featuring the work of ten playwrights in residence: one (this season, Parks) getting the full immersion treatment; one a "legacy" playwright like Fugard; and eight others in five-year rotations that guarantee three world-premiere productions each. Meanwhile, thanks to extensive corporate underwriting, tickets for most performances are $30. Throw in that lively central lobby, with food, music, and a bookshop, and you have one of New York's most vibrant, inclusive, and joyful theatrical institutions.
Not so joyful perhaps right now; Houghton died, of stomach cancer, in August. He was 57. But the nature of his multiyear programing means that even as Paige Evans, who ran Lincoln Center Theater's LCT3 program, takes over the artistic directorship, in many ways it feels as if Houghton is still pulling the strings. Certainly that's so in the T41 booth, whose eight plays are all by Signature writers, including Naomi Wallace, David Henry Hwang, and Bill Irwin. I saw two of them. The first was the especially timely Déjà Vu, by Regina Taylor, in which Myra Lucretia Taylor plays an elderly woman reflecting on decades of voting. The second, This Magic Moment by Lee Blessing, features Lorenzo Pisoni as a grieving father of a boy who loved card tricks. Both plays were lovely and beautifully performed; seeing terrific actors up close — a yard at most separates your faces — is one huge appeal of the booth. There is also the appeal (and inescapability) of private storytelling: You know you are the only one hearing these words just now. Eye contact is not faked. 
For me, that intimacy breaks down any resistance one might muster against the essential nature of theater. You cannot look away if the actor should cry; I doubt most people could avoid tearing up in response. Though the tone tends toward the elegiac, a laugh makes quite a sound in there too. The experience leaves you feeling more human (if you like that sort of thing). Jones says she hopes to make T41 into an ongoing repertory venue; aside from the Winter Garden, it has already appeared in Zuccotti Park, Times Square, the Julliard School, and New York Theatre Workshop. Is it too much to hope that, in tribute to Jim Houghton, some corporation will underwrite T41 booths as a ubiquitous public amenity, like telephone booths and peep shows once were? You wouldn't have to reach out very far to touch someone.
"Master Harold" … and the boys is at the Signature Center through December 4.
In This Moment is at the Signature Center through November 24.