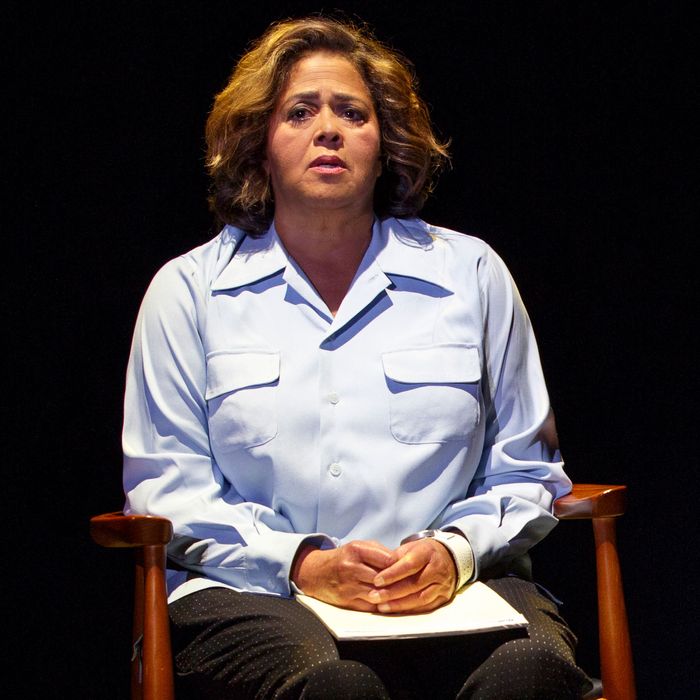 Smith in Notes from the Field: Doing Time in Education.
Photo: Joan Marcus
"I always talk in stories; they really illustrate points," says Michael Tubbs, a councilman running for mayor of Stockton, California. Actually, it's Anna Deavere Smith who speaks these words, channeling Tubbs verbatim as part of her latest and most devastating theater piece, Notes From the Field, which opens at Second Stage tonight. Like earlier works including Fires in the Mirror, about the 1991 Crown Heights riots, and Twilight: Los Angeles, 1992, about the post–Rodney King uprisings there, Notes From the Field is based on interviews — in this case more than 250, conducted over five years — that Smith has recorded, transcribed, and reproduced down to the minutest tics and gestures. The uhs, stutters, and blind alleys of speech that journalists usually edit out for clarity, she relishes for maximal expressiveness. In an essay describing her method she writes, "I have been trying to become America word for word."
Also, as the line from Tubbs indicates, story by story and point by point. Smith's method may be theatrical but her aims are political. Over the years her scope has expanded and deepened from cataclysmic single events to entire catastrophic systems. In Let Me Down Easy, seen at Second Stage in 2009, she anatomized health care in America. Now, in Notes From the Field, she has really hit the mother lode of rich, momentous material: the so-called school-to-prison pipeline that delivers young black men to semi-permanent incarceration directly from afternoon detention. With all its implications and consequences — from shattered families to ingrained poverty to police brutality — this is surely among the most pressing social issues of our time, and as such it is not enough that the people Smith re-creates onstage have something interesting to say about it. The bar, at this point in her career, is much higher than that. Her characters must say something that is profound and insightful and characterful and in some way unexpected, and it must fit neatly into the deliberate argument she is building one story at a time. 
So we get, for instance, the charming Tubbs, who describes Stockton — to which he has returned after graduating from Stanford — not only as a place where there are "really no other alternatives or options for our boys and men of color" than "prison or death," but also as a place where it is impossible to buy an apple for his vegan girlfriend. We get Denise Dodson, an inmate at the Maryland Correctional Institute for Women, whose prison job training support dogs has helped her understand how severely undereducated she was. (In part because of that deficit, she says, she "gravitated to my environment versus reaching out past my environment.") We get educators, school security personnel, judges, and activists, all black or Latino or Native American, all trying in one way or another to break the cycle of racism and nihilism and (as a psychiatrist speculates) epigenetic trauma that plays out every few weeks in the death of one nonwhite man or another. In a particularly hair-raising re-creation, Smith becomes Jamal-Harrison Bryant, the pastor who preached at the funeral of Freddie Gray in April 2015, turning a few verses of Luke into a thundering war cry. The only thing more astonishing than the expressivity of Smith's Lear-like rage is that it was borrowed intact from Bryant's.
But then each segment — well, maybe one or two are less riveting than the others — is fairly astonishing, with apt climaxes and startling kickers. The overall argument, too, is theatrically structured, moving from abstractions to specifics and from causes to results to a form of transcendence. (The last character heard from is Congressman John Lewis.) Along the way, Smith smoothly folds in a number of co-factors, including the disinvestment in public education that began as a racist response to school integration, and the overdiagnosis of ADHD among black children. These are handled, of course, anecdotally. We've all seen and gasped over the YouTube video of a South Carolina high school student named Shakara as she is violently extracted from her desk by a sheriff's deputy; Smith gives us the video but also a later, verbal confrontation between the two. As reported by the journalist Amanda Ripley, whom Smith embodies, the deputy "flips the braids out of Shakara's face" and says, "Did you take your meds today?" And Shakara, who has barely spoken throughout the incident, finally does. She says: "Yes. Did you?" 
Telling and chilling though these anecdotes are, they work better as theater than as a framework for evaluating (or rethinking) policy. It's the problem of "talking in stories": The selection process makes for an effective but not definitive portrait. Smith may have interviewed 250 people, but Notes From the Field features only 17 of them; what took five years to collect is bundled into a tight two hours. And because variety of mood and character are fundamental to the stage enterprise, you may begin to wonder whether what you are seeing, though obviously true, is really representative. It is perhaps for this reason that Smith and her director, Leonard Foglia, keep a fairly constant backbeat of statistics and captions and video documentation flittering across the panels that form the back of Riccardo Hernandez's minimal set. (The projections are by Elaine McCarthy.) More literally, they have added a backbeat in the music of Marcus Shelby, who accompanies some scenes and transitions with his jazz-inflected score for bass, and merely watches others as a sort of "witness" character, nodding and otherwise supporting Smith's impersonations. 
Though he's good, that's a mistake, softening material that should not be softened. Smith may not be a polemicist but she is not an illustrator either. She's asking us to swallow some large and difficult ideas. Have we squandered several generations' worth of hard-won civil rights victories? Have we turned our backs forever on the poor? (A Yurok tribal judge says, "I think the country's broken.") What makes these questions wrenching and moving is the way they are embodied in Smith's characters and then re-embodied, with only the slightest alteration of costume, in Smith herself. In a way, what she does is more like a summoning or a séance than a play. I'd even call it anti-theatrical, except that it's unquestionably great theater.
Notes From the Field is at Second Stage through December 11.