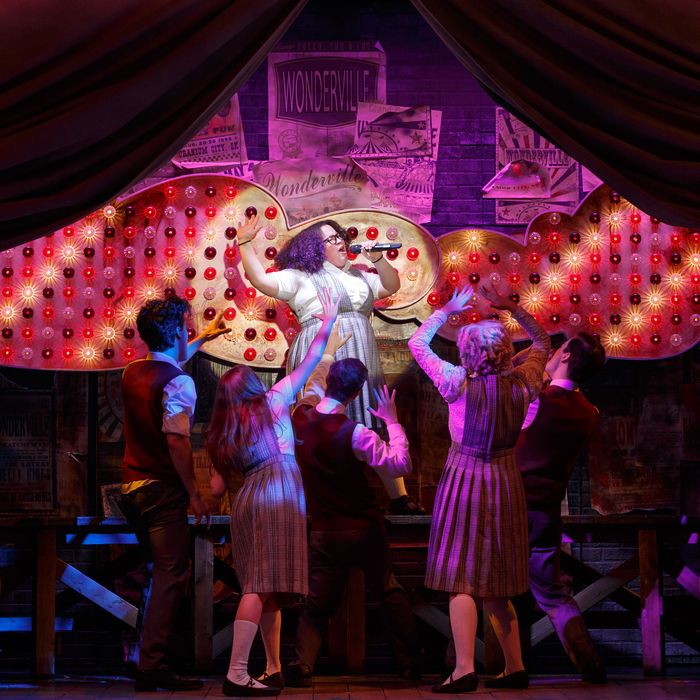 From MCC's Ride the Cyclone, at the Lortel.
Photo: Joan Marcus
It's not impossible to find the right tone for a musical comedy about a gruesome subject: Look at Little Shop of Horrors, which both satirizes and honors the implications of its bloodthirsty-houseplant plot. But it's very difficult — and anyway, one-off classics make poor examples. A sadly more typical case is that of Ride the Cyclone, a new–to–New York musical that opened tonight in a handsome MCC Theater production directed and choreographed by Rachel Rockwell. With its story about teenagers who find themselves in a kind of carny purgatory after dying in a roller-coaster derailment, it clearly wants to be both eerie and funny, as well as subversive, serious, touching, and great. As a result it's a little bit of all of the above, except for the last. Indeed, you get the feeling that the show, which was in development in Canada for years before getting its American premiere in Chicago in 2015, has been rewritten so much that, like a corn dog, it has lost any sense of whatever it started out as.
All along, the premise has remained the same: Six semi-dead members of the Saint Cassian High School Chamber Choir of Uranium City, Saskatchewan, compete with one another for the chance to come back to life. (A mechanical fortune-teller called Karnak advises them that the winner will be the one who can garner a unanimous vote from the others.) This provides the excuse for us to meet each of the kids in a series of introductions that quickly drop the thread of the plot. Ocean O'Connell Rosenberg (basically lifted from The 25th Annual Putnam County Spelling Bee's Logainne Schwartzandgrubenierre) is a straight-A alpha underminer just asking for a lesson in humility. Ricky Potts is the disabled nerd (lifted from Glee); Noel Gruber, the flamboyant gay boy (also Glee); Constance Blackwood, the super-nice big girl (also Glee); and Mischa Bachinski, the frustrated hunk (also Glee, via Ukraine). Only one of the dead teens is an unfamiliar type, but that's because Jane Doe, as she's called, was decapitated in the accident and what's left of her doll-like body cannot be identified.
Anyway, the contest is a red, or possibly a bloody, herring; not only do the rules keep changing but, soon enough, the electioneering peters out. Now the show seems to switch from Defending Your Life to a variety-show concept, with each of the teens getting a chance to perform a sketch and a song as part of the choir's "final concert." Frustrated hunk spits an angry rap ("This Song Is Awesome"); gay boy vamps a "Vie en Rose"–style torch song in French prostitute drag; disabled nerd belts out a Ziggy Stardust glam-rock number ("Space Age Bachelor Man") complete with backup from the inexplicable Cat Women from Zolar. The required 11-o'clock rave-up ("Sugarcloud") is assigned, of course, to the big girl, but only after she undoes her hair. And it's more like 9 o'clock, because the show, after what appears to have been some merciless cutting, is only 90 minutes long.
Maybe it should have been longer; it's only toward the end, as the stabs at snarky humor subside and the kids start considering the brevity of the lives they are leaving, that anything emotionally engaging happens. Until then, Ride the Cyclone feels like a queasy hangover dream with Prince as the dramaturg and some serious short-term memory problems. It's certainly phantasmagorgeous, with Scott Davis's post-apocalyptic carnival setting, Greg Hofmann's psychedelic lights, and an unusually lovely flying sequence for the doll girl. (The MCC production has been enhanced, with an eye toward transfer, by Broadway producer Kevin McCollum.) Rockwell's direction (if not her choreography) is filled with clever touches, which the talented young cast mostly carries off. And the vocal arrangements are top-notch, lending greater interest to generic material than it would seem to accommodate.
That last is especially lucky because it doesn't take long before you realize that the utterly random assortment of numbers represents an accommodation the book writers have made to the songwriters, who evidently have only a few pastiche tricks up their sleeves. Worse, the book writers and songwriters are the same two people: Brooke Maxwell and Jacob Richmond. They don't yet have the knack of creating characters and situations that necessitate songs rather than the other way around. Maxwell, a composer, even humblebrags in his bio that he's "never written a musical before and this whole musical theater thing is kind of a weird accident." Tell me about it.
Ride the Cyclone is at the Lucille Lortel Theatre through December 18.