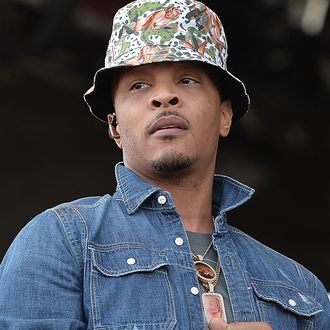 Photo: Paras Griffin/Getty Images
After Lil Wayne's dismissive comments about the Black Lives Matter movement in an interview on ABC's Nightline last week ("I don't know what it is" and, "My life matter, especially to my bitches"), many were disappointed by Weezy's response. Though Wayne has since apologized, T.I. wants Lil Wayne to go further and to embrace the activist movement. On Instagram, the rapper wrote a lengthy post calling out Lil Wayne directly for his "absolutely unacceptable" stance. The two rappers have known each other for over a decade, and T.I. acknowledged that Lil Wayne has a unique outlook, "Our relationship outside of music is what makes me sensitive to your disposition. I know you wired a bit different than most other responsible adult." Yet, that "disposition" does not excuse Wayne in T.I.'s eyes:
You're disrespecting yourself, bringing shame on your family name & tarnishing your legacy. You have children (including mines prior to now) that have looked up to you. You have sons & a daughter that depend upon your leadership. Bro if you don't stand for something out here,all the money,jewelry,cars,mansions bandannas & hit records don't mean shit!!!! Our people are being oppressed!!!
T.I., whose recent EP Us or Else raged against police brutality, went on to accuse Lil Wayne, "Oppression knows no neutral party, either you're part of the oppressed, or you with the oppressor. There is no such thing as oppression not affecting you." Read T.I.'s full post below.
@liltunechi This is my son & daughter showing me this for the first time & asking me what you mean? I'm at a complete loss of words here. Wayne I've known you over a decade. Our daughters grew up together practically. Reginae' spent countless times at my house with Niq-Niq when you were in prison & you extended my daughter the same courtesy when I was in the same position. Our relationship outside of music is what makes me sensitive to your disposition. I KNOW you wired a bit different than most other responsible adults, but still nigga U TRIPPING!!!! I don't know what you goin thru,or what you are attempting to avoid but this shit is absolutely unacceptable!!!! You're disrespecting yourself,bringing shame on your family name & tarnishing your legacy. You have children (including mines prior to now) that have looked up to you. You have sons & a daughter that depend upon your leadership. Bro if you don't stand for something out here,all the money,jewelry,cars,mansions bandannas & hit records don't mean shit!!!! Our people are being oppressed!!! We are being hunted,captured & slaughtered out here daily!!! You have to get outta that bubble that you've been living in & get out here & educate yourself on what's going on around US!!! I'm always here to share whatever knowledge or understanding I may have to assist your growth & development,but u MUST STOP this buffoonery & coonin' you out here doin. You looking like somebody who has something to gain or lose by pretending like it's not as bad as BLM making it seem & you're not aware of an issue that needs to be addressed. That's what would be considered "Uncle Tom Shit"…. I know U,YOURE BETTER THAN THIS!!!!! I've been proud to call myself a fan & a friend of Lil Wayne ,but if that must end in order to stand up for those who can't do it for themselves…So be it. If you're not prepared for a question in an interview,say No Comment Bro. But stop embarrassing yourself & everyone out here who's been supporting you. There is no middle ground. Oppression knows no neutral party,either you're part of the oppressed,or you with the oppressor. There is no such thing as oppression not affecting you. It's #USorELSE out here