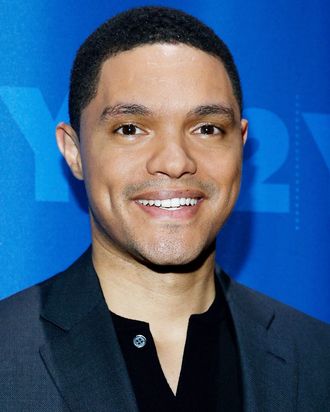 NEW YORK, NY - NOVEMBER 15: Trevor Noah discusses Born A Crime with Michelle Miller at 92nd Street Y on November 15, 2016 in New York City. (Photo by John Lamparski/Getty Images)
Photo: John Lamparski/Getty Images
When Trevor Noah was announced as the host of The Daily Show last year, he was an unknown to many Americans, despite having established himself as a stand-up megastar across Africa and gaining a following around the world. One of this earlier stand-up shows, "Born a Crime," focused on his childhood as a mixed-race kid in apartheid-era South Africa, where his parents were not allowed to be seen in public together and he struggled to fit in with any group because of his race and background. His new book of the same name, subtitled Stories From a South African Childhood covers the same ground in much more (often horrific) detail. The book is clearly written with an American audience in mind, at times explaining the history of South Africa and apartheid and comparing it to the U.S.'s own history of oppression and race relations. Even longtime fans are likely to learn new tidbits about Noah in this memoir: Here are seven things we discovered about him.
Noah had a very religious childhood, attendeding three churches every Sunday.
Noah's mother was very religious, and she felt that each of the churches "gave her something different." They started the day at a "jubilant" mixed-race church, a suburban megachurch with an ex-bodybuilder for a pastor, where the music was contemporary Christian rock and the words were displayed, karaoke-style, on a jumbotron. Next they went to an "analytical" white church, where Noah attended Sunday school and became enthralled by the stories of the Bible – he claims that he always won the Bible quizzes at Sunday school, and that he can still quote anything from the Old Testament and the Gospels, chapter and verse. Finally, the duo would head to a "passionate, cathartic" black church, where the service would last for three to four hours and sometimes feature pastors casting demons out of the congregants.
Noah was raised speaking English as his first language.
This was a deliberate choice from his Xhosa mother, to give him more opportunities later in life. "If you're black in South Africa," he writes, "speaking English is the one thing that can give you a leg up. English is the language of money. English comprehension is equated with intelligence. If you're looking for a job, English is the difference between getting the job or staying unemployed. If you're standing in the dock, English is the difference between getting off with a fine or going to prison." Because of this, Noah's Xhosa grandmother used to ask him to pray in English. The Bible had been in English when it first came to South Africa so she felt that Jesus spoke English, and thus that English-language prayers got answered first.
His mother chose the name Trevor because it means nothing.
It is traditional in Xhosa families to give a child a name with a deep meaning, and those names often become self-fulfilling. For example, Noah's mother's name meant "She Who Gives Back," and he describes her as someone constantly helping everyone around her. But when Noah was born, she named him Trevor specifically because it had no meaning in South Africa, nor any biblical reference. "It's just a name," he explains. "My mother wanted her child beholden to no fate. She wanted me to be free to go anywhere, do anything, be anyone."
He's a very talented letter-writer. 
When he was in grade school, Noah and his mom would regularly spar like lawyers, "debating over loopholes and technicalities", and eventually his quick mind frustrated her in these arguments. They began writing letters to one another, laying out all their points for the other side to address. She might slip a note under his door with a list of chores to be done, and he would respond with a letter detailing his accomplishments, and explaining why certain chores were unable to be performed. Her letters often quoted relevant Bible verses, while his began with "To Whom It May Concern:"; both would sign off their notes with "Yours sincerely."
He became a profitable businessman in high school.
Early on in his high-school years, Noah began making money by reselling and delivering food from a local convenience store to fellow students during their break period, allowing them to avoid the long lines at the store and him to turn a tidy profit. This meant he floated around his high school like a social butterfly, mixing with different groups without ever being fully included in their circles. Later, he began selling copied CDs to fellow high-school students, using the network he had established delivering food to sell music and video games. Originally, Noah sold CDs burned by an upperclassman, but he eventually started making them on his own, producing mix CDs and original party mixes. With his huge collection of digital music, he became a highly sought-after DJ for street parties.
He convinced high-school students he was Busta Rhymes's hype man. 
With all the money he earned from his various businesses in high school, Noah bought a pair of Timberlands. The boots were rare in South Africa but admired for their association with American rappers, who were incredibly popular. One of Noah's friends, a trickster named Tom, invited him to a talent show in his neighborhood and insisted that that he wear the boots. When he got there, he found out that Tom had promised the organizers of the talent show that he was bringing Spliff Star, Busta Rhymes's hype man, and that he needed to be paid up-front for it. Having gotten his money, he convinced Noah to go onstage and pretend to be Spliff Star. The audience didn't speak English, so Noah made up some lyrics on the fly and the crowd believed they were seeing a famous American rapper.
Noah was arrested as a teenager and spent a week in jail.
As a teenager, Noah had taken a junker of a car from the workshop of his stepfather, who was a mechanic with a collection of old cars and license plates. He was pulled over soon after. "Cops in South Africa don't give you a reason when they pull you over," he writes. "Cops pull you over because they're cops and they have the power to pull you over; it's as simple as that." Unfortunately for Noah, he was actually breaking the law, and when the plates on the car didn't match the registration, he was arrested on suspicion of driving a stolen vehicle. He spent a week in jail, trying to figure out the best way out and getting along with his fellow inmates, who didn't know what to make of him. Eventually he was released on bail, and when he returned home, he tried to pretend that he'd simply been staying with a friend. In time, he realized that his mother had been the one to hire his lawyer and pay his bail.