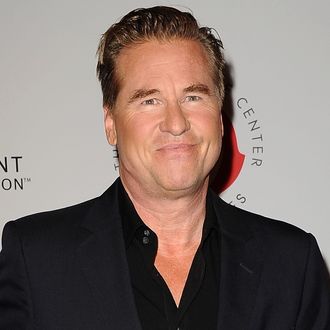 Val Kilmer in 2013.
Photo: Jason LaVeris/FilmMagic/Getty Images
Val Kilmer says that he has "no cancer whatsoever," despite reports to the contrary, most recently from Michael Douglas, who insisted that Kilmer is dealing with oral cancer similar to the kind Douglas had in 2013 and that "things don't look too good for him." In a long Facebook post, Kilmer insisted that he hasn't spoken to Douglas for almost two years, when he "asked him for a referral for a specialist to get a diagnosis for a lump in my throat," which prevented him for performing his play about Mark Twain. "I ended up using a team at UCLA and have no cancer whatsoever," Kilmer wrote. "I still have a swollen tongue and am rehabbing steadily."
Kilmer has denied reports about his health on Facebook in the past. In a post last October, he said he had "no tumor or infection of any kind." This January, he reiterated, "I have not had a tumor, or a tumor operations, or any operation." In February, TMZ reported that Kilmer has resisted cancer treatment because of his belief in Christian Science, which insists on the healing power of prayer over medical treatment. Over this time period, Kilmer was spotted with what appears to be a tracheostomy tube around his neck, and was seen noticeably covering his neck with scarves and bandannas on several other instances.
"Some fans have mistakenly thought my silence about my personal issues meant that somehow I wasn't being responsible to my health, because of my reliance on prayer and Love. Nothing could be further from the truth," Kilmer wrote in his latest post. "Whatever led Michael Douglas to speculate about my health, he's a loving and devoted friend to a privileged group of talented people around the world, and I'm sure he meant no harm."