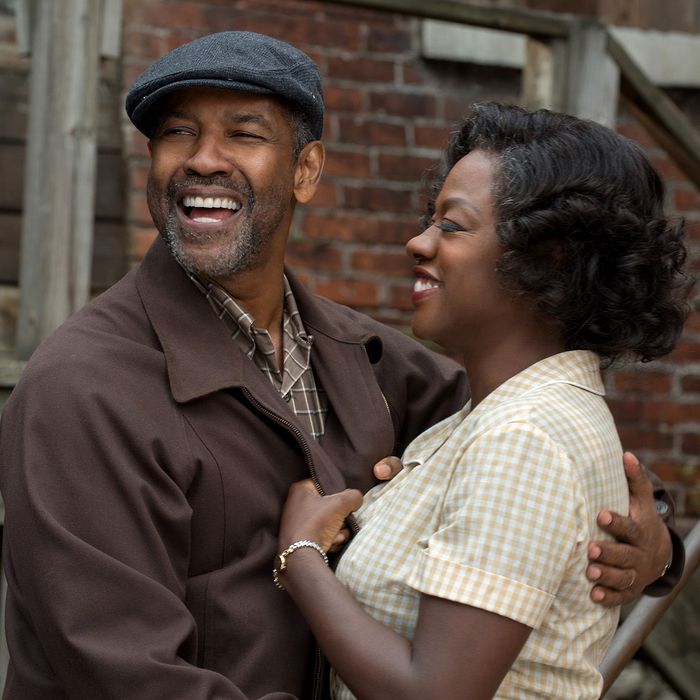 Photo: David Lee/Paramount Pictures
With only a few more major Oscar contenders left to screen for press this year, there remains plenty of uncertainty in the acting categories. Will La La Land's Emma Stone or Jackie's Natalie Portman emerge triumphant for Best Actress? Is Manchester by the Sea's downcast Casey Affleck vulnerable to a flashy performance yet to come? And does anybody have a clue what's happening in Best Supporting Actor, where we don't even have the semblance of a front-runner yet?
Best Supporting Actress, though … well, you can put that category to bed. Denzel Washington's Fences screened in Los Angeles this past weekend, and there's no doubt in my mind that Viola Davis will win the Best Supporting Actress Oscar for it. Expect her to take a virtually unopposed path to gold in the vein of prior Oscar-winning locks like Boyhood's Patricia Arquette, Precious star Mo'Nique, and Les Miserables' Anne Hathaway. For the twice-nominated, 51-year-old Davis, the third time will be the charm.

She's that good as Rose Maxson, the role that won her a Tony in the recent Broadway revival of August Wilson's classic play. For most of the 1950s-set Fences, Rose takes a backseat to her husband, the domineering Troy (played by Washington, who starred opposite Davis on Broadway and also directed the film version). It's a subservient position she's familiar with, though Rose is unafraid to puncture Troy's self-mythologizing monologues with the occasional, good-natured jab. It's her job to keep the family at peace, but as the couple's teenage son Cory (the terrific Jovan Adepo) agitates for a life larger than the one his dad has permitted, a chain reaction of confrontations begins that culminates in a breathtaking, no-holds-barred fight between husband and wife.

Not many actors can stand up to Denzel Washington at his most imposing — hell, Ethan Hawke got an Oscar nomination just for shrinking from him in that squad car during Training Day — but Davis can roar with the best of them. As a performer, she boasts both a surgical intellect and a formidable reserve of emotion, and to watch her in action in Fences, performing at the peak of her powers, is like watching a skilled professional self-detonate before your eyes. Most actresses can't take things as far as she can, but what's even more remarkable about the lengths to which Davis goes is that you go with her. The audience is so on her side that at the first screening of Fences, the people around me screamed, gasped, and cried as her surrogates.

An Oscar for Davis is in the bag, then, though Washington will have a tougher fight for his. He's enormous in his role, and unafraid to eschew sympathy; he plays Troy like someone who wants to suck up all the energy in the room, leaving his loved ones gasping for breath and dependent on his mercy. It will be one of Washington's most iconic roles, and he plays it very differently than the rest of the Best Actor field, which is full of introverted performers ducking their heads. Still, there will be viewers who tire of Troy and they may favor Affleck's modest Manchester loner just as a relief: After all, Washington has more lines of dialogue in his first 10 minutes of screen time than Affleck, Loving's Joel Edgerton, or La La Land's Ryan Gosling have in their entire movies.

With that said, I suspect Fences remains well-positioned to pick up the rare two actor Oscars in February, and after becoming the first and only black actor to win a second Oscar, Washington will likely extend his achievement by one.

Fences' below-the-line chances will be hemmed in by how stagy the adaptation remains: Washington rarely sets the action anywhere but the Maxsons' house and backyard, and there are few opportunities for cinematographer Charlotte Bruus Christensen or costume designer Sharen Davis to go big with their work. (I'm not sure we even hear the score by Marcelo Zarvos until nearly 45 minutes into the film, so determined is Washington to keep scenes as unadorned as they were on stage.) Still, the film will be a major contender in top categories, and one or two other acting nominations are possible. Mykelti Williamson as Troy's brain-damaged brother is the showiest Best Supporting Actor candidate, but I favored Adepo, who anchors the film late in its run.

Whether Washington will break into the Best Director category remains to be seen. This branch favors a strong visual take that Fences simply does not provide, and Washington's work could be devalued simply because he'll be perceived as having pilfered from Kenny Leon, who directed the Broadway production that Washington and Davis starred in. (Indeed, Washington rehired nearly the entire cast of the play for his film.) It was smart, then, for Washington to invite Leon onstage with him at the film's Los Angeles screening. Leon and the other actors were effusive when it came to Washington's talent as a director, and Paramount would be wise to delineate the decisions he made in his adaptation.

A Best Picture nomination is a certainty, though, and the strong Fences ensemble will resonate with actors, who make up the Academy's biggest branch. The Best Picture race still favors La La Land at the moment, but Fences has the sturdy stuff to last the whole season.