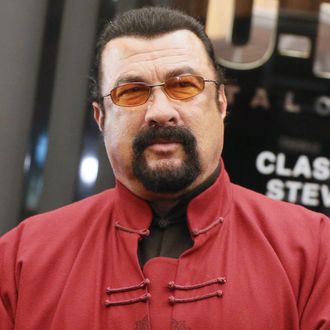 Photo: Vyacheslav Prokofyev/Vyacheslav Prokofyev/TASS
According to Donald Trump, Russian president Vladimir Putin has no respect for Hillary Clinton. But you know who he has a lot of respect for? The 1990s action movie sensation (and sneakily prolific current working actor) Steven Seagal. In fact, Putin likes Seagal so much that he has just granted the famed martial artist Russian citizenship, with Kremlin spokesman Dmitry Peskov telling Sputnik News, "This [was his] desire, he had really applied. He had been really persistent for a long time and been asking to grant him citizenship, he is actually renowned for his quite warm feelings toward our country." But citizenship is just the latest dot on a timeline of increased involvement between Russia, Putin, and the star of movies like Marked for Death and Hard to Kill. In 2013, Putin reportedly "proposed that Seagal be made an honorary consul of Russia in California and Arizona." That diplomatic appointment never came to fruition, but Seagal, whose mother was born in Russia, has apparently been making frequent trips to Russia over the last few years. At one point he helped Putin promote exercise among schoolchildren, and at another, he played a concert in Crimea after Russia annexed the territory in 2014 — a move Seagal characterized as "very reasonable." The two men have even appeared at martial-arts demonstrations together, which feels like the most Putinesque vacation ever.
Now, even though Seagal has praised the Russian president as "one of the greatest world leaders," he could also just be a little promiscuous with his citizenship. The BBC reports that he was also granted Serbian nationality earlier this year, after offering to set up a martial-arts school in Belgrade. And it's not as though Russia doesn't love celebrity citizens — people like Gerard Depardieu, boxer Roy Jones, and snowboarder Vic Wild were all previously given Russian citizenship.