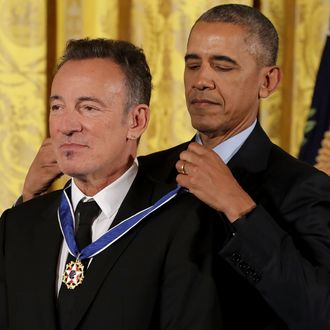 Photo: Chip Somodevilla/Getty Images
It was announced last week that Bruce Springsteen was one of 21 recipients personally selected by Barack Obama to be presented with the nation's highest civilian honor, the Presidential Medal of Freedom, due to his contributions to "the security or national interests of the United States, to world peace or to cultural or other significant public or private endeavors." (Other recipients this year include Ellen DeGeneres, America's dad Tom Hanks, and Robert De Niro.) The Boss and the others formally received their prestigious honors at the White House this afternoon, and before President Obama bestowed the medal around Springsteen's neck, a short introduction summed up his legacy poignantly:
As a songwriter, a humanitarian, America's rock and roll laureate, and New Jersey's greatest ambassador, Bruce Springsteen is, quite simply, The Boss. Through stories about ordinary people, to Vietnam veterans to steel workers, his songs capture the pain and the promise of the American experience. With his legendary E Street Band, Bruce Springsteen leaves everything on stage in epic, live, communal live performances that have rocked audiences for decades. With empathy and honesty, he holds up a mirror to who we are, as Americans chasing our dreams, and as human beings trying to do the right thing. There's a place for everyone in Bruce Springsteen's America.
Watch him receive the honor in full below. Bruuuuuuce!