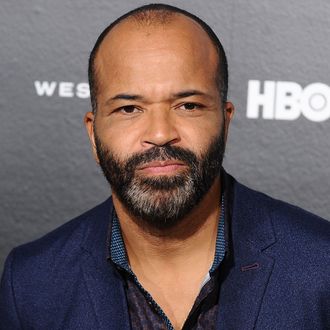 Jeffrey Wright, woke actor.
Photo: Jason LaVeris/FilmMagic/Getty Images
Jeffrey Wright has a message for you today: Vote for Hillary Clinton. But WikiLeaks! But the 1994 crime bill! Jeffrey Wright has heard your complaints about Clinton, but he has a simple message for you: "It's time to prove how 'woke' you really are." In an editorial for The Root, the Westworld engineer talks about the Mothers of the Movement, that is, the mothers of the many black people who have lost their lives to the police including Eric Garner, Trayvon Martin, Sandra Bland, and others. They've supported Hillary Clinton for many months, and he urges young black men to follow their lead. "And yet, while the Mothers of the Movement stand with Hillary Clinton, some of you woke young brothers (and sisters) say you can't and won't do the same," Wright writes. "Young brothers, stand with them."

He continues:
I've worked hard not to lose patience with the logic some of you woke brothers have thrown my way, as you argue against voting for Hillary Clinton. You seem to suggest that your judgment is clearer than the mothers of the dead brothers and sisters who enflamed your passion for justice; that your concern for their children, your pain at their deaths, runs deeper, somehow, than that of these mothers. Yet, to my mind, if you refuse to stand with them in this election, then you stand in opposition to them. These women, as James Baldwin might've said, have worked "to force a moral commitment" not to themselves, but "to the life of the country." And for them, there's been only one best choice this election in doing that. They have lashed their expectations for progress toward more inclusive justice in America onto the presidency of Hillary Clinton. And I can say with certainty that, on Nov. 9, they will not have forgotten their lost children nor what her candidacy promised them. 
You heard him: Vote!