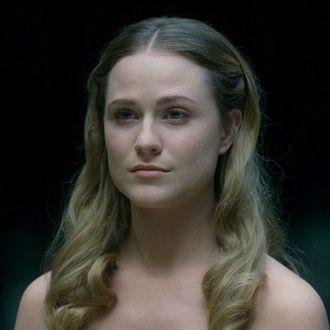 Following each week's episode of Westworld, show composer Ramin Djawadi (Game of Thrones) will be Vulture's guide to the music.  
Whoever is planning the music to play within the theme park of Westworld either has an agenda, or a wicked sense of humor. The music selections seem to have dual purposes. They provide a greatest-hits soundtrack for the guests, perhaps the equivalent of elevator Muzak in this futuristic world. But if that were solely the case, you would expect more hits — more top 40 singles from mainstream artists, less deep album cuts from alternative bands. And the selections sometime seem designed to suggest something to the hosts, more than the guests — something that might wake them up or tell them a hidden truth about their situation. That's what makes the use of Nine Inch Nails' "Something I Can Never Have" in an orgy scene so interesting.
As our characters venture away from Sweetwater, they encounter a new town called Pariah. "You can kind of picture a string quartet being in the room somewhere, performing this song, in this setting, right?" show composer Ramin Djawadi said. Sure, Nine Inch Nails makes a good choice for orgies, strip clubs, and lap dances, but wouldn't the more obvious choice for debauchery in a theme-park setting be NIN's "Closer"? More recognizable, more libidinous, more raw? More of a signal that you could do whatever or whomever you want? That would be the case, if the songs were meant for the guests. Reminding brothel customers that there is something they still can't have would be bad for business, no? And regardless of its lyrics, the instrumental version is melancholy. It evokes a resigned sort of longing or yearning that will not be satisfied, that has no resolution. "That might be on purpose," Djawadi chuckled elusively. "It makes it more ironic."
Perhaps the song selection here is Dr. Ford's design, poking a little fun at the guests who think their desires are being met in the moment. Or perhaps the song is another call to Dolores, a thematic complement to her yearning. Whatever the case, Dr. Ford's agency when it comes to the music becomes a little more clear in this episode, given that he's actually the one playing the piano in the bar where the Man in Black takes Teddy. Is it a coincidence that he's playing another Debussy piece, "Clair de Lune" — the same song that plays on guitar when Dolores and William walk through the streets of Pariah at night? "Dr. Ford seems to be drawn to that kind of romantic music," Djawadi said.
When Dr. Ford's finishes with his conversation, he snaps his fingers and the player piano starts racing through what could be his own personal theme song, "The Entertainer." "That's about control," Djawadi said. "It just shows the power he has. He calls the shots for what happens."
Although the season is only at the halfway point, Djawadi is releasing full versions of some of the songs used so far on iTunes. "Obviously on the show we have to cut it down to a certain length," he said. "I didn't know what part they would use, so I just did full-length versions of these songs." He hopes to release another batch of songs as the show progresses. "More songs are coming!" he promised.