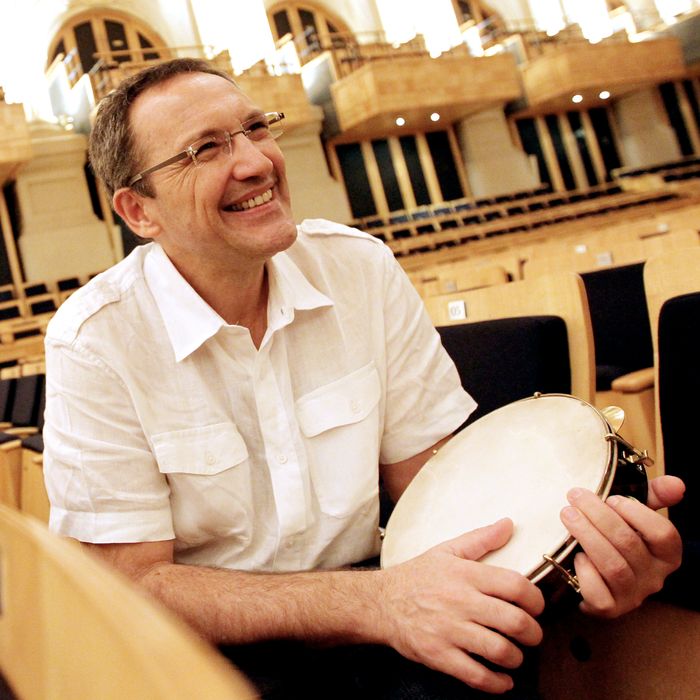 Osvaldo Golijov in 2010, four years into not finishing an opera that was just canceled.
Photo: ROBSON FERNANDJES
When the Metropolitan Opera decided to scrap a planned new work by Osvaldo Golijov, the news seemed both stunning and obvious. An artistic disaster that took a decade to unfold culminated in business as usual: the Met not commissioning a living composer. What else is new? Still, the project's collapse should alert both composers and impresarios that they are yoked together in a profoundly dysfunctional system. If you wanted to guarantee that a tiny pool of creators spent years on projects that would inevitably die, either before opening night or shortly after, this is the way to do it.
The specifics of the case are both mysterious and sad. In 2006, when Peter Gelb took over as the Met's general manager and seemed genuinely interested in generating new shows, he announced a commissioning program. Golijov was a natural choice. A talented Argentinean-born composer and enthusiastic collaborator, he whirls together Latin American and Jewish traditions to produce music that is rich in melodic drama. Gelb first paired him with the filmmaker Anthony Minghella, who died in 2008, before the project could get underway. Other librettists and subjects popped up and faded away, and in 2013 the Met announced that the opera would be based on Euripides' Iphigenia in Aulis. But Golijov, always slow to write and erratic about meeting deadlines, appeared to be mired in an extended creative crisis. In the past decade his output has dried to a trickle — presumably, many thought, because he was devoting his time to the opera. One of the works he did complete, a brief orchestral overture called Sidereus, turned out to contain extended passages actually composed by a collaborator and friend, Michael Ward-Bergeman.
Golijov is not the first composer to be brought low by the burden of furnishing music for the world's largest opera company. The Met commissioned an opera from the composer Jacob Druckman in 1981, and canceled it five years later when the pages failed to materialize. Writing an opera is always a big deal, but so is writing a novel or making a movie — enterprises that, despite the cost, risk, and years of often-fruitless labor they require, somehow yield a steady stream of fresh work. For opera composers, receiving the dream assignment can turn into one of those nightmares when suddenly you're in charge of landing a 747 even though you've never been in a cockpit. In the past, writing operas was a profession, and composers churned out plenty of duds along with the occasional masterpiece. Verdi wrote 37 operas, Rossini 39 (before he retired at age 37), and their catalogues are filled with works you've never heard of. By comparison, Golijov had written a single opera before the Met called, and Druckman none. Inexperienced opera composers, faced with a monumental task and the crushing impossibility of failure, might be expected to choke.
The Met is sporadically enthusiastic about new and newish opera. On Thursday, it will open L'amour de loin, a 16-year-old work by the Finnish composer Kaija Saariaho — only the second opera by a female composer ever to reach its stage. Next fall, it plans to present Thomas Adès's The Exterminating Angel, a co-commission with the Royal Opera and the Salzburg Festival that had its first outing last summer. And since 2000, the Met has staged operas by a handful of living American men: John Adams, Philip Glass, Tobias Picker, Nico Muhly, John Harbison, and Tan Dun. Few composers get a chance to write one big opera; fewer still get a crack at a second. If the Met's predecessors, the opera companies of 19th-century Europe, had taken a similar approach, the art form would have been extinguished long ago.
While other arts keep broadening their scope, new music has narrowed itself practically out of existence. The composer Andrew Norman, who this week won the prestigious $100,000 Grawemeyer Award for his orchestral work Play, pointed out in a candid and startlingly gracious interview with NPR that the musical establishment remains a closed and exclusive club. "I'm a white man and I get lots of commissions and there are systemic reasons for that, reasons we should all be talking about. There are so many talented composers out there. Rather than giving me another commission, why aren't we giving those people a commission?"
One reason is that a system always short on money and glory is spectacularly risk-averse. Composers rarely achieve fame — the best they can hope for is a break from total obscurity — but Norman's prize will bring more prizes and more commissions, until perhaps one day the Met will put his name on a short list for a new opera. And then he will have to decide whether to invest immense quantities of psychic energy in a genre with a terrible track record. But how are you going to say no?
The job of cultivating untested composers falls to small organizations like the annual Prototype Festival, which stages several new chamber operas over ten days each January. If you're wondering whether female or non-Caucasian opera composers exist, that's one place to find them. Among this year's offerings is Missy Mazzoli's Breaking the Waves, which had a run last September at Opera Philadelphia. (The Times' Zachary Woolfe called it "dark and daring.") The Met should really be beating Prototype at its own game, creating an opera farm and giving composers support, time, and a smaller stage in which to develop projects and their own skills. (That, sort of, was the idea behind a partnership with Lincoln Center Theater that formed in 2006 and has had a spotty track record since then.) Instead, after the Golijov fiasco, the Met may well conclude that it's safer to depend on dead composers than to bother with living ones. That attitude starts a vicious cycle: scarcity of opportunity keeps the pool of composers small and homogeneous, increasing the likelihood that any given project will disappoint. Art demands openness, persistence, and a willingness to tolerate failure. You can't expect an opera composer to write a great opera if she's never had the chance to write a mediocre one — or five.