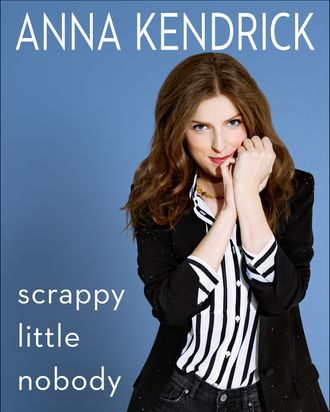 Anna Kendrick's Scrappy Little Nobody.
Anna Kendrick's memoir, Scrappy Little Nobody, is pretty misleading, as she hasn't been a nobody for a long time. To be fair, that's a good thing, as the 31-year-old actress has covered a lot of ground in her trajectory from nobody to somebody. The book is a collection of autobiographical essays that cover everything from Kendrick's life on Broadway as a young teenager to her glamorous grown-up years on the red carpet. Here's what we learned about Kendrick's experiences with money, sex, and Twilight after reading the memoir. We look forward to a whole batch of exciting new stories in Scrappy Slightly Larger Somebody, out sometime around the release of Pitch Perfect 23.
Being a young Broadway star isn't as glamorous as it sounds.
At age 12, Anna Kendrick got a Tony nomination for her supporting role in High Society on Broadway and later went on to appear in A Little Night Music. Despite what you might've written in your childhood dream journal about having an artistic life in the city, Kendrick insists it wasn't all that exciting. The pay wasn't that great — Kendrick says she went home from High Society with about $250 after the run ended — and she had to spend a lot of time away from her friends at home. "When the show closed I was sad but relieved," Kendrick writes. "I was ready to go home. Still, maybe because I'd seen my family struggle to pay the bills, even while my father was working two jobs, it was disconcerting to be unemployed. Sure, I could go home and go to school and see my friends and family, but at what cost? Was I a twelve-year-old has been?
"I'm still haunted by this fear," Kendrick adds. "It has made me very cautious of feeling comfortable in my career—and turned me into a bit of a workaholic." Perhaps there's an explanation here as to why she was in six movies this year.
She still has no idea what to make of Camp.
The summer before her senior year of high school, Kendrick made her film debut as the scheming Fritzi in 2003's theater-nerd comedy Camp. Though the film went on to success at Sundance and earned Kendrick an Independent Spirit Award nomination, nobody really knew if it was going to work. And it didn't, really, in its theatrical release. "Many people who thought they were going to see a musical American Pie were turned off by the homosexuality, cross-dressing, and vintage synthesizers. They were also less forgiving of the uneven quality of the film," she writes. "Being in that theater at Sundance was one of the great memories of my career, and maybe my life, so far. But when I met a guy in London the following year who said the movie was boring and weird, I couldn't fault him. And when I met a girl six months ago who told me she named her car and her dog Fritzi, I made a mental note of her distinguishing features in case I had to describe her to the police."
Twilight paid her bills, and an Oscar nomination from Up in the Air didn't change her life that much.
After moving to Los Angeles, Kendrick booked several roles in indie movies, but primarily supported herself with a gig on Twilight. "None of the other filmmakers I worked with during those years had ever seen Twilight," she writes, "but the series kept me in room and board while I did their movies for no money. It was like the world's most ridiculous day job." Meanwhile, Kendrick got an Oscar nomination for her work in Up in the Air, which, despite all the visibility it offered her, still didn't pay that well. During the press tour, Kendrick writes, "I felt like a fraud! I was being flown around, staying in hotels I could never afford and putting on clothes that someone else picked out. When I went home, I dragged a suitcase full of those items I didn't own across my tar-stained carpet and dumped it out at the foot of my Ikea bed." If nothing else, Kendrick's honesty about how franchises offer you financial security makes us support her decision to do as many Pitch Perfect movies as she wants.
Zac Efron could easily be a cult leader.
Anna Kendrick just wants you to know that her Mike and Dave Need Wedding Dates co-star Zac Efron could be a cult leader if he wanted. "Working with Zac Efron gave me a real-life understanding of how Charlie Manson got all those people to move to a ranch and do his bidding. Hear me out!" She writes, later elaborating on his essential magnetism. "People are just drawn to this guy. They behave like monkeys around him … You know those movies where some remote culture sees a dude in armor for the first time and mistakes him for a god? It's like that with Zac Efron." Too bad his magic couldn't help the box-office numbers of Neighbors 2.
Anna Kendrick tried to high-five a guy the first time he gave her an orgasm.
In her memoir, Kendrick is very open about her interest in and enjoyment of sex, and includes a few anecdotes about her first experiences with intercourse. For instance: After the first month or so of hooking up with a boyfriend and not orgasming, Kendrick decided to stop masturbating in order to help her experiences with him. When he finally got her to arrive, as she puts it, she decided to tell him: "'So hey, first time I've had an orgasm during that whole situation.' I raised my hand for a high five. 'Up top!'" The guy apparently didn't take the compliment very well, but let's be honest, any form of communication and camaraderie in your sex life should be a good thing.
Kendrick was once really high at the Independent Spirit Awards, but for the least stoner reasons possible.
Thanks to the fact that she's now a successful and well-regarded actress, Kendrick has all sorts of stories from behind the scenes at awards shows. She once saw Drew Barrymore be overwhelmed with emotion after winning a SAG Award. Her co-presenter Stanley Tucci at the same ceremony saw her trying to fix her dress before they walked out, and in the most Tucci moment ever said, "Stop adjusting your boobs, you look fine." But the best awards story comes from the time Kendrick had to go to the ER to have a cyst in her nose lanced before the Independent Spirit Awards. After a trip to the hospital, she showed up to the ceremony "high as fuck" on medications, terrified that she might actually win something for her role in Rocket Science and have to put together a coherent sentence. "Cate Blanchett won," Kendrick writes. "Of all the amazing contributions that woman has made to the world, beating me that day is the thing I'm most thankful for."