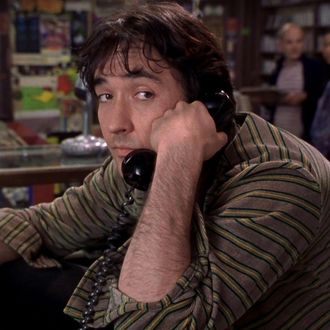 Photo: Touchstone Pictures
Each month, several films and TV shows leave HBO's catalogue. We provide a list of departing titles so you can watch them before they're gone forever (or are just available on a different site). For more comprehensive coverage of the best titles available on HBO and elsewhere, check out Vulture's What to Stream Now hub, which is updated throughout the month.
Top Five: High Fidelity (2000)
John Cusack owns a Chicago record shop, falls in and out of relationships, and makes lots of lists that blur the line between pop-culture obsession and personal failings. That's about all you need to know to enjoy Stephen Frears's delicious adaptation of Nick Hornby's beloved novel. Okay, also this: Jack Black plays every obnoxious music snob you've ever known, and you may want to strangle him pretty quickly. Leaving December 31.
The Cold War Heats Up: The Man From U.N.C.L.E. (2015)
In another world, one where Guy Ritchie's name doesn't conjure images of unsubtle, double-speed ultraviolence, his breezy update of this '60s-era spy series would have garnered more than scattered faint praise and modest box-office returns. Ritchie did some of his best work in years in U.N.C.L.E., thanks to his kinetic sense of action-based humor and steadfast commitment to era-appropriate window dressing. Leaving December 31.
It's a Community Space: Mistress America (2015)
One of the very best films of last year, Noah Baumbach's modern-day update of the screwball comedy genre is a New York vision quest for 20-somethings anchored around the pitch-perfect frenemy dynamic of Greta Gerwig and Lola Kirke. Are they sisters, rivals, or underminers? The two actors communicate much in their verbal volleys, and there are enough colorful characters dancing in the margins to turn Mistress America into a nonstop grin machine. Leaving December 31.
Leaving December 31
Bad Santa (2003)
Black Sea (2014)
The Bourne Ultimatum (2007)
The Boy Next Door (2015)
Catacombs (2007)
Deep Blue Sea (1999)
Dog Day Afternoon (1975)
Dumb and Dumber (1994)
Eight Legged Freaks (2002)
The Fantastic Four (2015)
Ghost (1990)
High Fidelity (2000)
Joy Ride (2001)
Jupiter Ascending (2015)
Lost in Space (1998)
The Man from U.N.C.L.E. (2015)
MI-5 (2015)
Mistress America (2015)
Naked Lunch (1991)
National Treasure (2004)
Next Friday (2000)
Not Another Teen Movie (2001)
Ocean's Thirteen (2007)
Pan (2015)
Poltergeist (1982)
Reindeer Games (2000)
Say Anything… (1989)
Scarface (1983)
Scent of a Woman (1992)
Snakes on a Plane (2006)