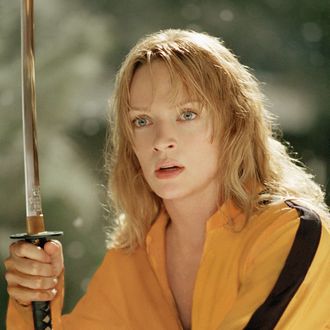 Each month, several films and TV shows leave Hulu's catalogue. We provide a list of departing titles so you can watch them before they're gone forever (or are just available on a different site). For more comprehensive coverage of the best titles available on Hulu and elsewhere, check out Vulture's What to Stream Now hub, which is updated throughout the month.
Kiddo, you ain't kiddin': Kill Bill (2003–04)
Quentin Tarantino's wildest, nuttiest, guess-the-B-movie-reference cine-mash-up will leave Hulu at the end of the year. Volume One is essentially a riotous kung-fu set piece with a steely Uma Thurman and her yellow jumpsuit at the center, while Volume Two is a coolly paced, slow-burning revenge thriller that expertly disposes the snake-oil charms of David Carradine's eponymous villain. Together, they're essential viewing for film geeks — and to get the argument started: Kill Bill > Reservoir Dogs > The Hateful Eight > Django Unchained. Leaving December 31.
Forget it, Jake, it's … Chinatown (1974)
The definitive artistic statement on the sinister forces that shaped modern America, Roman Polanski's dark and disturbing neo-noir rewrote the rule book for cinema in this country, granting permission for other serious filmmakers to steer toward more corrosive, irrepressible themes. Marvel at the ease with which a fight over California water distribution becomes the perfect metaphor for the wealthy, corrupt men who manipulate the forces of the world to get what they want, and the flawed but good-hearted souls who are ultimately powerless to stop them. Leaving December 31.
Clouseau chronicles: The Pink Panther (1963)
It's your last chance to indulge in parts of the Blake Edwards–Peter Sellers spy spoof series. Three films from the original franchise — this, The Pink Panther Strikes Again, and Curse of the Pink Panther — will all leave Hulu at the end of December. (As well as Steve Martin's lackluster 2006 reboot, if you must know.) Skip the sequels, especially the Sellers-free Curse, and focus on the original, when his bumbling Inspector Clouseau is the live-wire foil to a goofy, impossibly elaborate diamond-heist plot. Clouseau's legacy as a character is still prescient more than 60 years later; in the excellent new Chilean film Neruda, Gael García Bernal channels Sellers's work into a new idiotic-investigator character to gut-busting effect. Leaving December 31.
Leaving December 31
And God Created Woman (1988)
Blue Steel (1934)
Chinatown (1974)
Congo (1995)
Cool It (2010)
Courage Mountain (1990)
Curse of the Pink Panther (1983)
Death at a Funeral (2007)
The Gambler (1974)
The Godson (1998)
Happily N'Ever After (2007)
Joyride (1997)
Kill Bill: Volume 1 (2003)
Kill Bill: Volume 2 (2004)
Mission Park (2013)
National Lampoon Presents Cattle Call (2008)
National Lampoon Presents Dirty Movie (2011)
National Lampoon Presents Dorm Daze 2: College (2006)
The Pink Panther (1963)
The Pink Panther (2006)
The Pink Panther Strikes Again (1976)
Under the Gun (2016)
Valkyrie (2008)