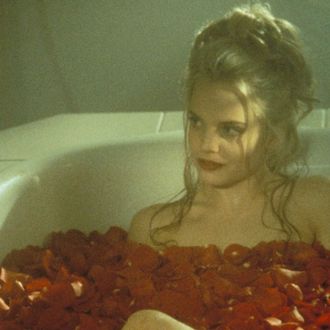 Each month, several films and TV shows leave Netflix's catalogue. We provide a list of departing titles so you can watch them before they're gone forever (or are just available on a different site). For more comprehensive coverage of the best titles available on Netflix and elsewhere, check out Vulture's What to Stream Now hub, which is updated throughout the month.
Knockin' the suburbs: American Beauty (1999)
Remember the days when the chief argument against an Oscar Best Picture winner was over the validity of its artistic message, and not merely the fact that Hollywood rewarded yet another movie about Hollywood? American Beauty dug a hole underneath the white upper-middle class and stuck a stick of dynamite in it, leaving the rest of us to pick up the shrapnel. It's often crude and inelegant, but there is real anger in the script, direction, and performances by Kevin Spacey and Annette Bening, and that anger hit bourgeoisie America where it hurt the most: their immaculately manicured front lawns. Leaving December 1.
Can you dig it? Holes (2003)
The rare adaptation of a beloved children's book that doesn't try to condescend to its audience, Andrew Davis's take on the Louis Sachar novel about juvenile delinquents digging for desert treasure tells a sophisticated, mature story without resorting to fart jokes and pop-culture references. A bonus: You'll see legitimately great performances from Shia LaBeouf and Jon Voight. Leaving December 5.
Mungiu madness: Beyond the Hills (2012)
In between his groundbreaking hit 4 Months, 3 Weeks and 2 Days and this year's high-profile Graduation, Romanian New Wave auteur Cristian Mungiu directed this 2012 drama about two orphan girls in an Orthodox convent. Though it won Best Screenplay and Best Actress at the Cannes Film Festival, Beyond the Hills never made the splash with American audiences its predecessor did. Rectify that by watching this masterwork from one of the finest directors working today. Leaving December 16.
TELEVISION
December 1
Myth Hunters (series 1–2)
The Great War Diary (season 1)
December 15
High Profits (season 1)
December 31
Hercules: The Legendary Journeys (seasons 1–6)
MOVIES
December 1
50 First Dates (2004)
American Beauty (1999)
Black Ops (series 2)
Camp Takota (2014)
Carmen Jones (1954)
Cats & Dogs (2001)
Curious George: Swings Into Spring (2013)
Don't Be a Menace to South Central While Drinking Your Juice in the Hood (1996)
Elizabeth: The Golden Age (2007)
Event Horizon (1997)
Frequencies (2013)
McConkey (2013)
Medora (2013)
Monkey Business (1952)
Neil Young: Heart of Gold (2006)
Paycheck (2003)
Pirates Who Don't Do Anything: A VeggieTales Movie (2008)
River of No Return (1954)
Sling Blade (1996)
Thor: Hammer of the Gods (2009)
The In-Laws (2003)
The Out-of-Towners (1999)
Top Gun (1986)
Valley of the Dolls (1967)
World Trade Center (2006)
December 2
Legends of the Knight (2013)
The Red Baron (2008)
December 3
The Best of Me (2014)
December 5
Holes (2003)
December 14
The Da Vinci Code (2006)
December 15
World War II in Colour (2009)
December 16
Beyond the Hills (2012)
December 22
Dark Skies (2013)
December 26
Just Friends (2005)
December 27
Spy Kids (2001)