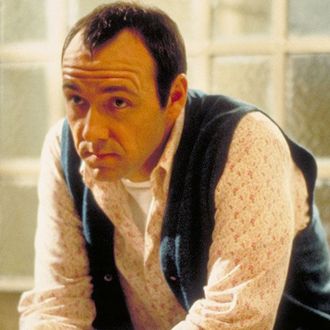 Each month, several films and TV shows leave Showtime's catalogue. We provide a list of departing titles so you can watch them before they're gone forever (or are just available on a different site). For more comprehensive coverage of the best titles available on Showtime and elsewhere, check out Vulture's What to Stream Now hub, which is updated throughout the month.
Secret pudding: Punch-Drunk Love (2002)
It's unquestionably Adam Sandler's finest hour, and one of Paul Thomas Anderson's, too. This pitch-black comedy follows a volatile, antisocial man (Sandler) who has to elude predatory phone-sex scammers and busybody sisters while he scams a pudding company for frequent flier miles so he can take a trip with a new love. Punch-Drunk Love features some of the most innovative filmmaking of Anderson's career, such as a chaotic extended take in a warehouse factory where everything seems to fall apart at once. Leaving December 31.
Michael Caine, Michael Caine: The Trip (2010)
Steve Coogan and Rob Brydon gallivant around a pre-Brexit English countryside, trying expensive food and generally making asses out of each other on someone else's dime. If that sounds boring to you, then you don't know Steve Coogan and Rob Brydon. The first installment of the Trip hangout series (there's a third one on the way) establishes the juxtaposition that makes these films so intoxicating: luxuriously shot locales and a vast, impossibly rich landscape of European culture, as seen through the eyes of two pompous oafs who couldn't care less about it. Leaving December 14.
 The devil's greatest trick: The Usual Suspects (1995)
Keyser Soze — the man, the myth, the cinematic shorthand for "devilish enigmatic twist" – lives in the defining whodunit of the 1990s. In addition to being a showcase for Kevin Spacey's seething, scheming performance, The Usual Suspects is also a great primer for screenwriters on how to take a one-line concept ("five guys meet in a lineup") and keep audiences on the hook for an entire film. Leaving December 31.
Leaving December 5
Jersey Girl
December 10
Away From Her
December 12
Don't Blink
December 14
Dark Hearts
The Giver
The Texas Chain Saw Massacre
The Trip
December 18
Erin Brockovich
December 20
Lost Songs: The Basement Tapes Continued
December 21
Frank Miller's Sin City: A Dame to Kill For
December 22
The Boys of 2nd Street Park
December 25
Common
December 29
Bubble Boy
December 31
The Boondock Saints
Deadfall
Duets
First Kid
Gary Owen: I Agree With Myself
The Passion of the Christ
Punch-Drunk Love
Return to Nim's Island
Heaven's Burning
The Honeymooners
The Hundred-Foot Journey
Intruders
See No Evil
Space Warriors
Springsteen & I
The Usual Suspects
Weapons