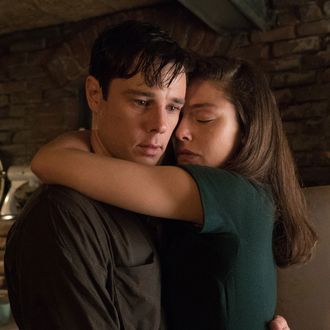 Photo: Liana Hentcher/Amazon Studios
At the beginning of (and throughout) every month, Amazon Prime and Amazon Instant Video add new movies and TV shows to their libraries. Some of these may also have previously been on Amazon, only to have been removed and then added back. For more comprehensive coverage of the best titles available on Amazon and elsewhere, check out Vulture's What to Stream Now hub, which is updated throughout the month.
Escape to the Neutral Zone: The Man in the High Castle (season two)
What's that, you say? Nazis and fascists have taken over our fair country? No longer just a show for History Channel buffs and Philip K. Dick fans, Amazon's original drama series about a modern-day American nightmare where Axis powers rule the former United States has suddenly become a whole lot more, well, nightmarish. Though it's stronger in the world-building department than the narrative one, the series proved in its first season that it has enough whip-smart ideas and terrifying images to be a pulpy Brave New World for our time. All episodes available December 16.
The dog is my brother: The Lobster (2016)
Find the love of your life, or accept your fate as an animal: the weird future-colony of this dystopian singles' bar is good with either, really. Colin Farrell turns a pathetic, pudgy loser into a laugh riot in this deliciously weird dark comedy, one of the best movies of the year and certainly the best to feature a conversation about the sexual behavior of crustaceans. Available December 2.
A New York honeymoon: Love Is Strange (2014)
More than any other filmmaker working today, Ira Sachs knows what it's like to live with means in a city — and the kind of surprising hardship that can still emerge from a posh urbanite lifestyle. In Love Is Strange, an elderly gay couple's blissful domesticity is upended when they make their marriage legal, a scenario that forces them to take refuge with family, exposing how even the most comfortable of lives can still be knocked over by the wind. Alfred Molina and John Lithgow are terrific in the lead roles, and the film should serve as a gateway to Sachs's equally excellent companion piece from this year, Little Men. Available December 1.
TELEVISION
Available on Prime
Lost in Oz, season 1 (December 2)
Mozart in the Jungle, season 3 (December 9)
The Expanse, season 1 (December 14)
The Man in the High Castle, season 2 (December 16)
Available for purchase
Clarence, season 10 (December 2)
The Secret Agent, season 1 (December 6)
800 Words, season 1 (December 13)
Britain's Bloodiest Crown, season 1 (December 13)
Close to the Enemy, season 1 (December 13)
Jericho of Scotland Yard, season 1 (December 13)
MOVIES
Available on Prime streaming December 1
6 Souls
Blood Diamond
Caddyshack
Choices of the Heart
Cobra
Color Me Perfect
Corregidor
Custer's Last Stand
The Day of the Wolves
Devil's Cargo
Devil's Playground
Diamond Trail
Dixie Jamboree
Down to the Sea
Elizabeth: The Golden Age
Ferocious Pal
The Fighter
Fire Alarm
Fisherman's Wharf
Flaming Lead
Flying Blind
Forbidden Jungle
Getting Up and Going Home
Green Eyes
Half Shot at Sunrise
Hearts of Humanity
High Powered
Identity Unknown
If You Believe
In Old Santa Fe
Invisible Germany
The Irish Gringo
Journey to Freedom
Kept Husbands
King of the Sierras
Lars and the Real Girl
Law of the 45's
Law of the Jungle
Lost in the Stratosphere
Love Is Strange
Love Island
Mad Youth
Man With Two Lives
Navigating the Heart
Paperman
Passion's Way
Peck's Bad Boy
Phantom Rancher
Range of Motion
Range War
Renegade Trail
Riddle Ranch
Rob Roy
Simba: King of the Beasts
Six Shootin' Sheriff
Skyway
Take My Advice
The Care and Handling of Roses
They Call It Murder
Tough Kid
When a Man's a Man
Wrangler's Roost
Available on Prime later in December
The Lobster (December 2)
Therapy for a Vampire (December 7)
Daddy's Home (December 10)
Anomalisa (December 17)
Café Society (December 22)
Available for purchase
Pete's Dragon (December 6)
The BFG (2016) (December 6)
Howards End (December 6)
Oddball (December 6)
Millionaire Dog (December 6)
Dead Rising: Endgame (December 6)
Shelley (December 13)