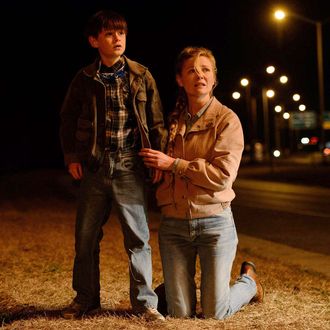 Midnight Special.
Photo: Warner Brothers
At the beginning of (and during) each month, HBO adds new movies and TV shows to HBO Go and HBO Now. Below, you'll find our December recommendations. For more comprehensive coverage of the best titles available on HBO and elsewhere, check out Vulture's What to Stream Now hub, which is updated throughout the month.
Shine a light on me: Midnight Special (2016)
The first of 2016's double-dip from director Jeff Nichols (along with Loving), this E.T. homage kicked off a resurgence year for kids with special powers. I won't say much about what this kid can do, or what he's all about — given the film's paltry box office, it's safe to assume the secrets are still spoiler territory. But suffice to say Michael Shannon will make you grin just by being himself. Isn't that enough? Available December 17.
The Book of Larry Gopnik: A Serious Man (2009)
The latest Coen Brothers hi-hat show, Hail, Caesar!, will come to HBO Christmas Eve, and it's certainly worth your time, but it's a bit too disjointed to measure up to the duo's best comedies. For comparison's sake, watch this Book of Job parable in '60s-era Minneapolis. A Serious Man stars Michael Stuhlbarg as the world's most hapless Jew, a physics professor suddenly forced to deal with all manner of unexplained phenomena that seem to be directed against him. Only the Coens could make an angry dialogue with God this entertaining. Available December 1.
Chewing bubblegum and kicking ass: They Live (1988)
Put on your special glasses and see the world as it truly is in John Carpenter's legendary sci-fi political commentary about capitalism run amok, with its "OBEY" posters and absurdly elongated fight scene between pro wrestler "Rowdy" Roddy Piper and costar Keith David. A mad howl at a conspiratorial universe, They Live has attracted admirers for decades. Now, you too can "CONSUME." Available December 1.
December 1
Any Given Sunday (1999)
Assassins (1995)
Cop Land (1997)
The Family Man (2000)
Gentleman Broncos (2009)
The Green Mile (1999)
High Anxiety (1977)
License to Wed (2007)
Mr. Baseball (1992)
My Big Fat Greek Wedding (2002)
My Blue Heaven (1990)
P.S. I Love You (2007)
Redemption (2013)
A Serious Man (2009)
Singles (1992)
The Sisterhood of the Traveling Pants 2 (2008)
They Live (1988)
Wildcats (1986)
December 3
Keanu (2016)
Pete Holmes: Faces and Sounds (2016)
December 5
The Trans List (2016)
December 9
Self/Less (2015)
December 10
My Big Fat Greek Wedding 2 (2016)
December 17
Midnight Special (2016)
December 19
Risky Drinking (2016)
December 23
Puerto Ricans in Paris (2015)
December 24
Hail, Caesar! (2016)
December 26
Every Brilliant Thing (2016)
December 31
Criminal (2016)